So Turnbull is expected to sign today or tomorrow, is he?
Well, I won't hold my breath, not until the deal is done, not until he's inside Celtic Park posing for the press. I can imagine what the first question at his unveiling will be. The idea that he has designs on a move to England is already established in the public consciousness, put there by his own agent.
There is a way back into our hearts for this kid of course; play well, score goals, stick around and make history. Celtic fans will soon forgive the manner of his arrival if he makes it clear that he intends to play a part for years to come and gets off to a good start.
Luckily, his role model is already at the club and yesterday he was handing down a lot of good advice.
There will never be a person better suited to guiding David Turnbull through this as Scott Brown is. He is the person Turnbull should listen to above all others, instead of the one who's only concern is money – how much the player makes and by virtue of that how much he does.
Agents get a bad rap. Some of them deserve it. Some of them have wrecked careers by shoehorning footballers into clubs that don't fit with their style and their ambitions. A lot of agents don't care if their players are happy as long as they are wealthy and by definition making the agencies wealthy. I have rarely seen such an act of public sabotage as happened here; with no other offer on the table, Celtic's terms were rejected in favour of "wait and see."
And wait and see what? If a "bigger club" came in? No, just a club willing to pay a higher salary, and to Hell with what that meant for the footballer's future.
They've been backtracking in the media all weekend long; suddenly the rejection was more about playing time than personal terms. Aye, right. Celtic would never offer any footballer that sort of guarantee, so whatever broke the logjam it wasn't that.
It might have been the player himself; indeed, that's what I suspect.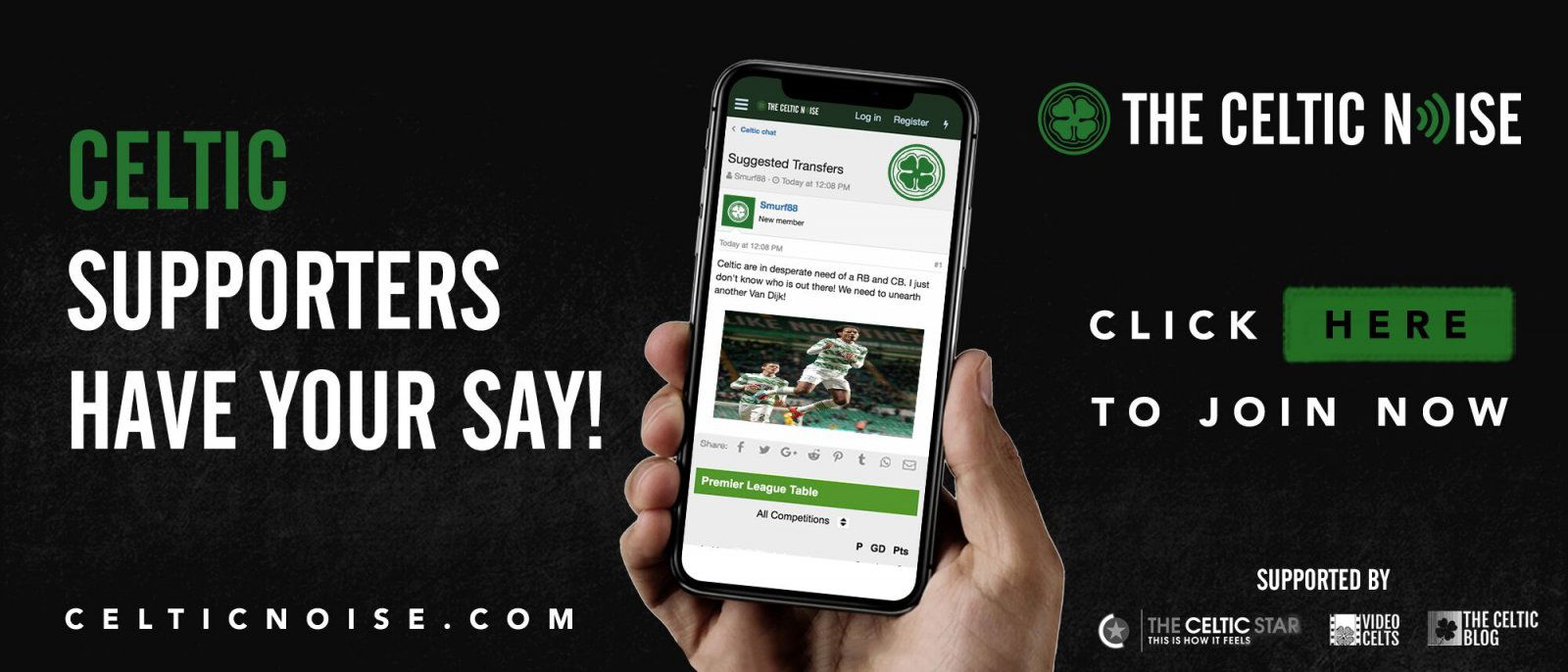 I reckon he's been thinking it over and has made his own mind up about this. He knows that first and foremost there will be a financial cost if he's got this wrong; I estimated it at £500,000 if he has to stay at Motherwell another year, and that's a conservative estimate because it only considers wages and not bonuses. The actual figure is likely quite a bit higher, maybe as much as £250,000 for a clean sweep season and qualification to the Champion League groups.
Even if he does get his move, and his salary is higher than that, what will his progression be like? Of all the teams mentioned so far, only Southampton looks like one where he could genuinely grow as a player, if he gets in the team that is.
If he's at Celtic and grows into a better player, and proves that he can show consistency, more money will follow as the club re-evaluates his worth and acts accordingly as they've done with other footballers in the last few years. Almost all our best signings of recent years were offered contract enhancements within 18 months; all signed those except for one footballer, Moussa Dembele. But he too got the offer.
Turnbull has clearly had to think long and hard about what he wants from his career. In this sport there are two types of player; those who are in it for the money and those who want to win things and won't hang around anywhere that looks unlikely. If they make a good living doing so – and if you're at a winning club of course you do – that's preferable to being at a lesser team earning bigger bucks. It's why not even some clubs in the EPL can hang onto their best players.
Scott Brown knows all this. He could have followed the money at any time; he would certainly have earned fortunes in England for doing what he's doing here. But he prefers to be wealthy and successful as a player at the same time. He has been part of something special, and that's more important to him than an extra zero on his bank account.
Once modern footballers reach a certain point, they and their families are set up for life come what may.
Turnbull will be a millionaire long before it's time to retire, and if he's got a brain in his head at all there's coaching and managing after that. If he doesn't have a brain in his head, there's always punditry; it works for the likes of Kris Boyd.
Brown will be a coach, and probably at Celtic. If he fancies management, he can go away for a few years and do until he's got the gravitas and knowledge and experience to come back to Parkhead. He'll never be short of friends at the club. Even now, he has the presence of a real leadership figure and one who has spent more than a decade at Parkhead.
His advice yesterday to Turnbull – which basically translated to forgetting the money for a while and going where he could history instead, with the money to follow – was the best the kid will ever get in his career, and it was not being handed down to him by some clueless layperson or third rate media hack. It was coming from a man who knows, who's been there, who joined our club when there were more lucrative options and never regretted a day of it.
And Scott Brown has it all now. He's got the money and the medals. He's got the acclaim of an entire community, an entire institution. He started at Hibs, and is now part of the fabulous history of a global club. He knows what that means; immortality.
Brown is not just a Celtic legend, he is a Celtic icon, up there with the greatest ever to pull on the jersey.
Brown has his critics, as all great players do, of course. Some think he is not a footballer on the level of some of the greats of the past. And he's not, and nobody would claim otherwise. But Brown is a player who made everything there was of his potential and has the rewards to prove it. And the first great decision he made, and which led to it all, was in choosing the right club at that junction in his career which he knew would decide the path he went down. He chose Celtic and winning things and striving for consistency and excellence. He knew he was leaving money on the table elsewhere; he was looking for the right fit, though, the right place to grow.
When he talks, young players should listen and especially those with the same decision to make.
David Turnbull will not be the last player to be in this position.
In years to come though, it might be him giving out the advice.
If he listens to Brown now, that will be worth paying attention to.