The well oiled machine at Celtic continues to roll on, as we prepare for our first foray into the Champions League tonight.
There is a lot happening at Celtic Park, both on and off the pitch.
We know there are transfer stories aplenty, with new players said to be jetting in soon. But there's a lot going on off the pitch as well.
Not only does our merchandising arm continue to work immensely hard, even if the results aren't always what fans want to see …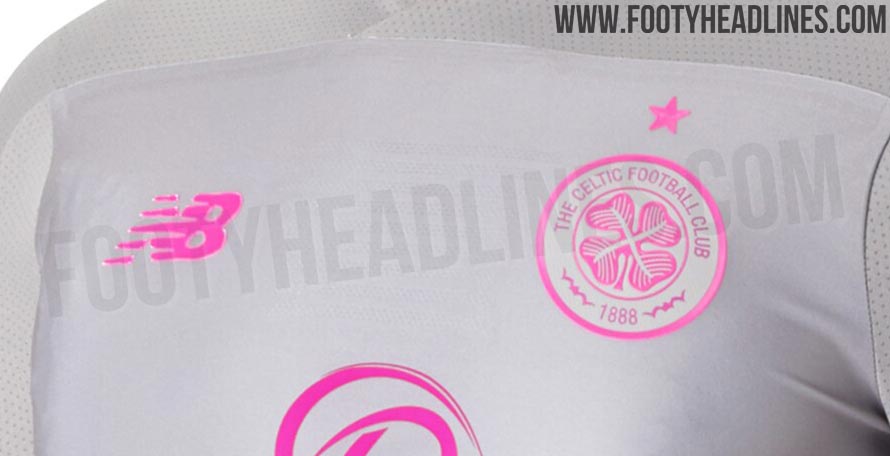 …. there is little doubt that our operation is superbly well put together.
On top of all that, we're about to launch the first ever Celtic Festival, at the end of this month, and it looks like it might be a sell out.
It will be a fantastic celebration of our club and its history, and it comes at just the right time, as we head into the pivotal nine in a row campaign with Neil Lennon at the helm.
All three of the domestic trophies will, of course, be on show.
Everything about Celtic speaks to a professionalism and a standard … to quality.
Across the city, the contrast could not be greater.
There is story in the media today which is instructive of the gulf in standards between the two clubs, although the media is grimly determined to make light of it.
There's nothing to it in their eyes, just a piece of trivia.
And yet it's not just a piece of trivia, it's an actual news story which is being summarily ignored by many in the press corps and for good reason.
Not only is it embarrassing to the Ibrox club, but it shows the poor standard of their merchandising arrangements and everything that goes with them.
What's more, this is likely to be an enduring embarrassment, and nobody seems concerned about that.
The story concerned their new signing Jake Hastie and his Hummel training gear; one of the sleeves had arrows facing up the way instead of down.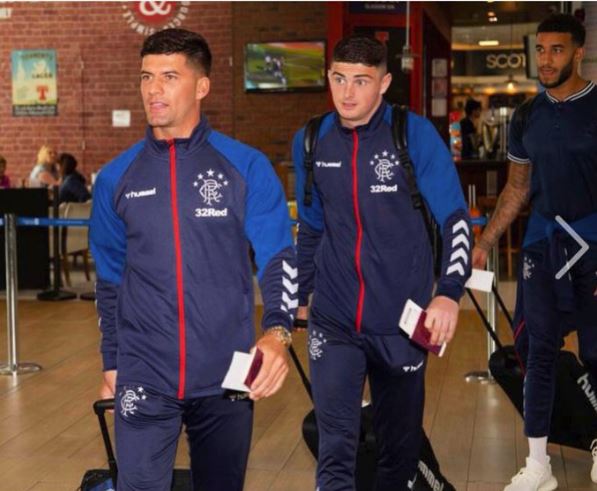 It sounds like a minor matter, and the Daily Record went out of its way to paint it that way … but in fact, as the article points out, this is the latest in a long line of screw-ups from the sportswear firm, who's standards since getting the deal with the Ibrox club have been questioned over and over and over again.
Put bluntly, none of the top firms would make so many basic errors, and continue making them repeatedly.
This isn't confined to Ibrox either, other clubs who have had Hummel as their official kit manufacturer have slated their service and their standards.
Even clubs like Forest Green and Telford have lost their patience with the Danish company for the overall standard of their work. At Ibrox not only are they continuing to work with them, but they even gave them naming rights to their training ground last year.
When the Ibrox club closed the Hummel deal, it was hailed as great business.
In fact, it was was worth half, per year, what Celtic brought in for our deal with New Balance.
They got a three year deal worth £10 million, whereas our was a five year commitment worth £30 million.
Peter Lawwell rightly described it as a "vote of confidence of Scottish football", but of course it was a bigger vote of confidence in our club and the way it is run.
Our deal is up at the end of this season, whereas theirs has another year to run.
We'll see what figures they get offered, but Celtic is certain to get a very sweet offer as various firms will be competing for the business.
Our commerical department is one area of the business where it's almost impossible to be too critical.
It gets the job done, and those in it pride themselves on the quality they provide.
Even the PR at Ibrox is third rate.
Last month, someone in the Ibrox PR department thought it was wise to tweet this to the blogosphere, almost as if they were daring us to find fault in their players turning up for training at their summer camp in what amounted to Uber people carriers.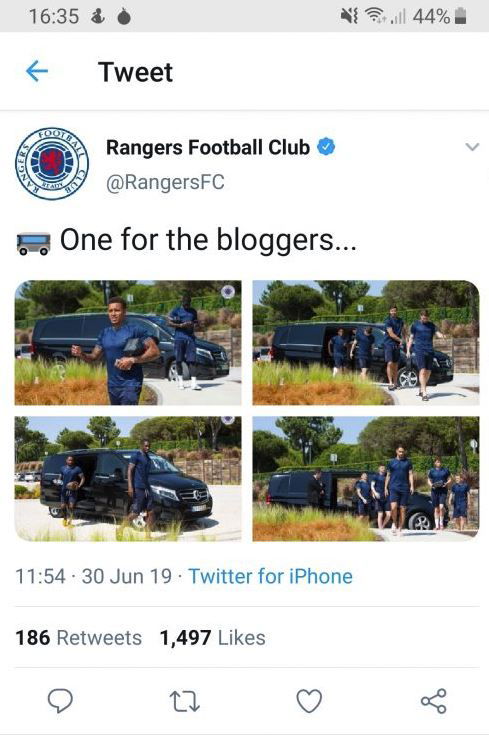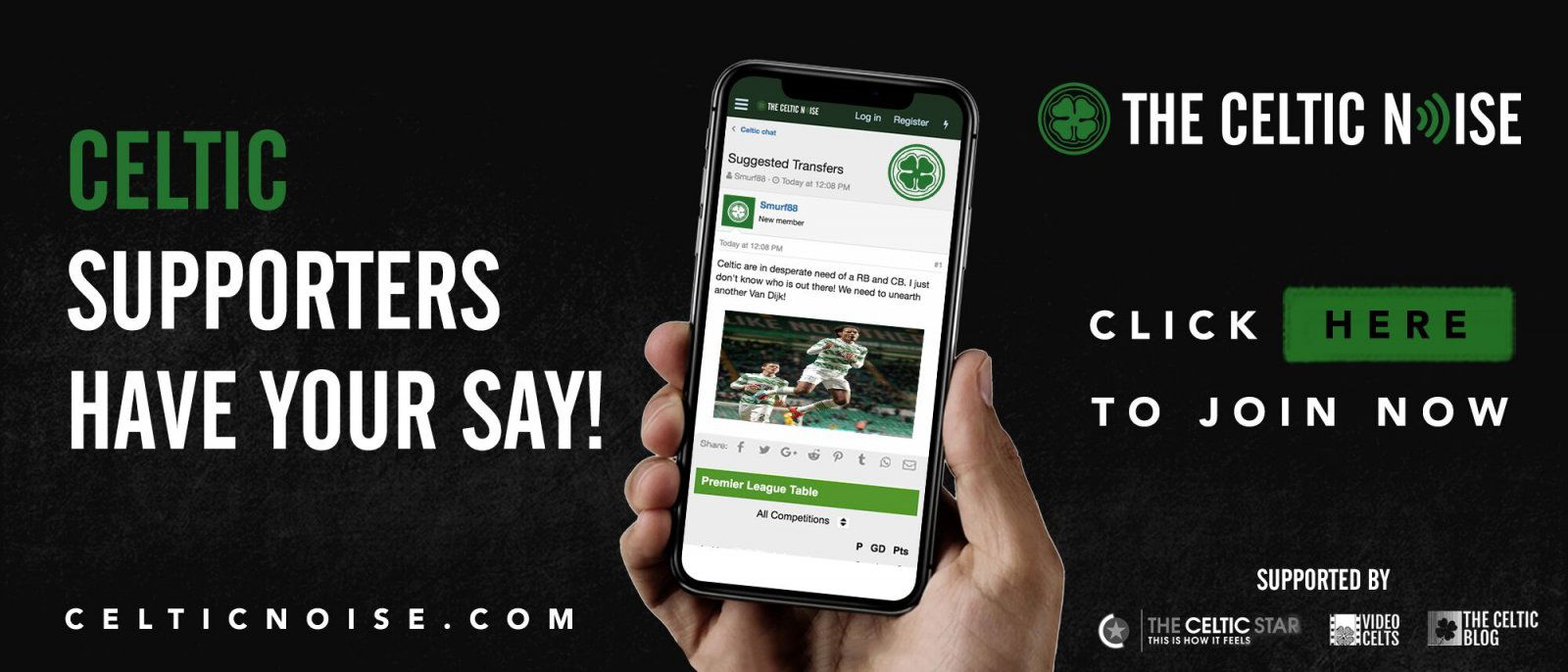 What it actually did do is draw attention to the fact that the Ibrox club's retreat was not so luxurious or as secluded as they might have wished it to be. Indeed, it was so open that players from other clubs dropped in and out to use the facilities at will.
This actually led to the media trying to make hay out of the fact that Virgil Van Dijk was one of them.
One clickbait site actually said he had "joined their training session", something the player himself was quick to slap down as the bare-faced lie that it was.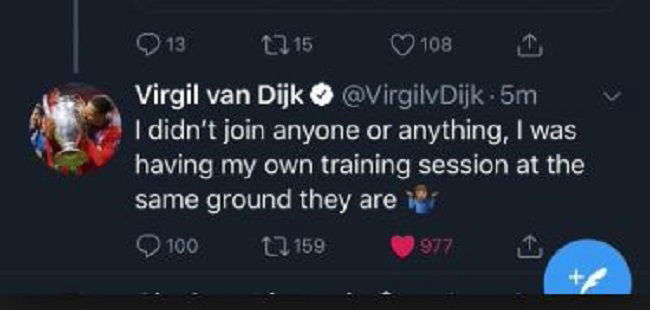 The whole spectacle over there was a total embarrassment, as Phil pointed out last week.
Celtic, on the other hand, never postures or preens … we get on with it, without fanfare, without trying to attract the same attention, focussed only on the job.
We are conducting negotiations on multiple fronts right now.
When we brought in our director of football at the start of last week there was no round-tou of the media offices for the guy; he shied away from all publicity and simply go on with the job. He is a busy man at present, and you only have to look at the acres of coverage being devoted to our endevours in trying to sign players to see it.
Not only is our club actively engaged in trying to bring footballers in, but we're warding off serious interest in the guys who are already here.
If there was no news at Celtic, we would be perfectly content to simply get on with stuff.
Other clubs need the limelight it seems … or maybe their lack of action simply needs to be distracted from.
Over this weekend, the Ibrox people put a story about Newcastle pursuing their manager.
I said the other day that it "stunk of squirrel" and that the story did not have a single iota of truth in it, although numerous tabloids said that there was "anger" inside Ibrox at the attempt to poach Gerrad. Yet seasoned media watchers, like ourselves, knew that it was a wholescale fabrication.
The manager himself has confirmed this, lazily describing the story as "fake news",
This will come as no surprise to regular readers of this blog.
There is a common thread running through this; the utter unprofessionalism of the entire Ibrox operation, from top to bottom.
Celtic is a sterling contrast to this, which is why when New Balance make their pitch for our business at the close of our current merchandising deal there will be other options for us to pick from, and one rumoured major bid from Adidas is amongst them.
There will be wrong-way round arrows on the kit, there will be no embarrassing pictures of recyled tops … 
This stuff just doesn't happen with smooth operations such as ours.
We have been active in the transfer market too, spending real money and rebuffing serious offers for our players.
They are reduced to begging clubs to bid on their players right away.
With chaos continuing to surround the Ibrox club and its merchandising arm it is unclear whether or not they can hope to entice a top supplier next time around; it might be that they are stuck with Hummel for a wee while yet, and it's not even clear if the naming rights deal extends beyond their current contract or if that's a permanent arrangement; every press release on the issue was strangely vague on that point and nobody seems to want to ask.
We would never get away with running such a shoddy operation. The media would be all over us.
But thankfully, that never has to be an issue around here anyway.