Everybody here is gonna know how this one feels, okay?
All day long, you've been waiting on a call at home, or for a parcel to get delivered. The wait goes on until you are in the loo, literally poised over the pan. And suddenly you hear the rattle of the letterbox, or the buzz of the bell, or the incessant ringing of the phone.
If it's the latter, you have frustration and the choice of whether to get off the seat.
If it's the former you can shout – but nobody ever does that; the delivery person could be a cute blonde. Do you want to finally get to her, faking nonchalance when she knows where you've been, hands unwashed or dripping wet, fresh from the toilet? – or you keep silent.
I usually go for the silence myself, and huffily collect my parcel from the post office later.
I feel like that sometimes during the transfer window, like you never want to leave Newsnow or Twitter when something might be going on that you inadvertently miss.
I sit up to the wee small hours and check out all the morning early editions in case we're linked with some superstar and he's flying in a few hours hence.
I always worry I'll be caught short, that other people will have that information before I do.
And of course, I worry about this stuff.
Twice already in this window I've written articles and James has published them only for crucial info in them to be out of date within minutes.
This is an unusual window; things are moving fast.
Between a trip to the kitchen for some ice tea or a trip to the bathroom for a read at whatever local rag they publish in these two meal towns where I hide from the bogeymen with King Billy tattoos on their bums – Le Record, lead sportswriter Keet Jacksoni – I might come back to find we've made a crucial signing, or worse; that we've sold half the team.
If you believe everything you read online, you'd think we were about to.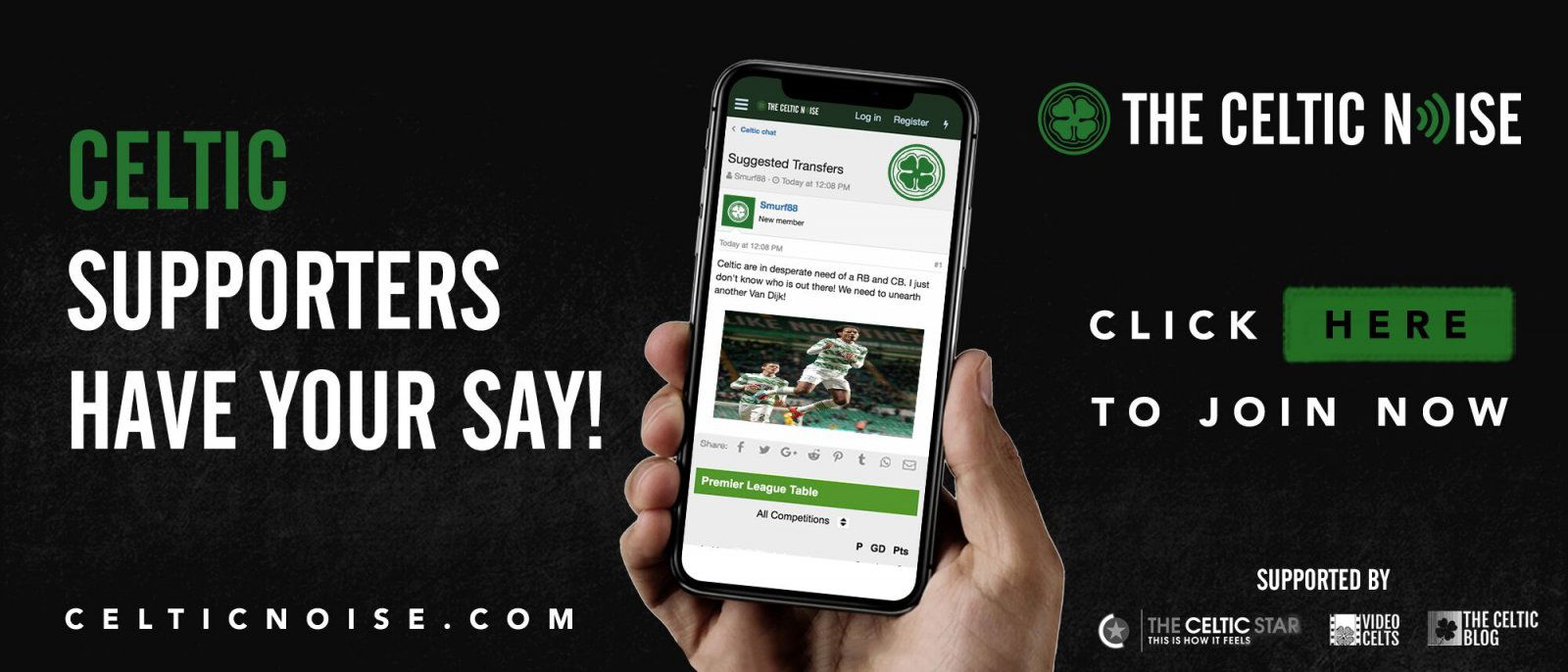 When I pitched the idea for these blogs to James, he was insistent on one thing; no predictions.
No articles saying "so and so is on his way."
Deals are only done – and therefore only predicted as being done – when the guy is actually sitting at Parkhead with the pen in his hand.
Even then, I think there's something to be said for his actually signing his name before you breathe the sigh of relief and press "publish."
The David Turnbull saga was a case in point, and don't even mention Scott McKenna …
So I wait for news of Boli Mbombo, predicting nothing but hoping that the deal doesn't get done whilst I'm on the loo or working the plunger afterwards. I know some people take their mobiles to the toilet with them, but I saw Snowden, I know what the government gets up to.
If I come back to 100 text messages telling me "he's signed" I don't want to have to tell people what I was doing as the word was spreading throughout Celtic cyberspace.
There's a reason why the bathroom is on my mind today, of course, a reason why this particular analogy spoke to me so clearly; it fits beautifully with the content on a certain website which states as a fact that Tierney and McGregor are Leicester City bound for a combined £45 million.
At the risk of looking like a fool later – a small risk, like the "risk" of the Ibrox NewCo winning the Champions League whilst on a bathroom break – I have no problem calling that exactly what it is; like something that won't flush away no matter how hard you pull on the chain.
The producer of this excreta has already embarrassed himself once in the past month or so with his "exclusive" on how Lennon has been told to clear his desk … he "threatened" to quit blogging over that. Maybe he'll pull the trigger this time.
This is his latest punt, his latest "sources close to the action" piece.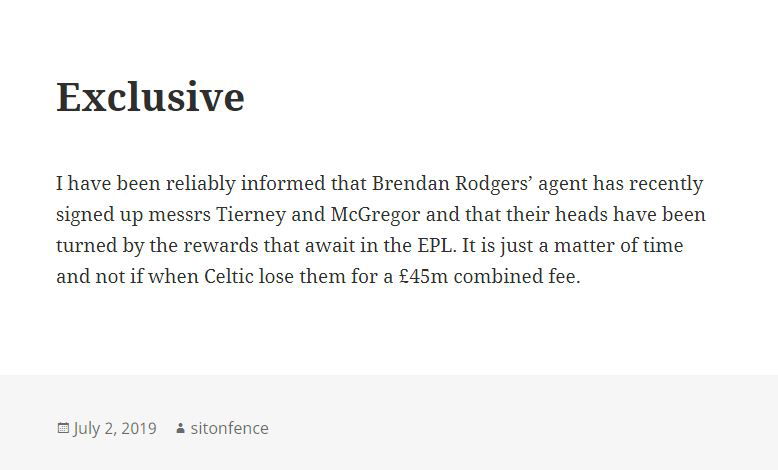 I guess it depends what action you're talking about; the sort where I grab a handful of tissue and wipe my backside maybe.
I don't know what life is like where he is, but he does seem determined to prove that the drugs really don't work, that they really do make you worse, after all.
How can I so readily dismiss this story?
Easy. The site it appeared on gives you the first hint, the land of make believe and fantasy where you have to pay for the "privilege" of accessing some of the content, and where readers are regularly abused as freeloaders if they don't.
Now, I may from time to time curse under my breath that you're all ingrates for not sending me enough by cheque that I can continue running from the bad people in the comfort of a luxury yacht – that's the editors fault; he refuses to add a donate button to this site – but I know too that nothing I post here is worth hiding behind a paywall.
In addition, I know that Arsenal seem awfully fixated on signing Tierney, which is amazing if he's already been pledged to another club and another manager.
Someone ought to have a wee word with them and let them know that they're wasting their sweet time.
I know too that Leicester has just signed James Justin, who can play at right back as well as left, that Christian Fuchs is already at the club and that Ben Chilwell is the undisputed first choice in that slot and has already won his first caps for England.
Are they dropping him?
Or spending £25 million to sling Tierney on the bench?
On top of that, Celtic has already issued a "not for sale" warning in relation to McGregor, which they haven't done with either Rogic, Ntcham or Tierney himself.
I do not, for one moment, believe they would countenance the sale of any player to Rodgers' team, but I am more convinced that they simply wouldn't sell McGregor to anyone, full stop.
Let me tell you, if he was available tomorrow he'd fetch more than this pitiful story suggests.
£20 million wouldn't buy his boots. McGregor would spark a real bidding war, and the end result would be us getting offers which make the one for Tierney look like the chump change it is.
Players will go in this window, for sure.
But there is an almost orgasmic excitement at the idea that the heart will be torn out of this team.
Nothing we have seen so far indicates that.
If Tierney goes it will be because he wants to.
There are sound football reasons for selling Ntcham and you could make a similar argument – as I've done – over Rogic.
I don't believe we'll sell all three of them though; two at most, and the signs are good that much of the money will be put straight back into the team, and we can then make a judgement as to whether we're stronger or weaker for it.
But the bulk of this squad will be intact when this window shuts; that's one prediction that James has no problem with me putting out there, on the record.
The Rumour Guy is a Celtic fan and blogger who, whilst fleeing for his life, has scribbled "Ranjurs Ur Deed" on every bog wall from Miami to Mombassa.