Last night, the worst fans to visit Celtic Park since the Ibrox horde's most recent trip to town rolled in and tried to wreck the place.
AIK supporters – many of them clad in the black we know so well from the fascistic element across the city – behaved disgracefully.
There was violence inside and outside the ground.
When we make our trip to Sweden next month part of AIK's stadium might be closed after their fans were involved in what UEFA called "serious disorder" against Maribor.
Based on what we saw at Parkhead you can easily believe it.
Our fans travelling over there will need to be on their toes; their club is followed by thugs, and this is strange for us because we've entertained fans from all over Europe at our ground and almost all of them enjoyed the trip and we enjoyed them.

Not this lot. Their behaviour was atrocious. I hope UEFA's observers were watching all of it and I hope further, serious, punishment awaits this mob for their behaviour.
UEFA usually washes its hands at violence outside the ground, but their fans rushed Celtic fans inside the stadium.
A tweet from a Celtic fan suggested that the police took an interesting choice in how they handled it; they arrested one of our supporters for gesturing at them.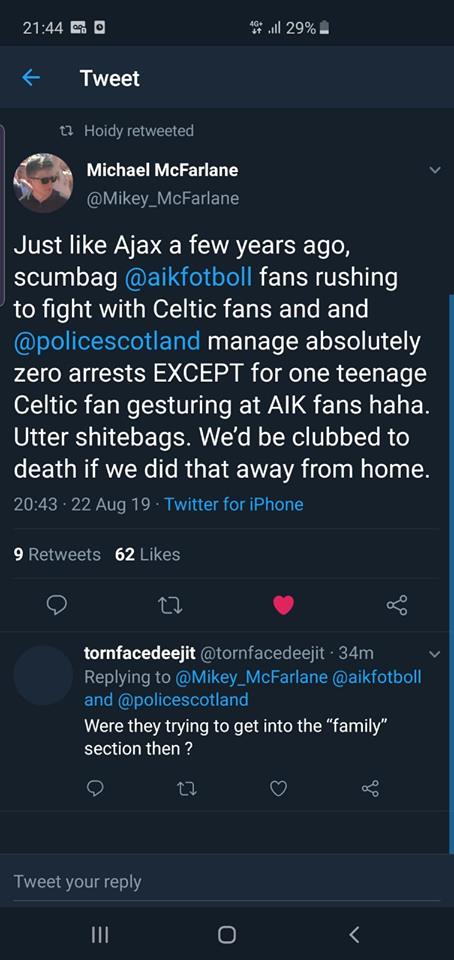 I don't want our police to behave like they do on the continent – Celtic fans can attest to the heavy-handedness of some of the more notorious – and I'm glad they didn't wade into the opposition fans. But arresting a Celtic fan is certainly a novel way of tackling hooligan fans from abroad.
I'm going to try and run down the truth behind that tweet today, and I'll let you know what I find.
In the meantime, though, these have to be the worst fans we've encountered in Europe for quite some time.
Indeed, I can't remember – other than elements of the Ajax support – who has behaved like this home or away.
I hope that Celtic fans who are travelling over there stay safe.