The Kieran Tierney money is going to do a lot of funny things to a lot of people.
It's also going to do a lot of weird stuff to the way people think.
If you believe some of what you read, you would be forgiven for thinking that Peter Lawwell will be rubbing £50 notes on himself as he contemplates next year's bonus.
And of course, there will be plenty of transfer stories.
There are actually two doing the rounds today, and both are pretty hilarious. One because the story is exceptionally unlikely to be grounded in truth and the other because the source is so barmy that you would normally dismiss it as sheer nonsense.
Let's take the mad story first.
It involves Everton winger Yannick Bolaise.
I really don't believe that there's anything in that one.
When Lenny joked the other day about wanting left and right sided wingers some of sniggered as we recognised that as a dig at Rodgers.
Yet I do believe that he wants someone for the left side.
But it won't be this guy.

Even a loan deal for this guy would be prohibitively expensive; he's 30 and earns more than £60,000 a week. He was on his way to Russia for £5 million earlier in the month, but that move broke down because he doesn't fancy having to deal with the racism in that country.
I applaud him for that, as all of us should. I don't think he'll have to deal with Scottish sectarianism either.
He's a decent player, as it happens, and so I wouldn't be teary-eyed exactly if this turned out to be something other than media bunk. I would be less amused if it was a permanent deal, as I don't want to see the Tierney money wasted on 30 plus players past their best.
This is why the second the second transfer story – that we could seal a deal for Killie's Greg Taylor within the week – is harder to dismiss.
I think there might be genuine interest in the player, and he's a prospect footballer who has a good head on his shoulders.
Do I think that's the level we're shopping at for a Tierney replacement?
I sincerely hope not, it's a shocking lowering of standards, but it would not surprise me if it were true that there was interest in that direction.
It may be that we're going to simply buy a backup for Bolingoli, and if we are it makes sense that player would be from Scotland.
I know too, though, that the deep anger many fans feel over Tierney will not be extinguished, but instead actually fuelled and fanned, by such a signing. The board would face uproar if they took that decision, no matter what else was done with the money.
Whilst I can't dismiss the story completely, I can dismiss the source of the rumour itself; this link appears on the Daily Record off-shoot site Football Scotland, a site whose editor is the Daily Record's resident Ibrox blogger Johnny McFarlane.
That website is no friend to our support, and we should be doing our level best to keep it as far from our thoughts as possible.
I only write about it here because the writer of this piece has named, as his source, a Spanish based site called Rincon Escoses, who this Record offshoot ludicrously claims "specialise in Scottish football."
Because if you are based over there that's where you'd put your focus, right?
This is them; as you can see, this is not a new site, it's a cheap blog.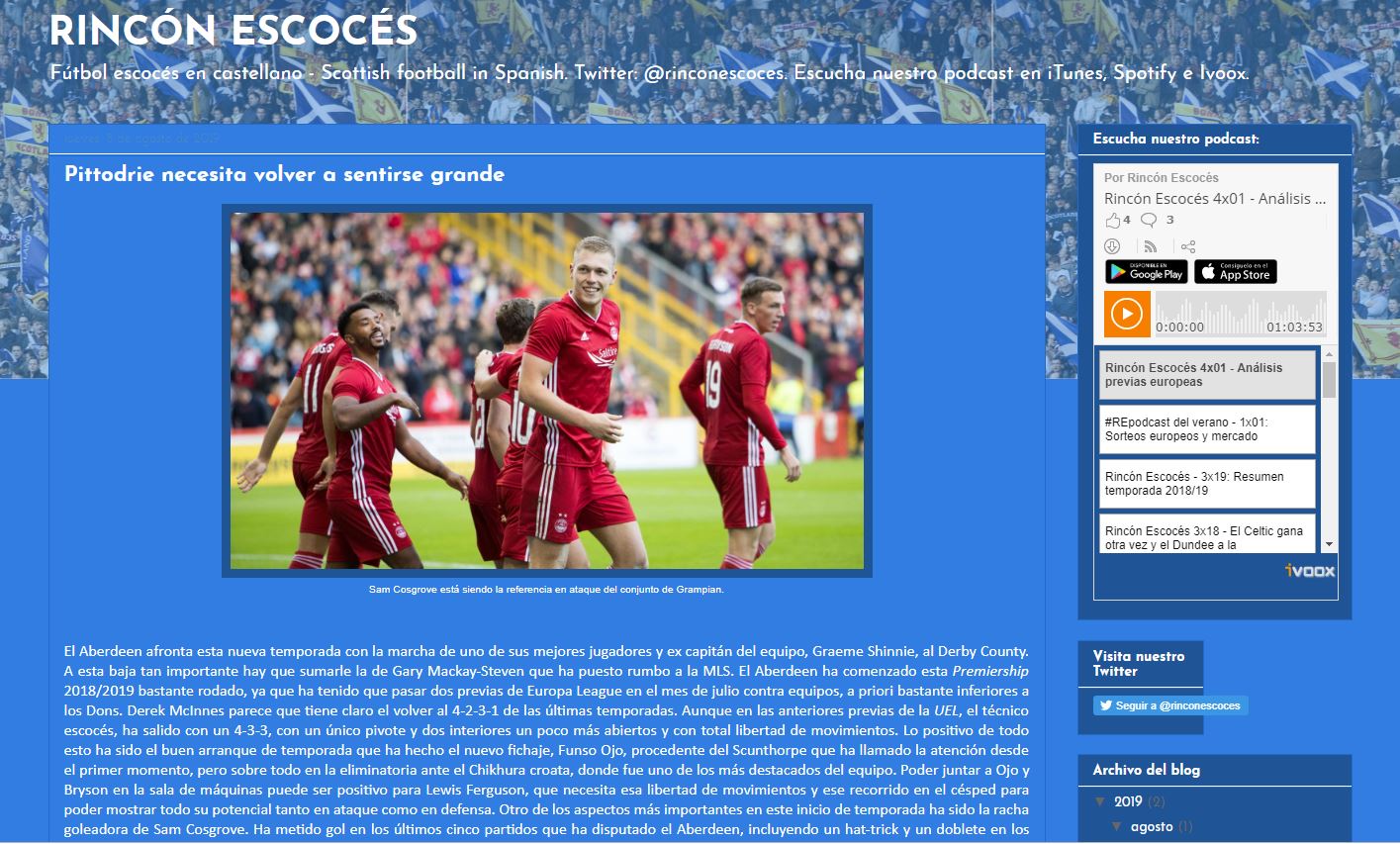 They have a little over 1440 followers on Twitter.
So Football Scotland is now trolling through the bottom of the internet looking for stories now.
Please note that there is not a single reputable site or outlet which has written this story; Football Scotland has no interest in being reputable.
This is clickbait.
The point of this story is simple; nobody knows what Celtic is working on, or who we're looking to sign and whilst I don't think the idea of signing Taylor is as ridiculous as the story about the Everton winger, the source cannot be trusted at all.
Neither of the sources in fact, although if I read something on Rincon Escoses I'd probably believe it over The Record's discredited project site if they were reporting different things.
That the site is going to them for information tells you how good its own writers are.
The Rumour Guy is a Celtic fan and blogger from Glasgow.