Late last night – the headline actually started to trend this morning – Daily Record Online published yet another shocker of a story about Odsonne Edouard.
They gave it the most shameful clickbait headline they could, all the better to get folk to check it out.
"The Odsonne Edouard headline that is grabbing Celtic star all kinds of attention" it reads.
That, itself, is a headline designed to grab attention … and with so many stories praising Edouard you had to wonder what kind of praise he was going to get in the one highlighted.
But we should have known better.
What was the headline Record Online were featuring in theirs?
And what was the source of it?
Let me give you the build-up which they gave it, and you'll understand in a moment why I did.

"Celtic 's best-kept secret is out the bag and it won't be going back in, but with a bigger profile comes more scrutiny. He's certainly grabbing headlines in France, with respected outlet Get France Football News producing an in-depth feature on Edouard that's getting all sorts of attention."
More scrutiny. Respected outlet.
If you're sniffing piss, then it's no wonder.
Get France Football News sounds like exactly what it is; it's a blog.
And what's the headline that The Record Online team likes so much?
Well here it is, on the Twitter feed of the site itself; you can see why I was furious reading it.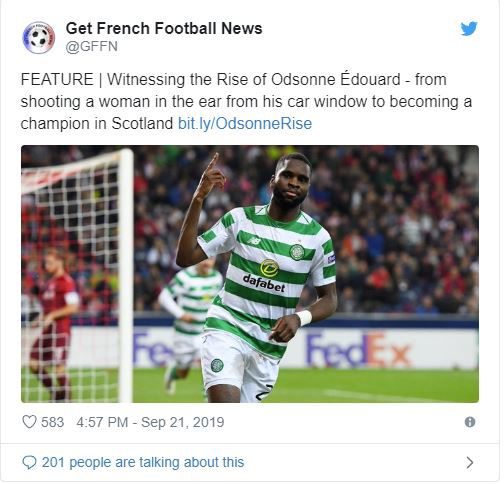 The headline on the article itself has since been amended … quite possibly after a number of furious responses (and maybe even a legal threat.)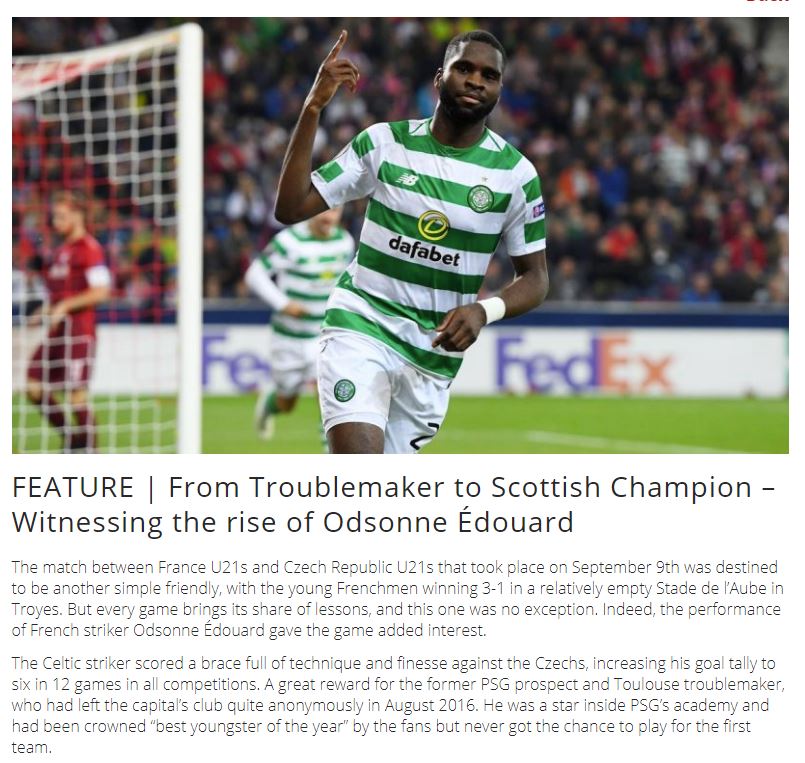 The Record has no standards at all, of course.
We know this.
That this so-called article – which exists only to draw your attention to Odsonne's past indiscretions – has no writer's name on it tells you that even at that rag this one is seem as disreputable trouble making … but of course that's what The Record specialises in now.
"It's an incident that seemingly hasn't been widely publicised," the Record article reads, apparently with much sorrow, and they are clearly eager to make up for that.
Except that it was widely publicised, including by The Record itself, when he signed for Celtic in the first place.
In fact, the reportage had started before the deal was even done, and then followed up on.
Edouard was involved in this incidence of sheer stupidity when he was in his teens.
The incident was daft to say the least and he got the punishment he deserved for it.
It doesn't take a genius to work out why some in the media want to dredge this up again.
If they came straight at it, interviewed the player, got his side of the story on the record, and did it in an honourable fashion that would be one thing … but they pulled a headline off a blog and then hinted at it having all been swept under the carpet … and as made sure the threat to dig it up on a wider basis is left hanging.
Do you worst. In fact, let's look at the coverage at the time.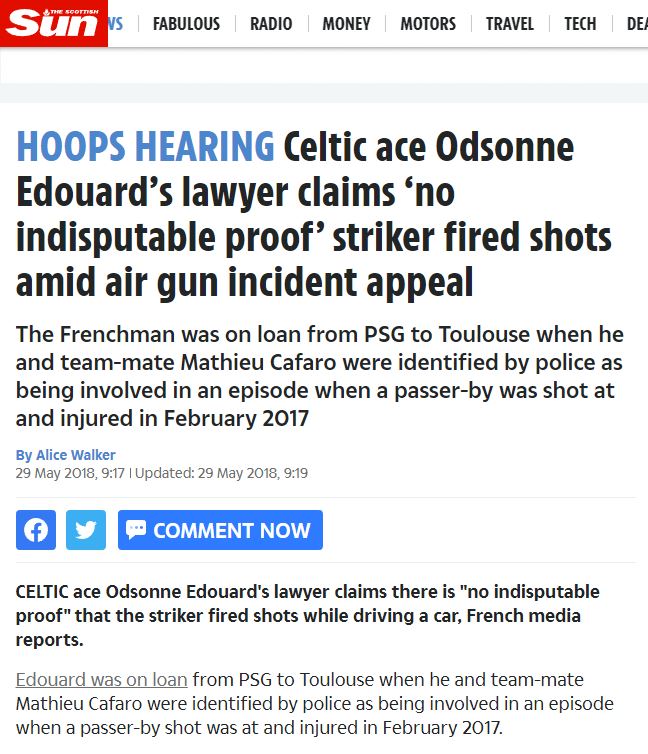 And then this …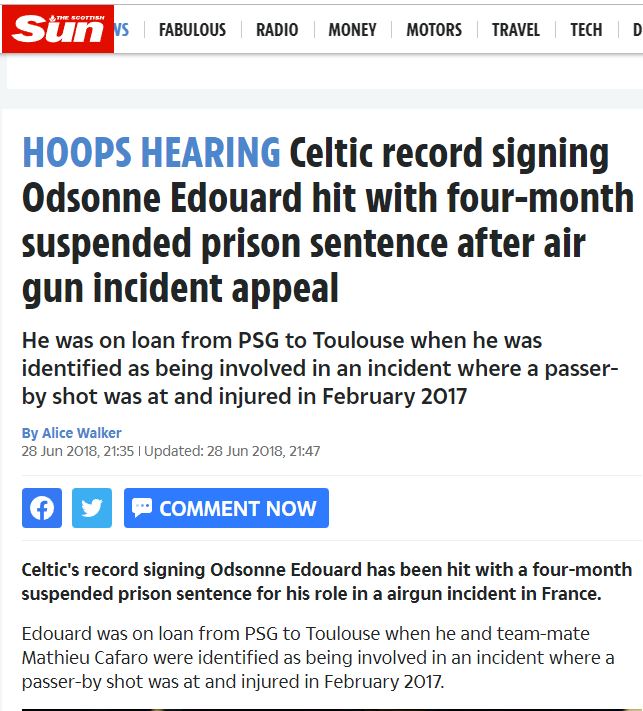 And The Scotsman put it in an article about what Celtic fans might not have known about the player …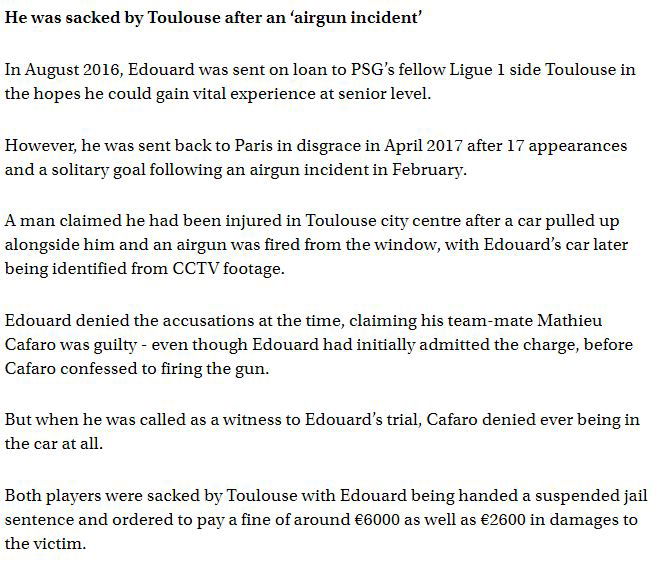 And let's not forget The Record itself, which dares to suggest that the incident was not widely reported or known about …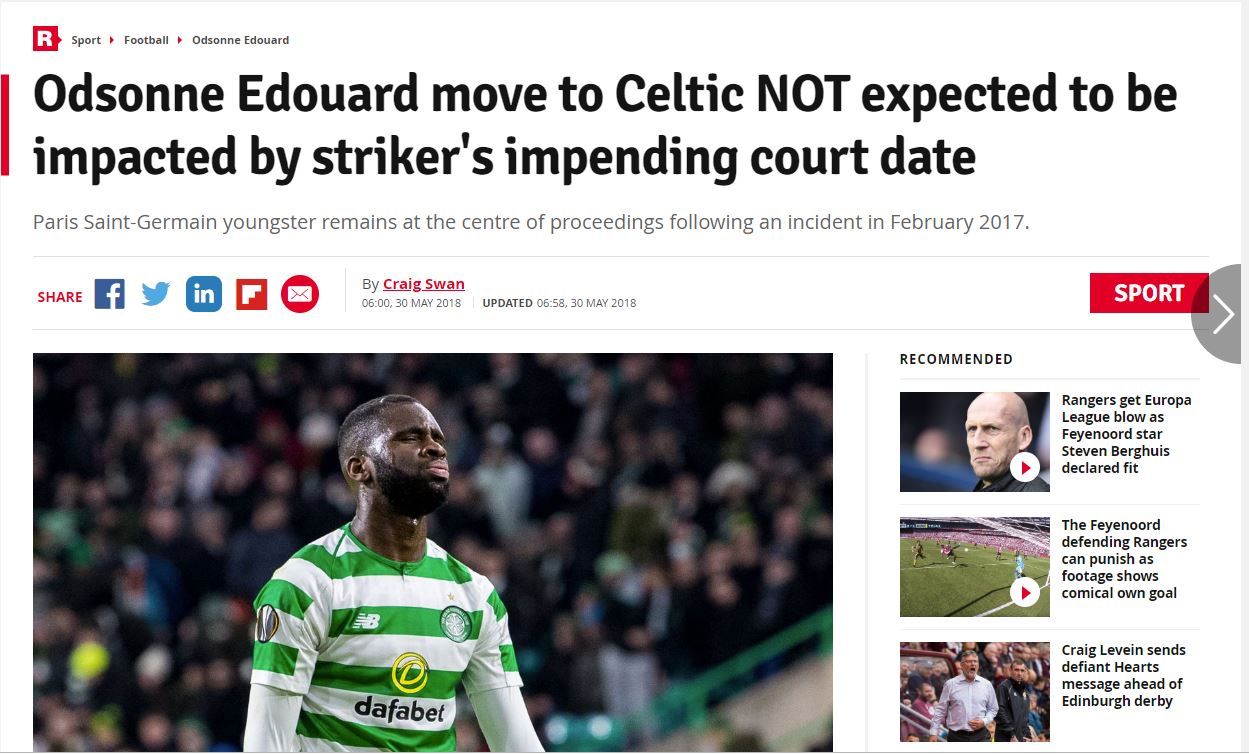 And this one on top of it ….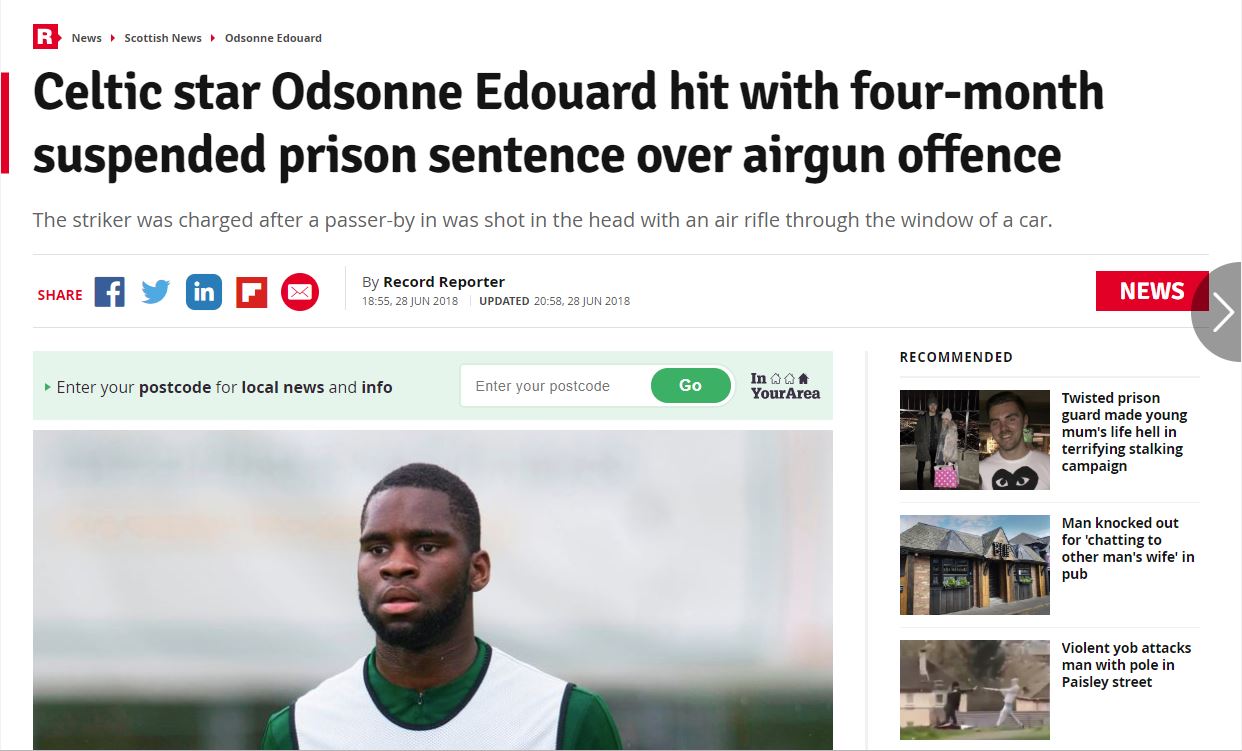 Yeah … kept it quiet, didn't we?
And here's Eddie's comments on it; "It was my first time living outside Paris and it was also my first time as a first-team professional. I know I've made some mistakes but it's all behind me and I'm really concentrating now on the future — that is what's important to me. I didn't worry for my career but it really forced me to think hard about what's important. You could probably describe it as something bad which led to something really good."
He was a kid, living away from home, and got up to some stupid hijinks.
It was an airgun, and so a ridiculously stupid prank rather than something more, and it was a juvenile court which deal with the offence.
So the media should feel free to re-litigate it, to go over the trial, to call for a public inquiry if that's what they like … but Eddie is going to keep on scoring goals regardless.
And these gutter dredgers are going to keep on pretending to be newspapers.
The CelticBlog is your site, and it thrives with your support. Please share our articles on social media, and subscribe to receive updates whenever we post a new piece. Remember, we have a Facebook page for all the articles and a Facebook Group for discussions about the pieces and other issues, and you can follow us on Twitter and on Celtic News Now.
Related posts