I applauded Odsonne Edouard's stinging rebuke to the village idiot's idiot, Charlie Nicholas, like I would have celebrated one of his match-winning goals.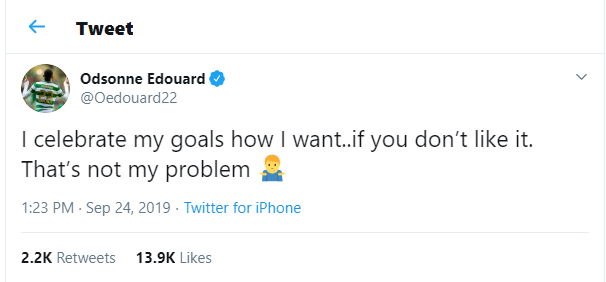 Nicholas deserved it.
Nicholas, as I've written here previously, never has a good word to say about our club.
This particular complaint was over the way Edouard celebrates when he scores. Edouard took exception, doubtless baffled as to why anybody actually cares. His contention that Edouard "irritates him" was as spiteful as anything he's ever written.
But have you ever heard of anything pettier, more small-minded, in your life than to go after a player for how he celebrates scoring a goal?
Any excuse to have a dig, and if Nicholas doesn't have one he simply invents one.
There are people in the media who's anti-Celtic attitude has become almost hilarious.
Neil McCann is so incapable of being balanced it is actually delicious hearing him moan and wail and whine when we succeed, because we know it comes from a profound place of hurt.

He was once a Celtic fan. Nicholas played for us. It seems to be these types – Davie Provan and Andy Walker are other sterling examples – who cannot wait to sink in the boot.
But Nicholas needles us because he is so clearly a pure fool, so clearly incapable of intelligent analysis, and his comments reek of his total ignorance.
In that regard he's a lot like Walker, who is equally capable of stunning you with his lack of basic knowledge on the subject he's supposed to be an "expert on".
Nicholas' latest comments are a joke.
Celtic never usually responds, although I bet they've wanted to.
I was disappointed last week, for example, when Neil Lennon used his presser to stand up for Craig Levein and have a go at Michael Stewart – far and away the most intelligent pundit on TV or radio – rather than slap down Nicholas for his contentions that our team is afraid to play in Europe away … but it was only later that I realised neither Lennon nor Celtic thinks Nicholas should be given the time of day.
To respond to his nonsense means the club gives it oxygen.
Still, I bet all of them were just as glad as I was to see Nicholas slapped back in his box by French Eddie and his no-holds barred response. They probably do wish they could all do the same, but that would give this clown the publicity he's after.
Silence is golden as far as Celtic is concerned … but still … our striker hits the target again.
And in this case, I bet they all wanted to be Edouard.
The CelticBlog is your site, and it thrives with your support. Please share our articles on social media, and subscribe to receive updates whenever we post a new piece. Remember, we have a Facebook page for all the articles and a Facebook Group for discussions about the pieces and other issues, and you can follow us on Twitter and on Celtic News Now.
Related posts