Remember that piece I did last week where I gave you all some background on Football Scotland, the website that is based in the same building as The Daily Record, owned by the same company, and staffed by some of its "journalists"?
Remember who I told you the editor of that site was Johnny McFarlane, The Record's former Ibrox fan blogger?
Well today he chose to do a piece on the fan's reaction to the signing last night of Ryan Kent.
That piece is headlined thus; "Rangers star Ryan Kent 'hates Celtic as much as us' – fans react to £7m signing."
The lead picture of Kent's savage punch on Scott Brown.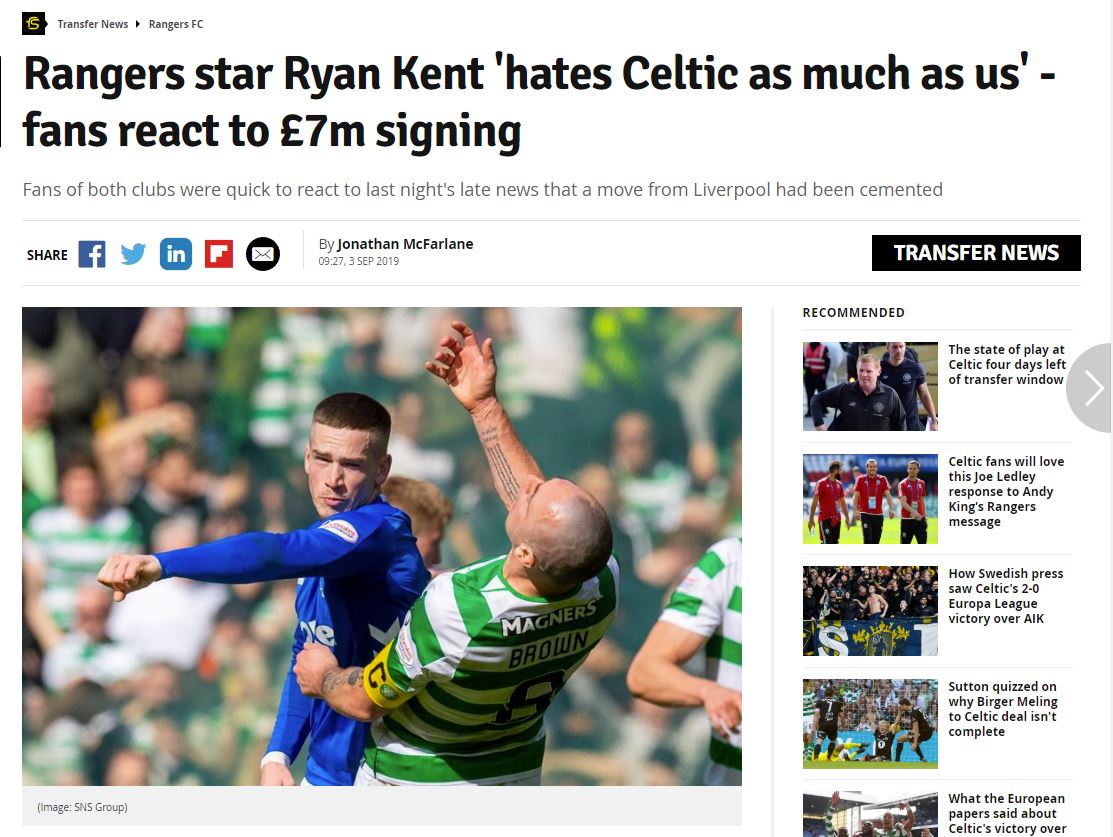 It is difficult to over-state how irresponsible these folk are at times.
That headline, and that picture, are astonishingly crass. I remember Kent doing nothing of note except for decking our captain in a game which his side lost 2-1. The astonishing thing was that he got away with it on the day because none of the officials saw it … quite incredible really.

That punch immortalised him to the Ibrox support.
Had he not done that I wonder how many of them would have spent this summer pining for him like silly wee lassies swooning over a manufactured boy band.
A load of them used that picture in their social media welcome's to him … this is a celebration of thuggery in the same weekend their supports unfurled a banner with Loyalist paramilitary undertones and which appears to show a prone Celtic fan.
It is mind-blowing that this stuff is their default position; hate, hate, hate, hate, hate.
Their club is irredeemably mired in this to the extent they can't get away from it even on a day when they sign a player for more money than an Ibrox club has spent in decades.
They've chosen not to celebrate goals or assists … but an act that would have got Kent the jail anywhere but a football pitch. This would be bad enough from a shoddy fan publication or one of their lunatic websites … but this is a national football title celebrating violence against a Celtic player and the hatred of Celtic fans.
This is Scotland's media in 2019.
This is why this country cannot get past this stuff, no matter how hard some of us try.
The CelticBlog is your site, and it thrives with your support. Please share our articles on social media, and subscribe to receive updates whenever we post a new piece. Remember, we have a Facebook page for all the articles and a Facebook Group for discussions about the pieces and other issues, and you can follow us on Twitter and on Celtic News Now.