First things first, it is a national disgrace that a major company like Thomas Cook was allowed to run up enormous debts over years in which it clearly had an unsustainable business model, and which has now collapsed with tens of thousands of job losses and hundreds of thousands of holidaymakers left with uncertainty and stress.
It's another reminder that there's no such thing as "too big to fail", and another example of corporate mismanagement that is going to cost plenty to sort out, with ordinary people suffering in the meantime. It will have an enormous – and probably permanent – impact on the travel market.
The dominos just will not stop falling on this one, not for a long, long time to come.
In June last year, amidst much fanfare, the Ibrox club appointed Thomas Cook as its official travel partner on a three-year deal.
Was it the curse of Ibrox that struck down this company?
Of course not, although I have to wonder how many Scot's decided not to bother traveling with them for the duration of the deal.
No, it was bad due diligence on the part of those running the Ibrox show that they ever signed that deal in the first place.
Thomas Cook has been on the brink a while.
Their half-year accounts – published in May 2018, a month before the Ibrox deal was announced – had their net debt sitting at £800 million … in an industry where more and more people are putting their own holiday packages together and budget airlines are squeezing the big tour operators until you can hear people in the boardrooms squeal.
Celtic works with a company called Nirvana; to pretend there will not be an impact on them is daft.

Prices will probably rise across the industry. But for the moment, our supporters and our club have nothing to worry about here. Another act of supreme folly at Ibrox has brought manifest uncertainty to them and to their supporters.
There are lessons all round here, but there's one aspect in particular about this that astounds me.
It appears that some within the Ibrox hierarchy responded to queries over the future of Thomas Cook by telling their fans that Thomas Cook, the holidaymaker, was a "different company" than Thomas Cook Sport, a tour operator who laid on only flights.
This was possibly a misconception regarding the legal status of Thomas Cook Travel and Thomas Cook Airlines, which were both separately listed.
But they were both owned by the same overall organisation, Thomas Cook Group PLC.
The PLC is out of business, and so it doesn't matter whether your trip was with that side of the firm or you were just flying out to Porto for the day of a game … it's all come down at the same time. The simple fact is, when the parent company goes everything else falls with it.
Does that sound in any way familiar?
Imagine trying that on your own fans.
Some of them have probably spent money they'll not see back for months, and if all you booked were flights you perhaps never will, because they are not ordinarily covered under ATOL, which protects package-deal holidays first and foremost. That's something people will have to look into for themselves, but the small print will probably give the company a get-out.
In the meantime fans will have to spend more getting new flights sorted.
That will not be cheap.
A meteoric rise in prices will have accompanied this news, and so even reasonably priced options will now be harder – by far – to source.
But it's this idiotic idea that there could be some distinction between Thomas Cook Travel and Thomas Cook Sport which opens your eyes to the utter stupidity of those inside Ibrox and those amongst their fan-base.
It's like the Survival Lie in miniature, the idea that the football team Rangers survived the total collapse of the company that owned and operated it … madness, and what's apparent here is that the Survival Lie has such a pernicious hold on the club that selling the bizarre fiction of two separate Thomas Cook's was endorsed at the top of the house.
The denouement came swiftly, as most people would expect. Thomas Cook and Thomas Cook Sport released their identical statements this morning, to the surprise of no-one with half a fraction of intelligence … we already know who that doesn't include.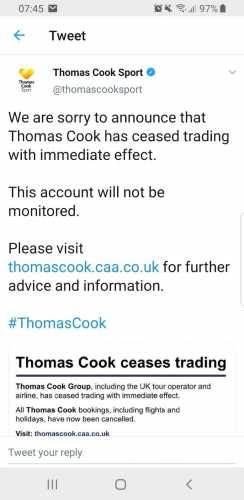 And that there ought to be the final lesson – if we exclude the one about their club being run by rank amateurs who blunder into this kind of trouble over and over again; liquidation means what it says on the tin. It sweeps away everything, including wishful thinking.
It's why we call the Survival Lie exactly that; nothing survived the apocalypse of 2012.
Nothing, it seems, except false hope and a belief in fairy tales.
The CelticBlog is your site, and it thrives with your support. Please share our articles on social media, and subscribe to receive updates whenever we post a new piece. Remember, we have a Facebook page for all the articles and a Facebook Group for discussions about the pieces and other issues, and you can follow us on Twitter and on Celtic News Now.