If I didn't think it would spoil, for me and others, one of the best books I've read, Stephen King's wonderful tale of growing up and growing old amidst horror, the tour de force that is It, I'd be very tempted to christen the Ibrox side The Losers Club and have done with it.
But in that book, The Losers were the heroes.
There are no heroes at Ibrox, except in their own minds and in the mind of one in particular, Steven Gerrard, one of the greatest players never to have won a national league title.
That must weigh on his mind sometimes.
Doing it as a player was the closest it was going to get for him.
Because he will never accomplish it as a manager.
He's simply not up to the job.
Sometimes you can tell this stuff. The last manager I felt this way about, this strongly, was McCoist. When he was dispatched on his permanent gardening vacation by the Ibrox club I said he would never again manage a top flight team, and he never has.
I think Gerrard has the kind of name that someone will give a job to; after all, Joey Barton got a gig in management and so, shockingly, did Gascoigne, although both ended, entirely predictably, in disaster. So the chances are that there will always be a willing mug out there.
But a team with a chance to win things? No. I don't think one of them will be beating down his door.

Gerrard has all the characteristics of a loser. Listen to him be interviewed after a bad result; his is ever a hard-luck story, and he has the attitude of someone whose life is a series of disappointments that have left him bitter about the good fortunes of others.
He never gives credit.
He flails around for excuses, and invariably blames his players.
But on top of this, he cultivates a victim mentality – the victim mentality which defines the whole club, as I pointed out in a long piece last night – and deploys it as an excuse whenever he thinks he can get away with it, and our media always lets him away with it.
The press conference yesterday should have been one where they tore strips off this guy over Celtic's utter dominance last Sunday.
The same media has spent every day since telling us he got his team selection wrong, that he got his tactics wrong, that he made mistake after mistake, anything so they didn't have to give us the credit we were due.
And if they really believed all that, yesterday was the time to hammer home the point.
They could have pinned him to the floor on all of it. Instead they let him moan. They let him bitch and wail and take shots at other people. They let him invent a brand new conspiracy theory and plug it for all it was worth. Yes, it was all desperate stuff but they let him away with it.
Charlton were slapped down for suggesting Aribo went to the wrong club.
Sutton was slapped down for suggesting what we all know; Ryan Kent was a panic buy.
And there was a big rant about Scotland and how Steve Clarke's training regimen injured his player after the rigours of the match against us. Funny, because three of Scotland's other players – Forrest, McGregor and Christie – played in that match as well and they were somehow able to cope.
The media didn't even bring that up. Shame on them for their pandering to this guy. They simply let him attack the national team manager and his staff, and in doing so they've allowed the implication that Ryan Jack was singled out for a tougher time than others.
One hysterical Ibrox site has said that Gerrard's comments indicate that the club has an opportunity to sue Hampden. For what? Because one of their footballers isn't fit? Whose fault is that? Certainly not Clarke's. But this is what happens when this stuff goes unchallenged.
Only one person challenged it; Lennon. Of course.
Speaking of our own players, he had this to say; "They had the game, they were straight to the hotel, maybe a recovery day and then into the training. Maybe Steven has an issue with that because of Ryan's injury but thankfully we are injury-free from that. It's part and parcel with being an international player, you can get injured here, you can get injured in training with us or training or playing for the international team."
Lennon never misses an opportunity to remind the media of what they should be writing. He was on the offensive again today over the plague of "racist and sectarian singing." He should be hammering down on that every chance he gets.
He knows why Gerrard did that, he understands deflection tactics when they are being used so openly, so blatantly. He was never going to let the Ibrox wailer away with that, not when we had three players involved to Gerrard's one … their representation at international level is pitifully small at the moment, and especially with Scotland.
I think Lennon likes to remind him of that as well.
Gerrard is a small, petty man. His sterling record as a player – he is one of the finest I've ever seen – does nothing to change that. Indeed, his successes as a footballer and the adulation he once received as an on-field leader (I'd rather have Brown any day) has made him believe that he can do this management lark as well. He's wrong.
Believe me, we have nothing to fear from this guy at all. Even some Liverpool fan sites, which were labouring under the impression that he was doing well up here, are tuned in now … one mocked his tactics board the other day as grossly simplistic.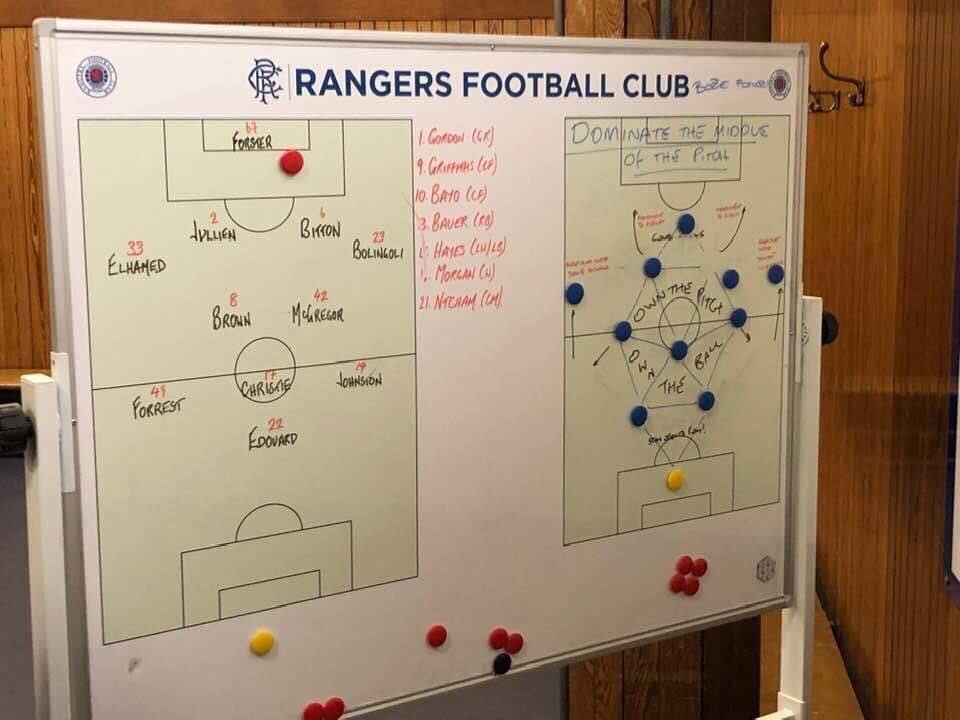 I mean look at it; that stuff wouldn't fly in a Football Manager career game these days.
If you uploaded those tactics to their Steam Workshop you get a string of bad reviews but very few people actually trying it for themselves.
A lot of folk in the media already sense this.
A lot of them know he's whingeing to divert scrutiny.
How come only Neil Lennon actually bothers to point that out?
em>The CelticBlog is your site, and it thrives with your support. Please share our articles on social media, and subscribe to receive updates whenever we post a new piece. Remember, we have a Facebook page for all the articles and a Facebook Group for discussions about the pieces and other issues, and you can follow us on Twitter and on Celtic News Now.