That was magical.
That winner – which we wholeheartedly and absolutely deserved – was one of those moments only football can give you. Coming late enough in the game that there really wasn't a way back unless we monumentally lost concentration, it energised Celtic Park like someone had plugged the whole crowd into a live socket.
That was just glorious. Glorious.
Look, I am too emotionally wrought to do a proper evaluation on that for the night, so instead I am just going to gush about how much I love Celtic.
Hope you don't mind.
Nights like this are why our club is special.
Nights like this are what make us great.
This feels like a big moment, like one of those moments that a truly great season is built on.
Lazio are a quality team of the first order, and not even our bitter hacks – and what a miserable night some of them must be having after watching that – would deny it.

To be 1-0 down to such a side at half-time, and with them defending brilliantly, you wondered if the magic was there.
But of course it was going to be there because Celtic Park is filled with magic on nights like this.
The elements of it dance in the air, like oxygen, and sometimes they come together beautifully, and you get a strike like Ryan Christie's.
Sometimes the whole team seems to draw strength from it and you get us closing down fifty-fifty's in their half, with minutes to go, when lesser teams would have taken a draw and from the well-won corner you get a bullet header like the one produced by Christopher Jullien … and everyone feels it sweep around the ground. The save from Forster at the end was simply our keeper rising on the last wisps of it in the air. Beautiful, beautiful stuff.
We're at the top of the group, but more than that; this is our posting notice that this club is on the way back as a European side that others will fear. Rodgers' time at this club was characterised by big let-down moments, like Anderlecht at Parkhead and Monchengladbach. Cluj gave us all the fear that the corner hadn't been turned … but we've beaten them since and tonight we've brushed aside a Serie A giant. That feels significant. It feels big.
All I'm going to say now is that I was torn before Jullien scored about who the man of the match was; it's between two players and you can vote for them below. Ryan and Christopher were magnificent tonight.
They were just magnificent.
I am thrilled that they got a goal apiece.
I'll do a proper, fuller, review tomorrow.
For tonight, I want to celebrate a wonderful result and a wonderful feeling.
The feeling of expectations being met, and then surpassed.
That performance was everything we hoped for and a little bit more.
It was magic.
Who Was Man Of The Match Against Lazio Tonight?
Ryan Christie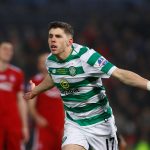 Christopher Jullien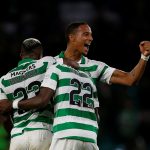 Please share these articles widely, and join our Facebook Group for discussions about the pieces and other issues.
If you have trouble finding the articles you can subscribe, follow us on Twitter and get every piece on Celtic News Now. And you can, of course, bookmark the site itself and check it for updates throughout the day.