If there was ever any emotional attachment to Celtic running through Davie Provan's veins, you sometimes get the impression that he would rather have a full blood transfusion than show the slightest sign of it. He unmistakably has an issue with us.
That man can barely string together a single sentence in praise of our club; his coverage is now so negatively skewed even his employers must be embarrassed.
And as much as he seems to hate us, he hates Scottish football more.
How else to explain his bitchy, pitiful article of this weekend, wherein he slated both ourselves and the Ibrox club after good performances in midweek by focussing on the strength of the opposition.
Neither Lazio nor Porto are good sides, he maintains, with a particular focus on how Lazio finished eighth in Serie A last season and sit in that spot right now.
I couldn't care less where Lazio finished in the last campaign; we were, after all, playing in the Europa League, which is the second tier competition, and in particular when so many club sides from Italy get into the big competition. Four of them play in the Groups automatically.
Provan points out that if we'd had have got one of those sides it would have been a harder game.
Wow. Did he graduate top of his class or what?

That Lazio team was expensively assembled.
It contains top internationals from all across the world.
If their manager is presently not up to snuff, it's incumbent on them to deal with that.
Virtually the same Lazio side were 5th in Serie A two seasons ago and reached the Europa League quarter finals.
They are still a top class season, some difficulties at the present time notwithstanding. Provan wants us to rend our garments and wail because we're not slugging it out with the absolute elite here; I refuse to do so. A result against a club such as that will never be anything other than excellent.
We are having a very good campaign.
But Provan is so Anglo-centric now that he can't see straight. His comments about Porto were equally ridiculous, by the way, a side who got to the Champions League Quarter Finals last season. Say whatever you want about Gerrard's side, but that was a heck of a result.
I half suspect that Provan threw that in there so as to disguise from the central thrust of what he was writing, which amounted to attacking Celtic and the manager because he dared to suggest that beating Lazio was a very big result. Which it was.
Provan has become so anti-Celtic that you increasingly wonder what we ever did to him, except give him the platform to make his name in the sport. Other than having played for us he'd never have got his stint on Clyde without which the media world would never have heard of him. Listening to him lately, you get the impression that this is a guy whose football knowledge is twenty years out of date, and his disdain for anything achieved by Scottish teams is legendry.
This is the guy who thought Edouard wouldn't cut it and last December suggested we sign Steven Naismith on a free … to demonstrate ambition.
Earlier this year he had a dig at us over Rodgers' leaving, which he expanded into an attack on the game here itself.
His article on Scott Brown not being a "true" Celtic captain was so appalling I was raging reading it.
I just can't stand the guy any longer; he was unbearable years ago, and it's been more than twenty since I could last stomach him. The Davie Provan I remember scoring a magnificent free kick at Hampden in a cup final might as well no longer exist.
I know him now as a spiteful, bitter, vindictive fool who uses his press column to settle old scores and snipe at enemies real and perceived. This is not the first time his poison pen has stabbed at us. I don't expect that it will be the last either.
The man is a clown.
Is Davie Provan the stupidest "journalist" who ever worked for Celtic?
He absolutely is, no question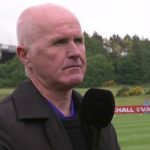 Unless you include this guy And leave out this idiot Please share these articles widely, and join our Facebook Group for discussions about the pieces and other issues.
If you have trouble finding the articles you can subscribe, follow us on Twitter and get every piece on Celtic News Now. And you can, of course, bookmark the site itself and check it for updates throughout the day.