Almost every major Celtic fan site has given the Resolution 12 boys their support over the course of the weekend.
This site and others have polled on it, and we're going to continue to.
My own poll question may have been the most extreme; I asked whether people would support the Resolution 12 shareholders suing Celtic if that's what it came to.
Almost 1700 votes have been cast on that question up until now – and you can vote for it at the bottom of this piece if you haven't done so already – and the figures are plain to see. Over 80% would back these boys, even in that all guns blazing scenario.
So I ask that you lend this your vote and share this article or the prior one, so that we can get as large a number as possible. Suing Celtic is a pretty extreme measure, and not one I'd ever have thought any supporter would do. The target here was, and remains, the SFA.
They are the ones who were either asleep at the week or complicit in a fraud.
Whatever Celtic's reluctance is based on, it hardly matters anymore.
Only they can push this to the next level; that was true in 2013, when this matter was first raised, and it remains true today. The SFA has part of this case in their hands, but they refuse to send it to the Court of Arbitration for Sport.
Celtic believes this matter is best left in the SFA's hands … but the SFA are the ones who did this in the first place.
So why are Celtic content to let the criminals investigate the crime?
At this point is difficult to see how this matter can progress.
But it will certainly die without the efforts of all of us.

Celtic AGM's have always been an exercise in cosmetics, in smoke and mirrors.
No decision of real consequence is ever made at one of those events. Take the Living Wage issue; that was voted down at subsequent AGM's and might never have implemented but for a fan-led campaign that included some big guns like Kevin McKenna. It changed the game.
The board already has the votes to put down anything at those meetings that it does not like, and so what happens at the next one would not have mattered except in the case where Celtic lent these guys the support they should have right from the start.
With their communique to "advise" the rest of the shareholders to vote down the motion, they've already declared the contest. That one is finished before it starts.
This is not one of those times when we can look to others to do the job for us; if this campaign is going to finally succeed it needs all of us to put our back to the wheel a little bit. The best thing we can do right now is to send the Resolution 12 guys into that AGM armed not only with every shareholder vote and proxy we can give them, but with the wholehearted backing of fans who don't own shares and thus have no voice at that meeting.
AGM votes are the not the way this thing is going to be decided. It will be decided in how you voice your disgust. In how you make your feelings known.
A vote on a poll is a small step, but it sends a message.
This website has always been an open forum, and anyone who follows us on Facebook knows that I'll accept submissions from anyone with a point to raise. Social media itself is full of anger over this, and I think I'll collect some of it for another article.
All of that makes a difference.
It sends those guys into that room with more than just pieces of paper in their hands. It sends them in there as the representatives of a much larger community than the shareholders. And that might just convince the board that this will not go away.
It won't go away.
That much is plain from reading the editorials on sites like E-Tims and The Celtic Star.
There is real, genuine, fury out there over this. It is a clear-cut case of the governing bodies screwing our club, and the response of our so-called custodians has been to raise more questions than it answers. Something is rotten here and we can smell it.
People aren't going to rest until we've traced that stink right to the source.
These boys were ready to follow it all the way to Hampden.
The board had better believe that they will be willing to follow it all the way to Celtic Park.
Should The Resolution 12 Team Consider Suing Celtic For Failing To Support Them?
Yes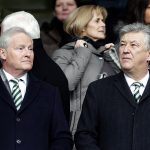 No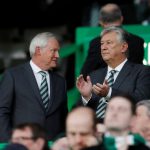 Please share these articles widely, and join our Facebook Group for discussions about the pieces and other issues.
If you have trouble finding the articles you can subscribe, follow us on Twitter and get every piece on Celtic News Now. And you can, of course, bookmark the site itself and check it for updates throughout the day.