So I take a couple of days away and come back to find Celtic "in crisis."
How the Hell did that happen?
What kind of crisis blows up over two days in the middle of a week?
The kind that is invented.
The kind that was manufactured in the press rooms.
Celtic has "injury problems."
One real one, a maybe one and a theoretical one which has generated more acres of press coverage than many an actual enforced absence. The media is positively a-drool over the possibility that Odsonne Edouard might wind up out of the team. Their eagerness for it is frankly appalling, and the response to it is wearisome.
Remember that this is an injury that hasn't happened.
Odsonne Edouard is fit and well at the time of my writing this.
Are Celtic's Injury Issues Anything To Worry About?
Yes, one fit striker is terrifying!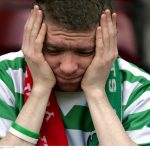 Not as long as they don't get worse.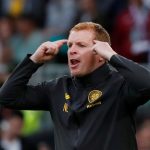 Absolutely not. We'll power through.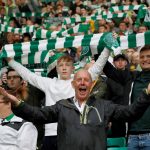 So many people are flapping over this and I have no idea why. "Celtic has one fit striker!" is what people seem determined to remind me over and over again.
You know when I'll worry? When, and if, Celtic has no fit strikers.
And even then, I'll be pretty confident that we're alright.
Bayo, on the other hand, looks like he'll be missing a while, and I'm actually quite sad about that because he looked like he could do us a job either on a rotation basis or as someone who could come into the team if the hypothetical became reality.
The media seems to think this plunges us into trouble; half of them have been saying they don't rate him anyway, so are we really in that different a position as we would be if he was fit? I think he's a decent option and so I will miss his presence on the bench … but I really don't know what those who have written him off are getting so worked up about.
These people need to get their story straight.
And Brown could miss the game. He's an injury doubt right now, so he's the maybe.
I suspect he'll play but even if I'm wrong Nir Bitton can fit nicely into the team and Callum can take over Scott's role as the anchor. He's been lending Brown a hand in recent games anyway and Bitton can fit into his place. I hear Ntcham is also probably going to be ready … we have options here.
So really, I am moved to wonder what all the flap is about.
We go into tomorrow's game against a side who's manager is hanging on by a thread – as opposed to one who's already fallen off the cliff; more on that later, I'm sure – at Hampden, our second home, with another cup final place up for grabs and a quadruple treble to think about if we make it.
And we're still top of the league. With the best manager. With the best squad. With Scotland's best player in the forward line in spite of all the prayers offered up and sacrifices made to the God's of the Underworld which are doubtless going on in media rooms and Sevco fan sites up and down the country.
We're ready. We're capable.
And tomorrow we're going to book our place in the final.
Crisis? What crisis?
Please share these articles widely, and join our Facebook Group for discussions about the pieces and other issues.
If you have trouble finding the articles you can subscribe, follow us on Twitter and get every piece on Celtic News Now. And you can, of course, bookmark the site itself and check it for updates throughout the day.