Good God it is freezing tonight.
Thank God we had some fine football to warm us up.
It wasn't always beautiful, but when Celtic bring out the box of tricks … by God we are worth watch.
Especially in that first half were we were excellent and could have run up the cricket score after all.
There are players in our team who it is a genuine pleasure watching. Eddie, Forrest, Ntcham, Elyounoussi.
But Frimpong is just marvellous.
What a sublime talent we have on our hands here.

Big Abd Elhamed being out for a few weeks is more of a concern as our central defensive backup than about how we'd cope at right back … this kid is just phenomenal.
It was a treat to watch him at times today, a legitimate joy.
The best of it is, this kid has fancy footwork and pace to burn, but he's also strong and unlike the hyped Ibrox superstar at right back this kid can defend as well. It exciting watching this great young talent emerge in our squad.
What in God's name were City thinking in letting this kid go?
The same applies to Elyounoussi, who at times in the game today looked unplayable.
The awareness he has, the way he drifts into space, his ability to see an opportunity, is incredible. He is worth paying the big bucks for. Make the deal permanent, Celtic, and we'll have years of this guy entertaining us and destroying the opposition. He's a great player.
And then there's Eddie, who took his goal today with the composure of a true great.
It is a credit to how good the rest of this team is that we don't focus all our attention on the Frenchman. As good as he is – and he's very, very good as we know – he's a cog in the big machine, a spoke on the wheel. Yet he is deadly, as deadly as any finisher we've had since the King.
Callum had an excellent game, and so too did Ollie. Ajer and Jullien were typically solid.
I've missed someone out … of course. James Forrest was all over the place today, covering every blade of grass. He and Frimpong bombing up that right hand side were the cause of all sorts of problems for Motherwell, all day long today. They were excellent.
James has gone from being a footballer I thought we could easily – comfortably – do without in the squad to one who is an integral part of all we do. I thought he'd be under real pressure this season with us having signed Shved … but the Ukrainian, who's no slouch, can't even get in the squad right now far less the starting eleven.
Yet even if our new boy had been on fire, he'd have had a job on his hands to remove the home-grown boy with the famous name (haha) from his place in the starting eleven. With him on one side and Elyounoussi on the other we're dangerous every time we get the ball, anywhere on the pitch.
I said earlier that I'd have settled for any scenario where we got the three points tonight. We've actually stayed top of the SPL, and that's very good. Those who think there's only "one goal in it" haven't been watching the two teams.
There's a lot more than one goal in it. The football we play at times is second to none and today it was as entertaining as it's been all season, until we got goal number two when we, understandably, took our foot off the gas.
Who was your man of the match today at Celtic Park?
Ntcham
Callum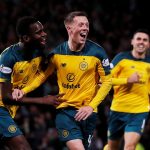 Frimpong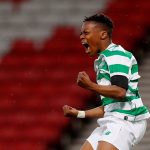 Forrest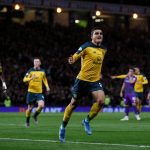 So it's into the international break we go again, sitting atop the table, in a cup final and having wrapped up European qualification already, with two games to go. There's a lot of football still to play this month, but for the next fortnight I'll be watching re-runs of The Sopranos, albeit writing every day as per usual.
The fun never stops here.
The October report card will be up later tonight, but so far November is going well.
Please share these articles widely, and join our Facebook Group for discussions about the pieces and other issues.
If you have trouble finding the articles you can subscribe, follow us on Twitter and get every piece on Celtic News Now. And you can, of course, bookmark the site itself and check it for updates throughout the day.