The month of December is looming in front of us, with enough stuff in it to keep any manager cruising on coffee.
Pressure? Oh Hell yes.
A cup final, a game against our so-called rivals in the league at the end of it, and games, games, games in-between.
I've seen a lot of talk about how rough December is going to be, and I understand why.
Because it already looks like it could be the toughest month we face all season. It is natural to be looking at, and all the more so in light of the number of players we have lost to injury, some of whom definitely won't be fit for the match at Hampden.

But you know what? To focus over-much on December means taking our eyes off the ball and we can't afford to do that because November isn't over yet.
There are three games left this month, two of them in the league, one them away from home.
We also have Rennes to contend with, and although we're already through that's a home game and I would hate to see us give anything away in that one.
Win it convincingly, top the group and go to Cluj to party.
Will December prove to be our toughest month of the season?
Yes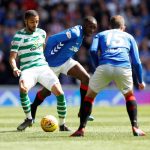 No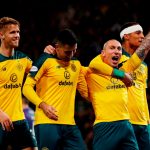 The league games are paramount of course.
I want us going into the game at Celtic Park at the end of the year a couple of points in front of the Ibrox NewCo. A win, therefore, gives us breathing space in which to sign some players and refresh the squad. Do that and they'll fold like a cheap suit, especially if there's already external pressure on their finances.
There are no easy games at the moment, no meaningless ones, not whilst there's a club hot on our heels. We'll still win this league comfortably – ten points minimum in my view – but there are risks involved in getting complacent … I don't believe we'll do that though.
This team will stick to the task at hand, treating every game as if it is the biggest of the season, and the next one is Saturday at home, to Livingston.
Please share these articles widely, and join our Facebook Group for discussions about the pieces and other issues.
If you have trouble finding the articles you can subscribe, follow us on Twitter and get every piece on Celtic News Now. And you can, of course, bookmark the site itself and check it for updates throughout the day.