Lazio's manager, and their star man upfront, have blamed bad refereeing for Celtic's wonderful win last night. It does make me laugh.
They sound so much like their Ibrox brethren, who are never beaten but always cheated somehow, that when you consider all the other similarities between them you wonder why there isn't already a formal link between the clubs.
Celtic were exceptional last night in that second half.
Exceptional.
Lazio's players can complain all they like.
That's twice in a fortnight we scored late goals to beat them and having done so home and away in the competition we've gone through and they are as good as out. A team that switches off and stops concentrating in the closing minutes of any game gets what it deserves.

I laughed especially long and loud and hard at Immobile saying that last night proves that Italian refs are the best in the world. I'm not quite sure what his point was, but I'd counter it by pointing to how many of them have been accused of corruption down through the years.
I daresay it would have suited his club to have had a domestic ref.
Unfortunately for them, UEFA doesn't allow it or they might have had a Scottish one.
That may even have worked better for their club than an Italian.
We harbour no illusions about our own referees or where their allegiances lie.
Losers always find someone to blame. Doubtless there are hacks – like Provan – who will retreat back towards the "Lazio aren't that good" excuse for what happened last night; in fact, it was one of the most professional displays I've seen from a Celtic side away from home in Europe in years.
We showed every quality Lennon has been busily instilling in this team.
I'll talk about that more in another article, but for now I am going to marvel at a Serie A club trying to blame a referee for their being knocked out of Europe by our side.
It's a poor excuse.
Who would have helped Lazio more last night?
A Scottish ref? An Italian ref?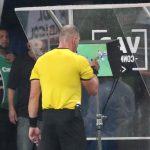 I'd respect them more if they simply gave us the credit we deserve.
When your team has lost home and away to late goals after being in the lead, there are questions to ask about your own mentality … but there's also a lot to credit your opponents for, and they should be giving a little of it our way.
Frankly, their manager sounded a lot like Derek McInnes last night … and of course, that's not a compliment, is it?
Please share these articles widely, and join our Facebook Group for discussions about the pieces and other issues.
If you have trouble finding the articles you can subscribe, follow us on Twitter and get every piece on Celtic News Now. And you can, of course, bookmark the site itself and check it for updates throughout the day.