The Scottish media has a great way of making me laugh.
One of the best stories of the day has come from the pen of one of our hacks, or rather from his Twitter account.
I don't know if Tom English is trolling us today or if he really is dumb enough not to realise what he's doing, but goings on with English rugby have him frothing.
At a time when we're all talking about Financial Fair Play, and the lack of it in Scottish football, it's taken the egg-shaped ball game south of the border to show us how it's done. Top club Saracens have breached a salary cap, and tried to conceal what they had done.
What did the game's leaders do? They have deducted them a whopping 35 points, fined them £5 million and plunged them into a relegation fight.
Saracens are the champions.
They are biggest club in the sport.
This has not deterred the governing body in imposing a harsh sanction; it is the maximum punishment that was available to them.

Even so, Exeter's CEO wants them suspended from this year's competition until they can prove that they have properly complied with the rules.
Tom English seems to think this is fodder for low comedy.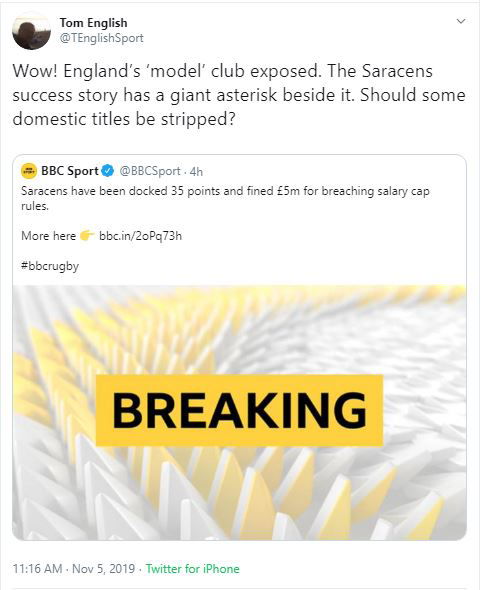 Either that or he's got no sense of irony at all.
The English rugby league has used its powers in full.
If there was a stiffer sanction available to them they would certainly have imposed it.
If title stripping were an option they'd have taken it.
Nobody wanted to apply that sanction to Ibrox, and the governing bodies made sure that the scandalous Five Way Agreement indemnified the cheats against that punishment.
Yes, they probably should have titles stripped, just as Rangers should have.
When Did Tom English Cease To Be A Credible Journalist?
Back in 2012 or thereabouts.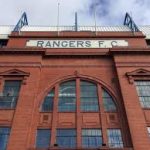 Tom English was a credible journalist?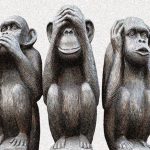 Yes, they deserve their punishment for breaching salary cap regulations, just as any club in Europe would be for breaching financial fair play. Does English agree? Or does he think cheating should prosper? I really don't care. He's impossible to take seriously on any subject.
But Scottish football has, again, being shown up. Our governing body has, again, been made to look flat-footed and ridiculous by authorities elsewhere. These people can't even make up their minds whether Dave King is a fit and proper person and that one surely doesn't require even the slightest further discussion.
What a joke they look.
If anything, Tom English looks worse.
Please share these articles widely, and join our Facebook Group for discussions about the pieces and other issues.
If you have trouble finding the articles you can subscribe, follow us on Twitter and get every piece on Celtic News Now. And you can, of course, bookmark the site itself and check it for updates throughout the day.