I said I wasn't going to do this again, but I find myself sitting tonight laughing and, against my will, in a sense even admiring the brazenness of Brendan Rodgers and his slippery egomania.
This guy is going to do to Leicester exactly what he did here, and I don't mean in terms of delivering trophies and titles.
He is going to walk on a job not even close to complete and he is not going to look back when he does.
It is a certainty. You cannot read his comments tonight and doubt it.
I do this a lot where politics is concerned; I may not like some of the players, or the sides they are on, but I love the game, I love to watch people who are good at it, doing what they do. From Lynton Crosby and his "dead cat", which I talked about the other day, to the sophistication of the Reagan campaign's "Morning In America" ad – which was about hiding the fact his re-election was being launched with no policies or plan to speak of – I enjoy quality craftsmanship.
Today Rodgers was denying media reports that he had been sought out about the Spurs job.
He denied having been interested in the Spurs job.

I laughed, because everyone south of the border knows full well that the reports which said that Daniel Levy asked Leicester about Rodgers' availability after sacking Pochettino were nonsensical; the Spurs chairman was too busy planning the press conference for Mourinho, a deal that was obviously done weeks ago, as the Portuguese himself made clear in a TV interview earlier in the month where he said he already knew what his next club was going to be.
Rodgers wasn't on any fabled shortlist any more than Gerrard was.
The shortlist never existed.
The media stories claiming Levy wanted him didn't come from Spurs or sources at Leicester, although they would have had to come from someone close to the action.
But there was no action, and only one person benefits from the story.
It's blatantly obvious that it came from Rodgers himself, or his advisers, which amounts to the same thing.
It means he's at it already, self-promoting, planning his next career move.
"What happens in football now is that if you go through times when you're doing well and you work well, everyone wants to take you away from that," he said.
Except no-one tried to take him away from anything; he's promoting a story that had no basis in reality, because it makes him look good.
Who's he trying to impress here?
Leicester fans love him, his board is in awe of him, so who exactly is he polishing his rep for here?
His next bosses, of course.
How quickly would Rodgers have dropped Leicester had Spurs shown interest?
Instantly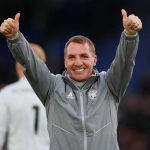 Immediately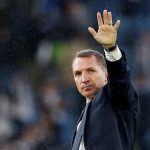 No hesitation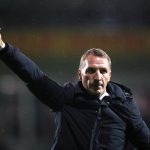 Bye Bye Foxes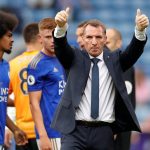 I respect that, and I like how he's played this one.
Smart stuff.
He denies interest in the job after the fact, when it's no longer an issue, looks loyal to his followers and still manages to subtly get it out there that he was in the running for it.
He's good. He absolutely is.
This job slipped away because the deal was already done, but there's little doubt that his people were getting ready to start whispering his name in every year connected to the Spurs operation. It's equally obvious that had they got positive feedback he'd have dropped Leicester in the blink of an eye and been unveiled next to Levy the following day.
"The only thing I will say is I was very happy here at Leicester; I've literally just joined the club in February," he said.
Note the Freudian slip where he says was very happy rather than is very happy.
It isn't long before he reinforces that view. "I came here with a responsibility to help Top, Susan Whelan, Jon Rudkin and all the players and staff here, to help the club grow. In my time here that is what I'll aim to do. How long that will be you can never tell but I am very happy to be here."
"How long that will be you can never tell …"
Man oh man.
This guy is already planning his next move.
If the Arsenal or Manchester United jobs becomes available before Xmas, you watch the media campaign for Rodgers go into full swing.
Let's see how long he denies interest, as long as the jobs are still unfilled.
Please share these articles widely, and join our Facebook Group for discussions about the pieces and other issues.
If you have trouble finding the articles you can subscribe, follow us on Twitter and get every piece on Celtic News Now. And you can, of course, bookmark the site itself and check it for updates throughout the day.