From the day and hour that Steven Gerrard took over as Sevco manager, the media has been wetting its pants over him.
"Oh look how he's improved the side," is the familiar refrain, as if you would expect anything else from a manager who had spent £20 million in Scotland in just two years.
Their start to the season has not provoked gushing coverage as much as it has inspired hysteria.
All the talk is that he is a sure-fire bet to be installed as the next manager of Liverpool.
After Jurgen Klopp goes – this great figure in football history who has just won a Champions League with them – they are going to appoint a guy whose record is spending a fortune to finish second in Scotland?
Why am I not seeing that in his or Liverpool's future?
Liverpool is not remotely a possibility, but it is certainly more likely considering his iconic status as a player there than the idea that some other club in England will come calling.

Yet in the space of a few weeks he has been linked with the still not vacant job at Arsenal and, last night, hilariously, the briefly open post at Spurs. This is pure fantasy land stuff.
"Gerrard is on the shortlist" one breathless outlet squealed.
Oh yeah? It must have been a very short one, consisting of him and Mourinho, who was the only person they actually spoke to. They knew exactly who they wanted before they even did the sacking, and didn't piss about making shortlists.
Bad luck Stevie, but don't worry. Another will be along in a minute.
Not one person inside Spurs would have given Gerrard the least consideration.
The notion is too daft for words. You might as well put Lennon on the shortlist as well, which, with all respect to our current manager, is just as stupid. The clubs at the top end of that league can afford to go out and hire the very best. Spurs have gone box-office; what else did people expect?
Gerrard was box-office once. As a player. So was Roy Keane. I would say that Manchester United would not even entertain the idea of giving him the job … and they wouldn't, except that some would argue they already have, in giving it to another favourite son.
Look across Europe at the moment; clubs giving ex-players managerial jobs is rife. Some get lucky, as Celtic have … and be clear, that's all it is with us. Luck. The appointment of Neil Lennon was a grotesque risk that we ought never to have even considered … and it was the only thing we considered. Chelsea's decision to hire Lampard looks solid … right now. But he hasn't won anything yet and I still think that one is doomed to ultimate failure.
The flaming wreckage of this fad is scattered across football's landscape. Look at our European opponents; Lazio are certainly paying for their flirtation with it; if Simone Inzaghi wasn't a club legend he would not have survived last season's disastrous league form.
So no, whilst Old Trafford will never play host to manager Roy Keane, they will regret a thousand times over that they gave Solskjær the gig. His sacking is inevitable, delayed only by the board's unwillingness to acknowledge, and correct, their own calamitous mistake.
This is the only chance Gerrard has of landing a job at a top club in England, that Liverpool are swept up in emotion rather than reason. There is not another major side south of the border who would even consider him.
As funny as it will sound, Sevco might well be the biggest management job he ever has in the game.
The place is good at destroying careers.
The media's love-affair with this guy extends both north and south of the border; that much is a fact.
He is a far bigger "brand" than the rag-bag mob who have him in the dugout right now, and that's his main selling point.
It will not be enough to land him a top flight job at a major club, not even if he left right now when his stock is still relatively high.
Phil wrote an extremely interesting piece last week wherein he suggested that Gerrard's advisors have reached out through third parties, and put his name in the frame. It may well be that they were the folk who placed the Spurs story in the press however briefly.
Do I believe that he's already trying to find a way out of Ibrox?
I actually do, because Gerrard might not be the sharpest tool in the box but he's not a complete idiot either and he knows that this is the moment, right now, when his stock is high and this might be as high as it ever gets.
He has a cup final next month and then he's got to bring his team to Celtic Park.
Is this the biggest job Gerrard will ever have?
Yes, his career is downhill from here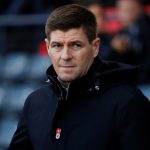 No because Tesco might be hiring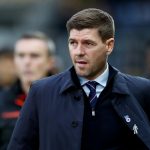 On top of that, he's still in a tight Europa League battle where his side has to win both games.
By the end of December, he might be out of Europe, a way behind Celtic in the title race and beaten in a cup final. His record against our club would certainly read played three, lost three for the season, one defeat at home, one away and one on a neutral venue.
That would put him on the brink over there.
What does getting fired do for your reputation?
He should ask his Ibrox predecessors, and one in particular, another favourite son who has not managed since being sacked by Sevco five years ago. He's a media darling too; that's where he makes his living now, rather than out on the touchline.
So it will be here.
Please share these articles widely, and join our Facebook Group for discussions about the pieces and other issues.
If you have trouble finding the articles you can subscribe, follow us on Twitter and get every piece on Celtic News Now. And you can, of course, bookmark the site itself and check it for updates throughout the day.