Incredible. Absolutely incredible.
I am going to need time to process this one, but to say I'm over the moon, to say that I am overjoyed, to say that I am a little gobsmacked … all of that would be to understate how magical this moment is. We've beaten a Serie A side home and away.
We have ten points in this group. We are through.
What a wonderful display that was in the second half.
People are going to say we rode our luck; listen, don't pay a single bit of attention to any of that obvious rot, because I've seen Celtic sides go down a goal early in European matches against teams like this and been brutalised.
At no point tonight did I believe this one would be.
Because this one fought.
They were on the back foot in the first half, but we were playing away against a Lazio side that had to win … pure and simple.
Of course we were going to be on the back foot.

But we withstood. We did not quit. Our opponents are a top quality side, sitting in fourth in Italy right now. Their form of late has been excellent at home.
Yet we did not buckle under them.
The keeper made some good saves.
The defenders made some key interceptions, but that's what they are for.
The post saved us at least once.
You know what?
That's what the post is there for as well.
The ball has to pass in between them before your team gets awarded a goal and tonight we managed that twice and Lazio managed it once, just like at Celtic Park.
I am thrilled for everyone at the club, from the manager to the players and especially to our amazing traveling support who, in Europe, have been on the back end of too many beatings in the last twenty years, when our so-called "dreadful away record" was being formed … we can put that nonsense in the rear-view mirror tonight along with much else.
I am afraid there's not going to be much insight tonight. I am going to need peeled off the ceiling before I can commit to sitting down and thinking rationally about this; I am amazed I've done 400 words without a big string of YEEEEESSSSSSSSSSSSSSSSS!
Because honestly, that's all that's going through my head at the moment.
We have survived the Coliseum.
The Lions have eaten the Romans.
We came, we saw, we conquered.
GIRFUY to the critics, the cynics and the haters tonight.
This is all about us tonight, all about this excellent, never-say-die team the manager has built here.
Who are you happiest for tonight?
The fans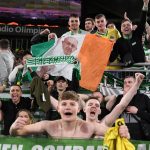 The manager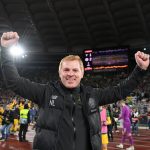 The players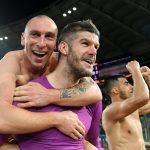 That was what counted tonight, that was the difference between this team and some of the others I've watched in the Hoops, many with allegedly better players – although I will tackle that tomorrow and you might be surprised what I write – but without this strong mentality.
I love this club, and tonight I am going to enjoy the simple act of enjoying a big win.
Please share these articles widely, and join our Facebook Group for discussions about the pieces and other issues.
If you have trouble finding the articles you can subscribe, follow us on Twitter and get every piece on Celtic News Now. And you can, of course, bookmark the site itself and check it for updates throughout the day.