I was sorry to hear, the other day, about the injury to Abd Elhamed.
It will keep him out of next month's League Cup Final.
That's a blow, because he has been absolutely exceptional for us since we signed him.
He is a very fine player and we will miss him.
But my concern over this news is mostly about his utility; he is, of course, one of our two stand-in centre backs should something happen to either Ajer or Jullien. The other, of course, is Nir Bitton. I think he'd do fine if push came to shove but there's nothing like having players in their natural positions and Abd Elhamed is comfortable at centre back.

The news today that Elyounoussi has a knock is more troubling. He is a weapon we'd badly like to have in that game, and we can only hope that whatever ruled him out of international duty isn't bad. He is the best we have wide left, and especially whilst Mikey is still out.
But I have no such fears at right back, and if someone had said that to us at the start of the season I think we'd all have assumed the lack of concern rested with Bauer. Don't get me wrong, it's good that we have that boy in reserve because I like him and think he can play … but actually, the confidence we all have rests on the shoulders of the kid, Jeremie Frimpong.
I am really excited to see what this kid can do on such a stage, and I don't believe we should have the slightest concerns about throwing him into the game. He will have made several more first team appearances before it comes around, and that might include some in Europe if he's registered for the squad.
There is no reason not to do this.
Should Lennon be afraid to unleash Frimpong on the Govan NewCo?
No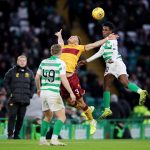 Yes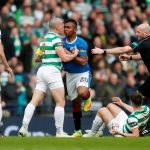 Frimpong is one of the most exciting talents we've seen emerge at Celtic Park for a while.
He is one of those players who genuinely gets the crowd on its feet, and whenever I have watched players run at the Ibrox defence they have done damage. This boy is electric. He will tear them to pieces down that right side, and along with Forrest could be decisive on the day.
The manager knows what he's doing, and I firmly believe he's seen enough of this boy to know he can handle a big event like a cup final … it is the perfect stage for such a talented young player.
It is all set for him, and all he has to do is seize the moment.
Please share these articles widely, and join our Facebook Group for discussions about the pieces and other issues.
If you have trouble finding the articles you can subscribe, follow us on Twitter and get every piece on Celtic News Now. And you can, of course, bookmark the site itself and check it for updates throughout the day.