The weekend went pretty much as expected. Celtic were magnificent against Hibs.
We played what was, at times, devastating football.
Had we not decided to take the foot off the gas ever so slightly towards the end we would have scored ten.
Sunday's semi-final involved a team without a manager playing against the luckiest club in Scottish football. I watched half of it. When Sevco scored just before half-time I knew there was no point in watching the rest. I saw what I had to.
By the time the final comes on 8 December, we'll have a clearer idea about how the title race is shaping up. By the time the final comes I expect Celtic to have secured qualification to the knock-out stages of the Europa League. The fixture list in the run-up to that game is as straightforward as it gets; all of our domestic games, save for a trip to Ross County, are at home.
We have Lazio away, but Rennes have to come to Celtic Park.

All in all, it's fairly routine.
The final itself is the same. I don't believe Sevco can touch us when we're on our game.
As ever it will depend on which Celtic shows up, but I already suspect I know which one it will be. With another trophy at stake, with a chance to hammer home our superiority, following our win at Ibrox, and prior to them coming to Celtic Park, I don't think it'll even be close.
What we have here are two fundamental differences in style and quality, and that's reflected in the way the two teams play. We play football on the deck and we're fast and aggressive. We have the best front players in the Scottish game, and the best midfield by far.
Our defence wavered a wee bit a couple of times at the weekend, but is solid overall.
They are a physical team who plays long ball football.
Our defence will read that stuff all day long. They think dominating the midfield is key, and that success will naturally flow from doing that, but we saw at Ibrox that it's wishful thinking to believe that playing three or four men in the middle of the park will stop us from playing our natural game.
If we keep the ball out wide, keep it on the deck and run at them, his footballers will be chasing shadows and it'll be a matter of time before we score.
Every team enjoys the moment of getting to a final. At Celtic Park it has become so routine now, so ordinary. We just assume that we belong at Hampden for these games; the thing is, we've proved that we do over and over again and that's the difference.
I understand the excitement at Ibrox over getting to the final, but there would have been the same excitement at Tynecastle had it been Hearts and my reaction to it would have been exactly what it is here; confidence. Because I have no fears about the game itself.
Are You Confident We'll Win The League Cup?
Yes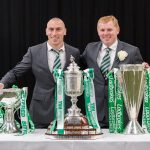 No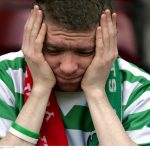 A cup final is a nice occasion, but it's also a non-event unless you emerge with the trophy.
We have won the last nine domestic cup competitions. We are unbeaten in 30 cup ties. Why should we not believe, absolutely, in ourselves for this one? Sevco can enjoy the next four weeks, and let the hype build, but it's all for nothing when they step onto the pitch.
At the end of the day, for them to be successful they are going to need to pull our trophy out of our hands at our second home.
Once they are on that park this will all boil down to the only fundamentals that really matter; the best manger and the best players.
I am unafraid.
The next four weeks, they'll get themselves all excited over this, but we are the biggest side in the country, by miles, and will prove it on the day.
Please share these articles widely, and join our Facebook Group for discussions about the pieces and other issues.
If you have trouble finding the articles you can subscribe, follow us on Twitter and get every piece on Celtic News Now. And you can, of course, bookmark the site itself and check it for updates throughout the day.