If you believe what you hear out of Ibrox, confidence is high over there.
Fresh from their win over Porto they are all feeling no pain at all, and nothing but relaxed going into the international break. But listen more carefully and there is a quiver in the voices … they are scared over there. They know that they are operating under a lot of suspension of belief.
Gerrard is worried about their domestic form, and especially away from home.
These eejits think they'll beat anyone at Ibrox – we've disproved that theory of course – but when they are not at Ibrox they are not as full of swagger. Tomorrow, on Livingston's ghastly pitch, where Celtic has already lost, they might just get a game … and he is scared.
His media statements make it quite clear. He is begging the SFA for "assistance" – he calls it "protection". Which is to say that he doesn't want his players touched. In a SPL game. A physical encounter which he doesn't want to be physical.

For the last few weeks he's been banging on about how the league needs to help "both clubs" but it's a call we haven't repeated because, frankly, were not interested in it.
Any postponements or whatever will only affect the schedule somewhere else down the line, and we're now in the fortunate position of being able to drop key players for the next two European ties anyway because we did our business early and we did it well.
It is no coincidence that these appeals out of Ibrox have come as Celtic moves into a home game schedule and they are moving out of one. There was none of this nonsense from Gerrard when his team were playing in front of their own stands every week.
Is Gerrard Running Scared In The Title Race Already?
Yes he is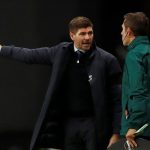 Not yet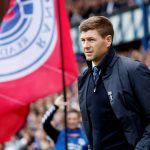 What we heard from Gerrard last night was a naked plea for favouritism.
His players suddenly need protecting now? From what, exactly?
From having to work hard and play in the same game as everyone else in the league?
Where's the protection for our players?
They get kicked from one end of the pitch to the other all week, every week.
Gerrard is trying to put pressure on the officials. It's not surprising, as set-pieces have made the difference on numerous occasions for his side in this campaign. Without them their league form would look a lot bleaker and all this talk of a challenge would already be at an end.
The media won't acknowledge that, although I'm sure if it was a Celtic manager coming out with all this chit-chat that they would recognise it for what it is and say so.
Gerrard is their golden boy.
For the moment. Wait until the form starts to go.
How quickly everything – and I mean everything – over there will change.
The pressure's not even really on yet … and this guy is flaking already.
Please share these articles widely, and join our Facebook Group for discussions about the pieces and other issues.
If you have trouble finding the articles you can subscribe, follow us on Twitter and get every piece on Celtic News Now. And you can, of course, bookmark the site itself and check it for updates throughout the day.