Today it's all about the three points. As good as it would be to run up a cricket score and really show the league what we're all about – and that European away ties won't influence our performances – I will settle for the scrappiest 1-0 victory.
I don't even care if it allows the Sevconites to momentarily sit atop the SPL on goal difference.
Let them delude themselves that it's going to matter come the closing stages, when we'll already be miles out in front of them. We've just beaten Lazio away; I am not living in fear of the rag-bag mob from across the road, and I never was.
Coming back from these games is always tough, and so I will understand if it's a bit scrappy today.

I'd love to think that some of these players will get a rest for the next fortnight, but I strongly suspect that's a forlorn hope.
These internationals are a drain on all of us. They have gone from being a minor inconvenience to being a major pain for all involved.
And of course, we have the additional frustration of the Scotland games, in particular, being absolutely meaningless junk. I would gladly never watch the national team again.
Today, then, is just about the win. Lennon and his team have done exceptionally well so far and we're well on course to keep our trophies. The advances in Europe are what has really stirred the blood though. They have been momentous.
In a way I understand last time why Lennon started to drift when it came to the grind of SPL business after tasting European victory.
But I am sure he won't let that happen this time.
Not with what's at stake. I am sure the players won't either.
What would settle for today?
Three points and I'm happy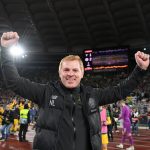 A cricket score, no less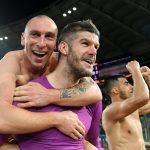 The team has just been announced and there are no real shocks – unless you count Ryan being on the bench, but I think that's due as he ran himself into the ground on Thursday – although there is some chit-chat about why there's no Griffiths in the squad; it's simple enough I suspect. The guy isn't fit yet and Lennon isn't taking any more chances with him.
I'll see you on the other side of the 90 minutes folks.
CELTIC: Forster; Frimpong, Jullien, Ajer, Hayes; Brown, Ntcham, McGregor, Forrest, Elyounoussi; Edouard.
Subs: Gordon, Taylor, Bitton, Bauer, Morgan, Christie, Rogic
Please share these articles widely, and join our Facebook Group for discussions about the pieces and other issues.
If you have trouble finding the articles you can subscribe, follow us on Twitter and get every piece on Celtic News Now. And you can, of course, bookmark the site itself and check it for updates throughout the day.