So, as we approach the consumerist slavery season, otherwise known as Christmas, it seems that Sevco have finally won their first major trophy and for us the Quadruple Treble dream is over! That's how it reads, and they must now be favourites for the League and the Scottish Cup and I'll sure they'll fancy contesting the January window Mickey Mouse cup again to avenge that injury time defeat by the Brazilian under 12's … except ….
None of that actually happened.
Because you don't win cups by having more possession or more shots on goal. This might come as a shock to the hacks and to the Sevco fans but you win them by scoring more than the other team! That is the basic premise of football!
You wouldn't know it from the commentary since last Sunday.
Now admittedly, Celtic were terrible!
Who is the best right back at Celtic Park?
Abd Elhamed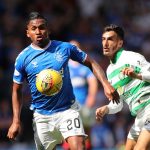 Frimpong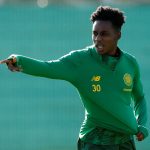 Mortiz Baur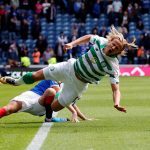 Other than Frimpong, Julien and Edouard, and of course, the magnificent Fraser Forster, no one really turned up but do you know what? I wasn't really all that nervous throughout the game. I knew we would score.
I'm sure people will already have made this comparison but it reminded me so much of the nineties it was like being there again … but from the opposite side.
Rangers began their nine in a row run the year I started high school so I spent all my teens watching those games and oh man, how painful they were.
We won a few, mostly meaningless, games against them but time after time after time we would play them right off the park with great players like big Pierre, Andy Thom, John Collins, Paul McStay, Di Canio, Jorge Cadete and all the rest playing their part under Tommy Burns and his swashbuckling style of football.
And almost every time we were left heartbroken.
It would feel like we had them on the ropes and Andy Goram would be making utterly ridiculous saves that he had no right to make – the volleys and headers from big Pierre in the 3-3 game stick out. That fat little bigot should barely have been able to walk the length of himself and yet here he was diving the length of the goal and saving point blanks left, right and centre, like some kind of Peter Shilton on springs. Still, you'd think we had to have them.
And at some point that familiar feeling would kick in and you just knew they would score … and they always did. Laudrup, McCoist, Hateley, Gascoigne or someone else would break up the park and bang, that would be it.
We had the rage of being denied various penalties and having clear goals chopped off for offside or would have someone sent off and invariably they would get a penalty to finish it and we'd leave the stadium or pub absolutely devastated.
So many times.
It lay like a scar on my soul right up until fairly recently when we started having fun with them and hammering them 4 and 5 nil on their own ground.
So, last Sunday I knew exactly how they felt and it filled my heart with sweet, sweet joy. When they missed the penalty I knew it was one those days in reverse. I knew the cup was ours and even though our form was off it was one of the sweetest cup wins in a long while.
The difference is mentality and psychology.
They had the beating of us during those dark times before we set foot on the park because the spine of their team didn't know how to lose. Goram, Gough, McCall, McCoist … those guys expected to beat us every time they played us and we subconsciously expected to get beat.
That thread runs through the fans and the players and the same is true when you expect to win.
This team we have has guys Like Forster, Ajer, Brown, McGregor, Forrest, Edouard and more who have become so used to winning at Celtic they just know how to get the job done. Obviously ability comes into it but it has to be matched with a winning mentality.
Add to that spine of players the likes of Julien, Christie, Ntcham and Frimpong, all winners themselves, and you have a team that is very hard to beat.
Play all the possession football you want but if you're not used to winning your bottle goes which is exactly what we saw from the moment Morelos missed the penalty. They knew it was over and their game plan started to fall apart as we started to grow in confidence and stature.
Even when 6 minutes was added on I had my cigar lit and was chuckling as the camera panned around all their sad and confused wee faces. It was magnificent.
The media keeps on talking about what the performance of their team means, but in ten years people won't look back and say 'oh that's the cup that Sevco should have won because they had more shots on goal'; no, it's the cup that Celtic did win because we scored more goals.
Simple!!
The fallout from the game was as predictable as it was hilarious, the calling for VAR especially so! Be careful what you wish for. The billion angles of the 'offside' goal were expected, but there wasn't much of the Morelos off the ball rake down Julien's calf, and that leads me nicely to him.
Can we put the Edouard v Morelos debate to bed now? The Colombian is a good striker and has scored a lot of goals. His physicality suits Scotland and he will make them a nice profit, if not the obscene one they are counting on.
But he wants to be Edouard though! Everyone does.
Alfredo had what? Ten attempts to score? Including a penalty, and couldn't do it. Again. Eddie came on, immediately won the free kick that led to the goal then put Mikey clean through for what should have sealed the game.
It comes down to mentality again. Edouard knows he's going to have an impact. Alfredo hopes he is but every time he fails the doubt increases.
These are the reasons why Celtic have the first bit of silverware and it's got the whispers started about the possibility of a quadruple treble!
Could it happen? Why not!
I've heard Sevco fans respond to this with a comparison of the Burns era, by reminding us that Celtic stopped that team and won the league with the obvious connotation being that they will do the same … but i would remind them that the 90's comparison stops with those reversals of fortune in derbies.
There was never dominance like this, nothing like. As Rangers chased 9 and 10 the team was dying on its arse. Walter was running out of ideas and that 'spine' of their team was coming to an end. But it's all in front of us.
The season we stopped them they won nothing; the rot had already set in.
This Celtic team bears no comparison to that, we're young, hungry and not even at the beginning of the end of our successful years. I'm confident that we'll put them to the sword at Celtic Park and that doubt will continue to gnaw away at them while we cement our relationship with winning things.
So over Christmas I intend to enjoy the football coming thick and fast and I believe we'll win every point available because that's what we do.
Across the city, fear and disappointment, rage and conspiracy theories, abound as they try to come to terms with their absolute A-game and performance of the season not being enough to beat our z-game worst display of the season.
It is hard being them, right? It was hard being us back then.
That's why this is so hilarious and sweet to me.
Ho-ho-ho.
Merry Christmas, you filthy animals.
Chris Cominato is a Celtic fan and blogger from Glasgow. He is one of the CelticBlog Facebook group admins.
Remember, you can still do our Slapping Sevco quiz at the link below … just answer the first question about who scored our first goal against the NewCo …