I must give kudos to a guy called Gary Costello, who was the first person to post on Matthew Lindsay's godawful piece in The Herald today.
He gave me the title of this article and its theme.
His critique of the piece was right on the nose, but the opening is the bit I liked the best. It read thus; "Good grief, Matt. You might as well have started this article with "Dear Santa, I promise I've been a very good boy …" I couldn't have put it better myself.
Because that's what the whole article is; a wish-list to the Santa of the Sevconuts.
It contains all the ingredients of Sevco feel-good, a big pile of if's, buts and maybes. Starting with the premise that this is the "closest title race in nine years" the piece goes on to paint a picture of a world in which Sevco rolls into Celtic Park on 29 December and wins the match.
I don't want to be presumptuous, but Gerrard has lost two out of two at Celtic Park.
His record in six games against Celtic thus far is a meagre two wins, both at Ibrox, where we've already gone this season and won. Our record at Parkhead is beyond exceptional … I'll get to that in a minute, because it does actually relate to the point of Lindsay's piece.
In his scenario, a Sevco win at Parkhead sets them up for the second half of the season because they will play fewer games away on the back end and heading into the split than we will. This, he reckons, could prove perilous to us as we've dropped points only in our away matches.
Will Celtic's domestic dominance set records which will never be broken?
Yes, no-one will do this again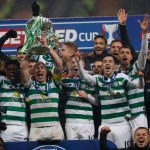 No, we'll beat them ourselves one day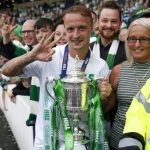 According to him, this means it would be "advantage Sevco" in the title race.
I remind you again that this depends on what almighty "if", that Sevco can come to Celtic Park and get three points. In an article about home form being decisive, he starts out from the position that we will actually lose our most important one in the last two months.
His entire piece is built on that shaky foundation.
How shaky is it?
Well, Celtic is unbeaten domestically at home this season.
We were unbeaten domestically at home last season.
Of course, we were unbeaten at home, domestically, as everywhere else, in Brendan Rodgers first season at the helm.
It's only in his second campaign – two years ago – that we actually lost at Celtic Park, and it was on 18 May 2018, the last league game of the season, when all the business that needed to be done had already been well taken care of, and the team was being conserved for the follow week's cup final and the Double Treble.
So mark that one down; Celtic has lost once at Celtic Park in the last three and a half domestic campaigns.
It's a record that could stand up to anything, anywhere, in Europe.
It goes further back than that too; Ronny Deila's second season saw us beaten just once in the league at home and in his first season we lost there just twice.
Four games lost … in more than five years.
But Gerrard – with his two defeats in two tries there, and two defeats in the last two games we played against them – is going to turn the trick, is he?
Looked at this way, you can already see that Lindsay is capering off, gibbering, down the path of wishful thinking and beanstalk planting.
Does he even know the difference between fantasy and reality?
Because in his mind if that scenario plays out there are already blue and white ribbons on the league trophy and Gerrard is an Ibrox legend.
The article contains much that is frankly nonsensical, and I don't even mean the central point.
He makes barmy assertion about "Rangers"; "Their subsequent financial implosion, tumble down the divisions and ongoing financial difficulties have had much to do with their failure to register a win at Celtic Park since (2010)."
There is one reason Rangers has failed to win at Celtic Park since 2010; they no longer exist. There was no "tumble down the divisions" or anything else and it is tiresome constantly having to bat down this outright falsehood.
The so-called "ongoing financial difficulties" are clearly a reference to Sevco, who have paid out more money than every other club in the league by a huge margin, and even spent more than Celtic … to blame their poor financial position – and I think this is the first time The Herald has acknowledged the mess they are in – for their failure to win at Parkhead since crawling out of Rangers' grave is risible, and doesn't' stand up to scrutiny.
And the thing is, Lindsay knows this argument is crap. Because confronting the stats shows that even when Rangers was strutting about the league their record at Parkhead was lamentable. In 23 visits to Celtic Park prior to their liquidation, they had won just 3 times.
Lindsay's piece is, of course, is built on the idea that our form away from home is what gives Sevco the advantage.
Except it isn't.
Because although we did drop points at Hibs and, most disastrously, at Livingston, we also won at Pittodrie, Tynecastle, Motherwell, Ross County, on Hamilton's grotesque plastic pitch and, of course, at Ibrox.
We also won two out of two at Hampden, including handing out a hammering to Hibs … and beating Gerrard's mob, of course, in the final.
Last season, in the run-in, after January, we dropped points in only four games, two at home and two away.
The away games included a late visit to Ibrox when we had already wrapped up the title.
It was the very definition of a meaningless game, but gave the Sevco fans their cue to celebrate and be merry believing that it signified a shift before this season began … and how did that turn out? We've played them twice in this campaign and beaten them twice.
Sevco has been good at home this season; their record there is nearly pristine.
With one blip. Which was Celtic going there and winning. They have dropped points twice in the league away, to Aberdeen and Hearts. But for Lindsay to suggest that this confers some decisive advantage on them is, I'm afraid, for the birds. Our away run should not be that difficult.
We will return from the soothing Winter Break with three away games before the end of January, one of them in the Scottish Cup against Thistle. If we don't comfortably win that we've got problems. But we could not be hoping for a better time to roll into Rugby Park and to Perth.
I don't believe we'll struggle at either ground with a refreshed squad.
Three of the next four matches in the league are also away; Motherwell, Aberdeen and Hearts.
This is where Sevco fans would be salivating if their rag-bag mob was still in the league race.
But over what? We've been to all three of those grounds already this season, in the league, and won them all. The three after that are the ones which Ibrox will really be in a flutter about; Livingston and Hibs again, away from home, and Sevco Land itself.
Frankly, if we've got through the fixtures up until that run of games I don't think we need to worry overmuch about it.
We owe Hibs a real beating at that ground of theirs and Livingston was such a freak result we'd all have put it out of our minds the same day had it no coincided with Sevco temporarily sitting at the top of the league and a two week long international shutdown in which the press lost their minds as they began to plan Gerrard's open top bus parade and subsequent knighthood.
Part of the reason we slipped at Livingston and Hibs was that it came amidst a truly ridiculous spell of games, one on top of the other, with no let up.
There is no such fixture pile-up in our future, not even if we progress even further in Europe.
If Celtic and Sevco went through, the two last 16 ties would be played either side of our visit to Ibrox … a home draw in the first leg and we're laughing.
The truth is, if we do the job we're expected to do and win the next two games we head into January with an eight-point lead over the Ibrox club, albeit they will have a game in hand. With a lead like that it's Sevco who cannot afford the slightest mistake, home or away.
I said before the campaign began that Celtic would win this with room to spare – a double digit title win, at a minimum one point more than last season.
I still believe it.
In fact, I believe it more than ever and a win over them on 29 December will put us on the cusp of that sort of lead, and they still need to come to Celtic Park again before the campaign ends.
See, this is where Lindsay makes a fatal mistake in his calculations … not that the underpinning logic behind the nonsense he's talking stands up anyway.
Remember, you can still do our Slapping Sevco quiz at the link below … just answer the first question about who scored our first goal against the NewCo …