Alex Rae, the man who missed out on a great house-haunting career and can't seem to get over it, has fired a gurning snark at those who reckon Jeremie Frimpong looks a better player than James Tavernier. He wonders if we're joking.
I've got another question; is Rae joking?
Even the most bitter and twisted Sevconut can see, clearly, that we have a blossoming talent of exceptional natural ability on our hands here.
I'm very sorry that he has already eclipsed their former penalty taker but he has and most sensible people are willing to acknowledge it already.
Frimpong is the real deal.
There is a curious thing about the emergence of Frimpong; he has come along at a time when we're quite flush in the right back area, which has been one of the weakest parts of our team in recent years. Lustig was a phenomenal footballer and has more than earned his place in the pantheon of Celtic greats, but he had lost a yard of pace and was in decline.
The real trouble was though that we had no backup for him.
Who is the best right back at Celtic Park?
Abd Elhamed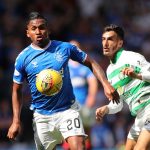 Frimpong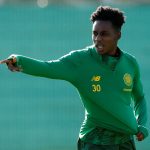 Mortiz Baur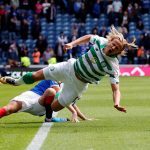 Right back and left back were both areas where we had to improve big time in the summer … and we did on both fronts, to the point where we barely notice the absences of Tierney and Lustig although they were both lynchpins of the Brendan Rodgers double treble winning teams.
The players we brought in for these positions are all more than capable, but I particularly love our strength out on the right where big Abd Elhamed looks like real quality and where Moritz Bauer is a good enough deputy that he'd get into any starting eleven in the league.
Nobody expected Frimpong to so rapidly rise to look the equal of these guys.
He hasn't anyway; he looks better than them.
The real trouble for Sevco is that his exceptional talents and stunning emergence have obscured the fact that this is a position where we've got not only the best player in the country but the best three. All of our right back options are better than James Tavernier and everyone not of a Sevco persuasion knows it.
Alex Rae will bubble and bitch and moan every time someone suggests that one of the Ibrox players might not be the fairest in the land. For all the hysteria that has been poured on Kent, Morelos, Kamara and others I still believe that the hoopla around James Tavernier is the worst.
Anyone who thinks he is worth an eight figure sum has to be completely oblivious to reality.
Whatever Rae might think, Scottish football observers are well aware that Frimpong is a class above Sevco's over-hyped full back. The stupidest thing that club has done is take him off penalty duties; now their valuation of him will be based solely on what he does as a defender and that's not much and it never has been.
I wouldn't have him as a backup to our backup to our backup.
Remember, you can still do our Slapping Sevco quiz at the link below … just answer the first question about who scored our first goal against the NewCo …