It was Forrest Gump, of all people, who summed up Alex Rae.
"Stupid is as stupid does," he said. Those words seem especially applicable today when the ex-Sevco player continues to dig down when he's already in a hole.
Today he's backed his own comments over Tavernier being a better player than Frimpong. Obviously he's not addressed the starker truth, that Celtic has three right backs who are all better than Sevco's ex penalty taker and flailing captain, but it's true nonetheless.
On Frimpong there is just no debate whatsoever; you can see it in everything the kid does. He is clearly a superior footballer. He is also a better defender. The Ibrox club and its supporters have been trying to argue that Tavernier is the best player in his position in Scotland for the past few years, but I always thought Lustig had him beat and that even Logan at Aberdeen could defend better.
"Tavernier has been doing it for years now," is Rae's defence. It is amazing to me that anyone could seriously accept that as answer.
Is Jeremie Frimpong Better Than Tavernier?
Yes of course he is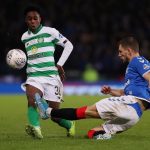 Not yet but he will be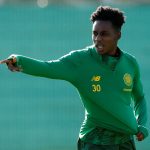 Doing what, exactly? Losing?
Tavernier has been a weak link over there for every year they've been in the SPL and the only reason they won't face up to that and replace him is that they've somehow convinced themselves that this is a player worth an eight figure sum; bizarrely, they are stuck with a sub-par player as a result. Only they could make a mistake like that.
But stupid is as stupid does.
Rae excels at looking dumb. He is one a number of ex-Sevco players who has found his way to a media gig in spite of possessing no skill or talent as either an analyst or a writer. His opinions are almost wholly biased, and pig ignorant.
I cannot imagine what the people who write the cheques which pay him value him for; controversy?
I've written about that before; it is not "controversial" to simply open your mouth and let any old nonsense come out of it. It is just stupid.
That's how Rae looks today with these dumb remarks. Most people would have simply shut up after the first daft remarks but this eejit has doubled down, which is about as daft as you can be.
The thing is, week on week this is going to play out, with Frimpong continuing to shine. Tavernier is only ever one bad mistake away from being lacerated in the media and on the Sevco fan forums. As our kid's stock rises, Tavernier's will continue to bomb.
As I keep saying, now he's no longer on penalty duty there aren't even goals to credit him anymore.
Amazingly, someone actually pays Rae to defend this kind of crap.
Yeah, stupid is as stupid does alright.
Remember, you can still do our Slapping Sevco quiz at the link below … just answer the first question about who scored our first goal against the NewCo …