Never let it be said that David Murray was not a man of vision. He dreamed big.
Some will point out that this is easier to do when your dreams are indulged by the largesse of a bank, and when your every word is lauded and praised and reported and hyped by a hysterical press corps and swallowed whole by a subservient support which wallows in exceptionalism even as it tugs at its collective forelock for Authority, most notably represented by the Crown.
Murray was allowed to dream; it's a luxury afforded to those who have a privileged lifestyle.
But give the man his due regardless. He was not unambitious.
His dream was that Glasgow, and Scottish football itself, would be ruled by a footballing colossus of unparalleled success, a self-sustaining machine capable of sweeping aside all domestic opposition to the extent that its rivals would be permanently in crisis.
Murray also dreamed of success of the European stage, the kind that would make his club a continental giant.
He would not have known that the game was to radically change, that TV money would soon flood English football and that other mammoth deals would flourish across the continent, redrawing the map, creating the Elite Clubs, leaving the rest behind to fight for the scraps.
Murray dreamed of a stadium that was amongst the best in Europe.
Of a frontage that would echo greatness and tradition.
He also dreamed of floating pitches and casinos, but there was gold fever in the air at the time and those things seemed in reach.
The Labour Government was going to grant licenses for five of them … Glasgow was a good place for one.
All of it has come to pass, except for the European part … things have changed too much for that.
But recently, there have been signs of progress there too.
That's what's most incredible about Murray's vision.
That most of it has been realised.
The trouble for Murray is that the club he dreamed of was called Rangers, and Rangers has gone, obliterated by his own egotism and hubris. The club he dreamed of burying – and mark my words, he wanted us away – has grown to become everything he envisioned.
Celtic are the club Murray wanted to build.
We didn't cheat. We didn't steal. We didn't lie.
We grew the business. We played the hand we were dealt, played it brilliantly, taking advantage of every chance that came our way. We invested in the bigger stadium. We made sure that everything we did was in compliance with the law.
We took a long-term view.
None of it was fashionable during the Murray years. Remember when they sold their internet rights to NTL for what looked, on the surface, to be a good deal? We had the same offer on the table, but our directors looked at, evaluated it, and decided to turn it down.
Remember the scorn in the media because we chose to look to the future instead of grabbing "jam today"?
Remember being told that this showed how backward and daft we were, that we'd turn down money for old rope? They never cared that this was an entirely new marketplace, and that we had gotten a professional evaluation done; Murray had grabbed it and we had not, and so he had to be right and we had to be wrong.
I mean, who knew then that media rights and the internet would just grow and grow and grow? An entire industry, actually, and we listened to them. The press listened to Murray, who was plugging holes in the dam with any money he could lay his hands on; it was just another piece of the family silver, flogged off to keep the wolf at bay a wee while longer. Our hacks either didn't know that or just didn't care. It was Celtic who were made out to be mugs.
Our statement at the time said, "Celtic are considering all the options that may be available covering its media rights and have undertaken an extensive analysis of the various related issues. As a result, Celtic have developed a clear appreciation of the substantial inherent value of its media rights and will decide in due course how best to utilise and extract full value from these."
The media's take on it was that, "the partnership clearly gives (Rangers) a head start in the race to make pay-per-view an integral part of the football future."
That was in 2000. In May 2002, NTL (who were a British company but UK based) filed for Chapter 11 bankruptcy with debts of $18 billion.
Oh well …
Everything we did, we did in the face of media contempt and derision.
It didn't matter that we were conducting ourselves in the most professional manner possible.
We were a joke to them, and we're a joke to some of them now.
Yes, even with the trophy haul.
Everything we do is costed and funded, and self-sustaining.
We seem able to turn out top players on a conveyer belt that shows no signs of buckling.
The latest monster talent to emerge is Jeremie Frimpong; there was a point on Sunday where he took Kent to the cleaners and if you'd asked a neutral, who knew nothing of our game, who the £7 million signing was he'd have said our kid, and added that we'd got a bargain.
Murray never had success like we are enjoying today.
For all the money he threw at his club – none of it his own money either – they never had such an unbroken run of victories in leagues and cups. There was no double treble far less a treble treble; if we make it four in a row – and we have one foot in that field – that record will stand the test of time.
Will Celtic's domestic dominance set records which will never be broken?
Yes, no-one will do this again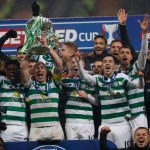 No, we'll beat them ourselves one day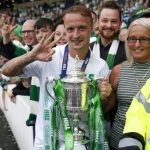 The thing is, it's all there for us now, all there for the taking.
Nine in a row. Ten in a row. Another treble, maybe two, along the way.
Murray presided over three of them in the course of his tenure; this Celtic team has, of course, done that in three years. The Ibrox history books across both clubs record nine trebles in total; we currently have eight and we're shooting for another.
Furthermore, if you believe in the Survival Lie, and that Rangers and Sevco are one in the same, if you believe this "most successful club in world football" guff – that would be Al Alhy of Egypt – the Ibrox club(s) sit on 115 trophies. Celtic is just nine behind them, with two more up for grabs in this campaign.
This is real dominance; this is a real stranglehold we have on this lot. Eventually, no matter what they do over there, all the records are going to tumble, all the dominos are going to fall, and Survival nonsense or not, we're going to tower over them.
Soon enough, we'll even overtake the lies.
Amendment; One of our readers has pointed to a few issues with the stats; mine are taken from Wikipedia, and the trebles include – for some reason – Glasgow Cup trebles, without the League Cup, of which both sides claim two. But my mate John Turnbull, who brought his knowledge to bear on this, says that the "major trophies" record for Rangers stands at 115 for them and 109 for us … a gap of just six. If he's right we're closer than I thought!
Our cup win yesterday continues our utter dominance of the hapless Ibrox NewCo … but how well do you know the history of our successes over them? Try our new quiz and find out. You can click this link or on the first question above ..