The maths of this are very simple. Simple enough for a jumped up accountant like Peter Lawwell to understand.
The problem in the first half of the campaign was not enough cover up front.
We had three strikers. The manager wanted another one.
We can't bring one in and let one go and pretend that this is strengthening the squad. It isn't.
Such an obvious piece of sleight of hand will not fly, not even if the striker we let go has barely kicked a ball in a year. He's still one of our most potent scorers, and when fully fit and given a run will be able to do us a right good turn.
It will be galling if he's allowed to leave on the cheap and starts scoring goals. It will be fatal to someone inside our club if he does that and our new guy doesn't.
Of course, it's all hypothetical.
But brought on tonight by Griffiths' "liking" of a social media post which suggests that either he or Bayo will be leaving the club in this window. Not without a second striker being signed they won't be. The fans won't tolerate that.
Is Leigh Griffiths time at Celtic almost at an end?
No, we should keep him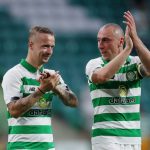 Not until we sign a replacement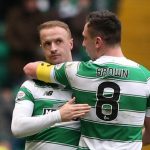 Yes he contributes nothing So Leigh is stuck here until another forward is brought in. He might not be terribly happy about that. His liking of that tweet suggests more that he realises his job at Celtic Park just got harder than it plays as an acknowledgment of the inevitable.
In short, I don't believe Lennon wants either he or Bayo to go just because Klimala is here.
But Leigh himself may want to.
And you know what?
There was a time when I would have mourned that choice.
That was about eight months and a lot of games ago. Leigh, like certain other players, has spent too long on the bench for anyone to think he can come in and make a difference in massive games. He needs a lengthy run in the first team to do that and he's not going to get it.
I feel a lot of sympathy for him, but a lot too for the managers who have tried to work with him these last four or five years.
Brendan Rodgers saw the writing on the wall, way back in his first campaign, when he gave Leigh all the encouragement he could and finally resorting to venting his frustrations in public. Neil Lennon was always going to give Leigh a chance … but given that chance a player has to take it. That we preferred Morgan – who just left the club for a pittance – in a cup final tells you all you need to know about how convinced the manager is.
It is sad for Griffiths; he is one of the handful of players in the history of our club who scored 100 goals in the Hoops. His status as a part of the firmament is assured as a result. But he could have been a legend, even an icon. He should have been at the centre of our nine and ten in a row campaigns.
He should already be well on the way to 150 or even 200 goals.
And I love the guy. But we're in a race here and we can't afford to carry passengers.
If he's not going to contribute it's better that he goes. He does himself no good and he's doing the club no good sitting on the bench, and the manager does not believe he merits a starting slot right now, and who can blame Lennon for that?
The thing we might have to acknowledge is that Leigh's time at the club might be coming to an end. He has been a good servant to the club and is a wonderful player when he is on his game … but he has to be in the right frame of mind, and the right physical condition, if he wants to play his part. It was Rodgers who reminded him that we're not a charity, he is paid for the work he's not doing at the moment, and paid well.
Nobody needs to remind Lawwell of that … but Lawwell himself needs reminding of one or two things, and the first is that the objective is to emerge from this window stronger than we went into it, and he's failing so far. He dare not weaken us further.
Think you could get a job bitch-slapping Celtic at the SFA? Try our quiz and find out. Score high and you can have Clare Whyte's job.