The news that we are on the brink of signing our first player of this window, the Polish striker Patryk Klimala for £3.5 million.
There are those who will say that he lacks the experience we need here and which Lennon says he wants to bring in, but I'd advise a little "wait and see" on this one because he comes from a tough, physical league and has done well there.
I don't mind when we sign young players, just as long as they are good enough for the first team squad.
We badly need reinforcements in the forward area and he provides us with something. We'll soon find out how good a footballer he is … our scouting team has been revamped and this is the first big test of their abilities. I am looking forward to seeing how it goes.
Players at this age give you something more than the Billy Sharp's of this world would. They are hungry and energetic and keen to impress. I listen to some of the talk about signing experience and it's all well and good if you are bringing in players who have seen it, done it and won it … Billy Sharp doesn't know what it is to be part of a close title race. We're better off signing the kid, someone we can shape into our own style, than going with an option like that.
But I draw the line – we all should draw the line – at talk of bringing in some 19-year-old winger from Spurs, which the media down south says will "aid with his development." Who are we here that we should style ourselves as the club for players to do that? It degrades and demeans us and is every bit as insulting to Scottish football as Roberts and Gerrard's comments from last week which I was talking about in the last article.
Jack Clarke might well be a decent player … that's not the damned point.
We need people who will run through walls in the second part of this season; some EPL kid on loan can't be trusted to do it.
Besides, in case people at our club haven't been paying attention, we're in a title battle here which could go all the way to the wire. Anyone who thinks that's an appropriate environment to throw a young untested kid into is a complete fool I don't want within a mile of football operations at Celtic Park. This kid was on loan at Leeds and didn't cut it … it is ridiculous to think he's ready for the immense pressure swirling around this club at this moment in time.
On top of that, if you were replacing Lewis Morgan with this kid that would be bad enough but as far as I'm concerned it is Scott Sinclair we're replacing and that's a different gig entirely, and to think the board can fob us off with a kid on loan is an insult to us all.
It is staggeringly unambitious, a cheap replacement for a footballer of very high quality.
We cannot keep weakening parts of this squad and hope to keep getting away with it.
How long since Stuart Armstrong left? Where's the replacement for him? Dembele left and we brought in a player who was already at the club on loan. We signed Bayo after haggling over the price tag for weeks and he doesn't yet look worth what we paid for him … cheap options only rarely get you results.
When you spend proper money you get the quality. Eddie was worth every penny we paid for him and Jullien was too … you have to pay up for that standard and that's why we should be looking to invest real money whenever we lose a top footballer. Sinclair may not have been in the team – a baffling decision – but he was a potent weapon to have in the squad and on his day was one of the top performers in not only the team but in the league.
Sinclair, by the way, had the right level of experience that we knew he could come in and do well for us. His was the club's first big sign of intent after Rodgers came in, and he won us the player of the year award. A similar level of ambition is what's needed here, not some cheap option loan deal for a youth player at another club.
Of course, this could be nothing but paper talk … I suspect there's an element of that in most of the transfer stories which have been put about in recent weeks. But I also believe it would be just like certain folk at the club to see it as a viable option.
I think the big lad we've signed today is a better bet than some over 30's has-been. But I cannot think that taking another club's youth player on loan to get them "experience" is anything other than rank insanity and I would be shocked if we were even considering it.
Would you support Celtic taking a youth player on loan during this window?
No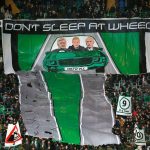 Yes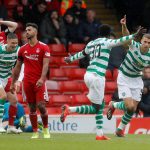 Think you could get a job bitch-slapping Celtic at the SFA? Try our quiz and find out. Score high and you can have Clare Whyte's job.