With the transfer window closed, the abuse that the board of Celtic, and specifically Peter Lawwell, receives has escalated.
There are many who do not Peter Lawwell; that is up to them, yet I suspect they have never even met the man. That hasn't stopped them deciding they don't like him.
This opinion seems to be based on the fact that he doesn't sanction additional transfer fees and wages and how, in some folk's opinion, he is "not a Celtic man"
It is often said that everyone is entitled to an opinion, but with that right comes the proviso that if they are talking nonsense then someone should say so.
And this is one of those times.
Look I do not know Peter Lawwell and I haven't agreed with some of his behaviour, but no one can deny that he has been the CEO during the most successful domestic period of Celtic's history.
So what exactly do these detractors want?
We've have had three trebles, we are on the way to a fourth, we are meeting and surpassing the "challenge" that we are told exists.
It is not only their failure, although the press and they themselves want us to believe that. We are winning games, we are putting points on the board.
Further to this we have won a Europa League group, beating a major Italian team home and away.
What more do they want?
It seems what these people want is for us to spend money for the sake of it.
If we want a player we value at X, we should just pay Y because we can. This attitude is financial suicide. It kills clubs.
Do you trust the Celtic board at the present time?
Nope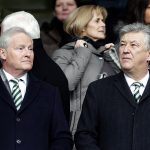 Yes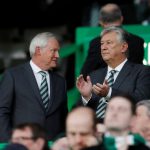 I hear the "no point in having money in the bank" argument a lot, but that is childish nonsense and shows a complete lack of understanding as to how football as a business, and all businesses in general, actually work.
Cash reserves are a must. A must. They get you through the difficult years.
Under current FFP play rules, no club should use the guarantee of European football money as a failsafe, so we cannot do this. Let other clubs play that dangerous game, because it will kill them as it did others from their stadium.
So having cash reserves for unseen circumstance is very appropriate and it is utterly childish to say just "spend, spend, spend"
Furthermore, the board, and Peter Lawwell as an individual, have a legal and moral responsibility to investors; that is how a PLC runs. He can, and the club can be, held legally accountable if they are found to have acted against that principle, and do not believe that it wouldn't happen because our enemies have been fishing for years for a financial crisis at Celtic.
The argument that Neil Lennon said he wanted more has also been thrown out, and he did.
But it is obvious that the club did try to get more players in but it didn't happen.
That does not mean they failed; other people and other clubs are involved, and Celtic and Lawwell do not control the whole process. So maybe Neil Lennon accepts and sees that the attempts were made. What do the fans want, all the documents and phone calls sent out as proof?
Now the fact is we did bring in players, two of them, both in positions we all knew we had to cover. These players have been written off right away by some.
This is disgraceful. Childish arrogance … and ignorance too.
In the positions we have filled, no-one we brought in would have taken the place of Eddie, Brown or McGregor, so it's players who need to be prepared to wait.
So why pay over the odds for guys who are not going to get much game time? Wanyama and Benkovic are both players who were mentioned, and who if we had everyone fit wouldn't be guaranteed to play. They'd be on the bench, both of them.
These "blue chip"…"sexy'…."big name" signings we hear we "should" be going for are mostly utterly un-realistic, these guys are on heavy wages which we cannot match.
If we offer a guy 70k a week, you don't think his agent will just mention to his contacts in EPL or Championship that "Celtic are doing it so wee extra 10k and he is yours"?
We cannot get pulled into that quagmire.
You have to accept that Celtic operates in a financial glass ceiling.
We do not have the large income stream they have and we cannot assume that we will always sell one player a year for the money we have been; indeed, we have only just started getting fair whack for our players.
This business needs a plan A, B and C at least. Let's not forget the media either. Every club has more misses than hits in the market; it only ever seems to be our flops who get mentioned. How many have Sevco paid off in the last couple of years?
Finally, these people at the top of our club are not stupid. This nonsense about them not being Celtic men is ludicrous. They have far more responsibility than to allow pure fan emotion to cloud their judgment.
Now, I am not one to blindly bang a drum, and nor am I a "company man" as I have been accused of being on Twitter; ask any of my previous employers that. Also, I am not privy, as none of us are, to what is going on in the boardroom at Celtic Park. I have no doubt though that PL is an arrogant man, a confident and bullish man … people who get to that position have to be.
But no one can deny that he is the most successful CEO we have ever had.
The exception to that may be Fergus McCann who performed the role whilst he was there. Fergus, like Lawwell, was utterly and shamefully abused while in charge because he refused to squander money and put the future of the club at risk.
He was appallingly booed when he unfurled the title flag after stopping ten in row. Lawwell now faces the prospect of the same if we in it.
To understand just how well off we are you only have to look across the way at the cheap tat at high costs being paraded by the other lot. They are mortgaging their house for it; why should we go down that road with them?
Now all of this opinion of course but I feel that no one can deny the logic and reasons I have given. We are in great shape right now.
It's time to grow up guys; this isn't even a drama far less a crisis.
Dave Campbell is a Celtic fan and blogger from Glasgow.
Cheer yourself up today and check out our Rangers liquidation quiz … as we near the eighth anniversary of Armageddon Day it's worth going over it again!