With £40 million in the bank, and on the brink of an historic achievement, the Celtic board has failed, utterly, at its most fundamental task; to put us in the best possible position to succeed in what is left of this campaign. As the directors of a football club that is where their ultimate priorities should lie.
Instead, we hoard cash and pay mammoth salaries to directors.
Celtic goes into the rest of this campaign – the most important in decades – with ex-Inverness player Jonny Hayes at left midfield.
This is the reality of the transfer window encapsulated in one footballer.
Our central defensive backup relies on the fitness of Abd Elhamed, Bitton and Simunovic, all of whom have spent long spells on the treatment table, often at the same time.
When the window opened, Lennon said he wanted experienced footballers to add to the first team and challenge for a place in the starting eleven. This was in the aftermath of the collapse at Celtic Park, and the manager realised what was required. He wanted at least one player before we flew out to Dubai. He didn't get that. At his next press conference, he said he wanted one player to join us whilst we were there. He didn't get that either.
Those above him have made Lennon look like a mug. They have sold him short, delivering for him two project players who I predict we'll be told, in the fullness of time, are part of the building job for next season. That will save us having to spend big in the summer. "We have Soro and Klimala, and they are just starting to prove themselves."
And so the board hopes to shut down dissent before the next transfer window opens.
But what about this one? What about what's left of this season? What happens to us from here?
Do you trust the Celtic board at the present time?
Nope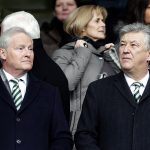 Yes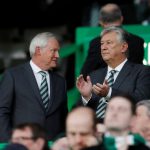 The manager has seen the left side of midfield dramatically weakened by three players. One of them was Scott Sinclair, who had scored 70 goals in three seasons … a ratio any top class striker would have been happy with. Morgan was deemed good enough to start in a cup final; he departed for a nominal fee. He was the proof that this squad had serious weaknesses … and we sold him and failed to address the ones that he most ably demonstrated.
Lewis Morgan played 18 times for Celtic this season. Hayes has played 19 times.
He's what we're relying on now.
All the hard-luck stories in the world about who we went for and didn't get don't impress me in the slightest; indeed, they confirm that Lawwell and Hammond failed us and failed the manager, in spectacular fashion.
The scandal of having to go to the final day, and then desperately scrambling around for a solution, is typical of the so-called "strategy" pursued by our club. I've long believed this "last day of the window" fixation with us comes down to nothing more than the board hoping to save a few quid on wages during the month.
It is penny pinching to the nth degree.
So I don't want to hear nonsense about the ambition we showed which didn't quite connect; save the hard luck stories for after this campaign, if we've failed and all around us lies in ruins because of it. That's what's at stake here; the filled stands, the coffers full and bulging, the supremacy of this club at every level … it is built on the momentum generated by the march to ten in a row, and if that march is halted we're back at Year Zero again.
Nobody should believe that such wrenching failure, and the anger it generates when the need here was so readily apparent, will be glossed over and forgotten about … this club will shake to its very foundations. The manager will certainly not be able to survive, but nor should the people who hired him and then ignored every word that came out of his mouth in the last month.
And Lennon himself will have limited sympathy from many quarters in our support; when he sat in front of the media, chastened, last week and said he would be happy with the squad even if we did no more business my heart sank because those were the words of a man who had been told to make do and was done arguing about it.
It reeked of weakness, the very weakness many of us were worried about when he took over.
The idea of Lennon as Lawwell's lap-dog, a man just grateful for a once-in-a-lifetime opportunity which no-one else would have given him and who won't rock the boat, has been given a mammoth shot in the arm by the events of the last 31 days.
Lawwell himself has evolved from being a cartoon bogeyman at Ibrox to being the most obvious threat to Celtic's continued dominance. In my opinion our CEO is a toxic presence at the heart of our club, supported by a board that has no semblance of understanding for the fan in the stands and couldn't care less about our ambitions or our views.
They are a parasitic force, leeching off us to sustain themselves with Desmond planning to hand over his shares to his son and continue a "family dynasty" to continue sucking the soul of the place. Lawwell himself is grotesquely overpaid and not worth a fraction of it.
They have gambled mightily here, and threatened everything that's been built in the last ten years. They will probably get away with it. The ramshackle Ibrox operation continues to impress only in its capacity for self-delusion and we ought to be good enough to beat them.
But this board has behaved so dishonestly towards the supporters over the last few years, and it has failed in its most central duties so consistently – or it's allowed itself to play a role in the corruption of our game and thus become corrupted itself – that shortcomings at the football level ought to be considered the least of it.
Resolution 12, the Five Way Agreement and the spectre of a club at Ibrox spending what it doesn't have as Scottish football has failed to reform on our watch … all of that damns these men far more than their failure to properly fund the manager.
It is high time Celtic fans came together and demanded that the real reform starts with our own club.
I argued before the Rodgers appointment that any organisation which wanted to be the best in its field would never have allowed a CEO to stay in post so long, and would never have allowed a business plan predicated on doing the bare minimum to stay ahead.
Our club should have conducted a full-scale strategic review, and the starting point should have been a decision on Lawwell.
Had he become over-mighty? What was his actual role? Why was he allowed to so openly interfere in football matters? Was he providing value for money? Did he have a coherent five-year plan for developing the commercial side, to support the football side?
Because what we have right now is the football team funding the business with a major player sale every year, and we face of summer in which we stand to lose Edouard or Ajer or McGregor or someone else we won't adequately replace.
This is the reality of life at Celtic, and it has damn all to do with playing in Scotland or the restrictions that brings; there is an enormous cash surplus in the bank right now. We have a full scouting system. We have a structure which should be able to deliver what the manager needs.
And we're going into the rest of this campaign with Jonny Hayes at left midfield and praying that there's not an injury to either Ajer or Jullien, and with the Ibrox NewCo riding on our coat-tails.
This was not the result of some confluence of circumstances out-with our control. This is the result of decisions we've taken inside the walls.
Nobody forced this on the manager except those above his head.
If this goes wrong, they own that. It's theirs.
And we'll remember who they are.
Cheer yourself up today and check out our Rangers liquidation quiz … as we near the eighth anniversary of Armageddon Day it's worth going over it again!