We didn't have a great window, but I think both the players we signed will come good. I am furious that the manager didn't get the experience he wanted, and publicly said was what counted. The board has screwed him over and no mistake.
One of the most frustrating aspects to all this was the way in which the window robbed us of a huge opportunity to inflict a severe blow on the Ibrox club's morale. Their fans are still reeling from what happened at Tynecastle; we could have sent them into today's massive match against Aberdeen with the fear pounding through their stands.
Had Lennon got the players he wanted, the psychological impact of it would have been enormous, and the Ibrox club would never have gotten away with the pitiful stunts it has pulled in the last two days and which dominate all the back pages this morning.
Now let's be honest here; the fantasists who work at the mainstream titles won't affect the title race in any way, shape or form and nor will the delusions of the supporters who buy them, read them and believe them.
But the PR war was won over there, yet again, and our board's rank incompetence is the reason why. It's as if the psychological side of this doesn't matter at all, and the one thing we do know from the last eight years is that it can be decisive.
Do you trust the Celtic board at the present time?
Nope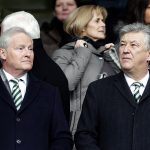 Yes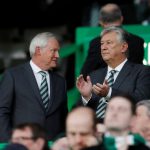 Still, the press coverage today is at its delusional height. Sevco has "strengthened the squad" with a Romania who flopped in Belgium and who's club is willing to cut its losses on him after half a season. For all that, because he has a famous name, he was described as "one of the best Under 21 prospects in Europe" by the Ibrox manager yesterday and not one single journalist burst out laughing. I'd have been howling my way to a hernia.
Their other signing is a player who Jack Ross doesn't fancy at Hibs, and who he replaced with a failed Sunderland striker after failing to sign one from Dunfermline.
If you had told their fans at the start of the window that Defoe would be facing two months on the side-lines and that they would replace him with Kamberi they would have been riotous, and that didn't even account for the defeat at Hearts which has put Celtic back in the driving seat.
There has been no "game-changer" signing over there.
This is how they've taken their shot at stopping us before the ten campaign. This was their answer to a razor thin title race for all the marbles. They couldn't even muster the strength to sign a halfway decent 30 plus footballer, which I thought was a stonewall certainty once they lost last weekend.
They couldn't do it.
That club is running on empty, and their failure to move on a top earner – the idea of getting £8 million for Kamara if they couldn't entice a bid for Morelos or Tavernier was an epic failure in and of itself – means they face an enormous cash shortfall between now and the end of the campaign, and God only knows how they plug that gap.
None of that matters at the moment.
They failed to make their team significantly stronger, and they had to get significantly stronger to realistically believe they could win this league.
Their fans would have hoped for more, a lot more.
That they are satisfied because one player has a famous name and the other knows how to spell WATP amazes me.
You really can fool all the Peepul all of the time, it seems.
Cheer yourself up today and check out our Rangers liquidation quiz … as we near the eighth anniversary of Armageddon Day it's worth going over it again!