Sunday was a big day for Celtic, managing to go 7 points ahead in the league with an excellent display, but our top man James Forrest has already done his article on the match itself.
I am writing this for the brilliant project that took place before the game, where I, and around 30 others tool part in the walk and talk event.
The project called "You'll Never Talk Alone", which was launched by the Celtic Foundation on the 5th of December with Aaron Connolly, spearheading the initiative.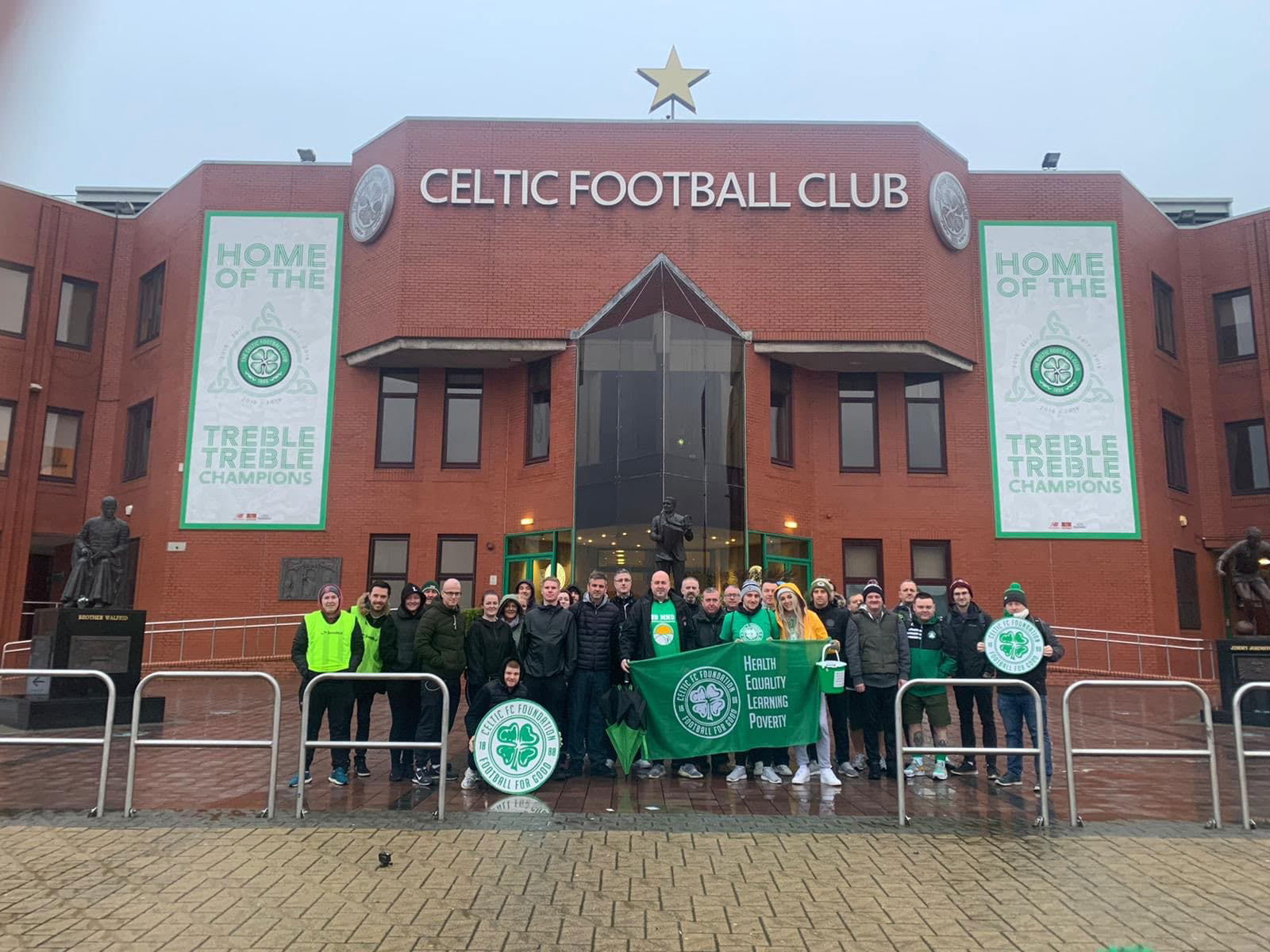 You'll Never Talk Alone, in conjunction with Aaron Connolly's own personal project, Time to Tackle, was an event where a group of up to 30 Celtic fans walked from Parkhead to the Fountain of Youth Stadium in Hamilton for the match.
The walk was not about getting some exercise; this project is to raise awareness for and to help those suffering, or who have been affected by, mental health issues and combating loneliness by giving an opportunity to get out, socialize and even make some new friends.
Aaron Connolly has been such an inspiring person to me in the past year.
When I heard about his own battles with his mental health issues I was inspired by the steps he has taken to move forward to help not just himself, but to help others who are struggling with the same illness.
If you have not heard his story I would highly recommend checking out his interviews.
The first one I heard was on the Blethered podcast with Sean McDonald which he spoke about the darkest part of his life, which you can hear here
He followed that chat up by sitting down with the boys from the Rebel City Podcast where he spoke more about what he was doing to move forward, which for me is a great chat as it's not focusing on the darkest part, but spending more time explaining the project he was setting up and moving towards his goals.
Then a month before the walk and talk he sat down with the 90 Minute Cynic guys to discuss the talk and walk project.
For me the Walk and Talk is a fantastic project and on a personal level, it gave me a kick to get out of bed on a Sunday morning and get out, which is a big thing for me.
I have previously written about my issues on the blog which you can read here
One of the mental health issues that still affects me is when the weekend comes round and my girlfriend is working.
I am often lying about the flat doing nothing, and waiting until about half an hour before my girlfriend comes home from work to decide to do either the dishes or some form of tidying up to in some way justify the day that I just wasted.
I genuinely beat myself up because I want to go out and do things over the weekend, meet people and even be active, but most of the time I don't allow myself to.
Effectively, I'm a prisoner in my own home through my own anxieties.
As soon as I had heard of the project You'll Never Talk Alone, I signed up immediately, and felt inspired by it, and seeing many like me sign up to it, but in the days leading up to Sunday my anxieties were clawing away at me, trying to find a way to justify not going.
I pushed through.
On Sunday morning I got up around half 6, got ready and ensured I would be heading to Parkhead.
Too late to turn back. I was truly inspired by the numbers that turned up,,around 30 people ready to take on the walk of nearly 10 miles at not long after 8am with the weather determined to soak us through, and the chill in the air.
That was not going to stop us.
I even met up with Martin Melly of the 20 Minute Tims podcast, who had even opened up about his own issues on Blethered which you can listen to here
I also met Thomas, who is a friend of the 20 Minute Tims podcast and who I had spoke to a few times through the 20 Minute Tims social channels.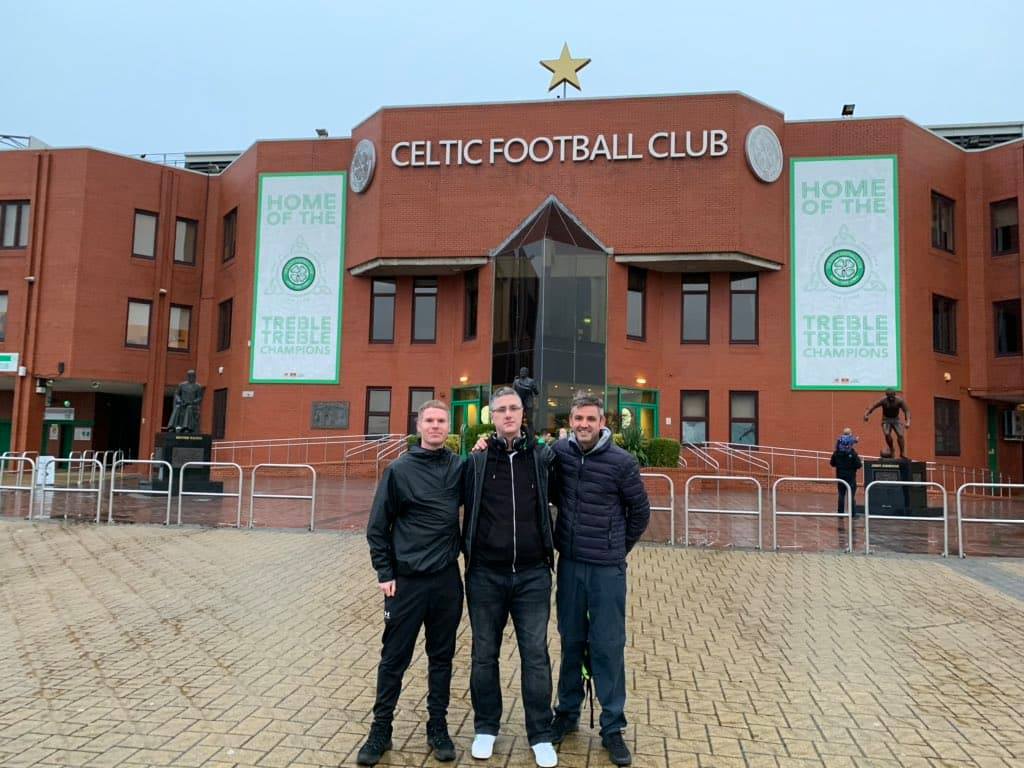 Before leaving we got a great talk from Aaron with his wife by his side, who is so supportive and has been there for him through the hardest of times.
Then we got our picture taken for the Celtic Foundation and then with the rain drizzling down we set off on our own personal missions.
I started the walk off with Martin and Thomas, and the chat flowed between Celtic, the signings (or lack of), the game ahead, the potential line up, and we also spoke about our own issues and what brought us along to the walk and some of our own battles.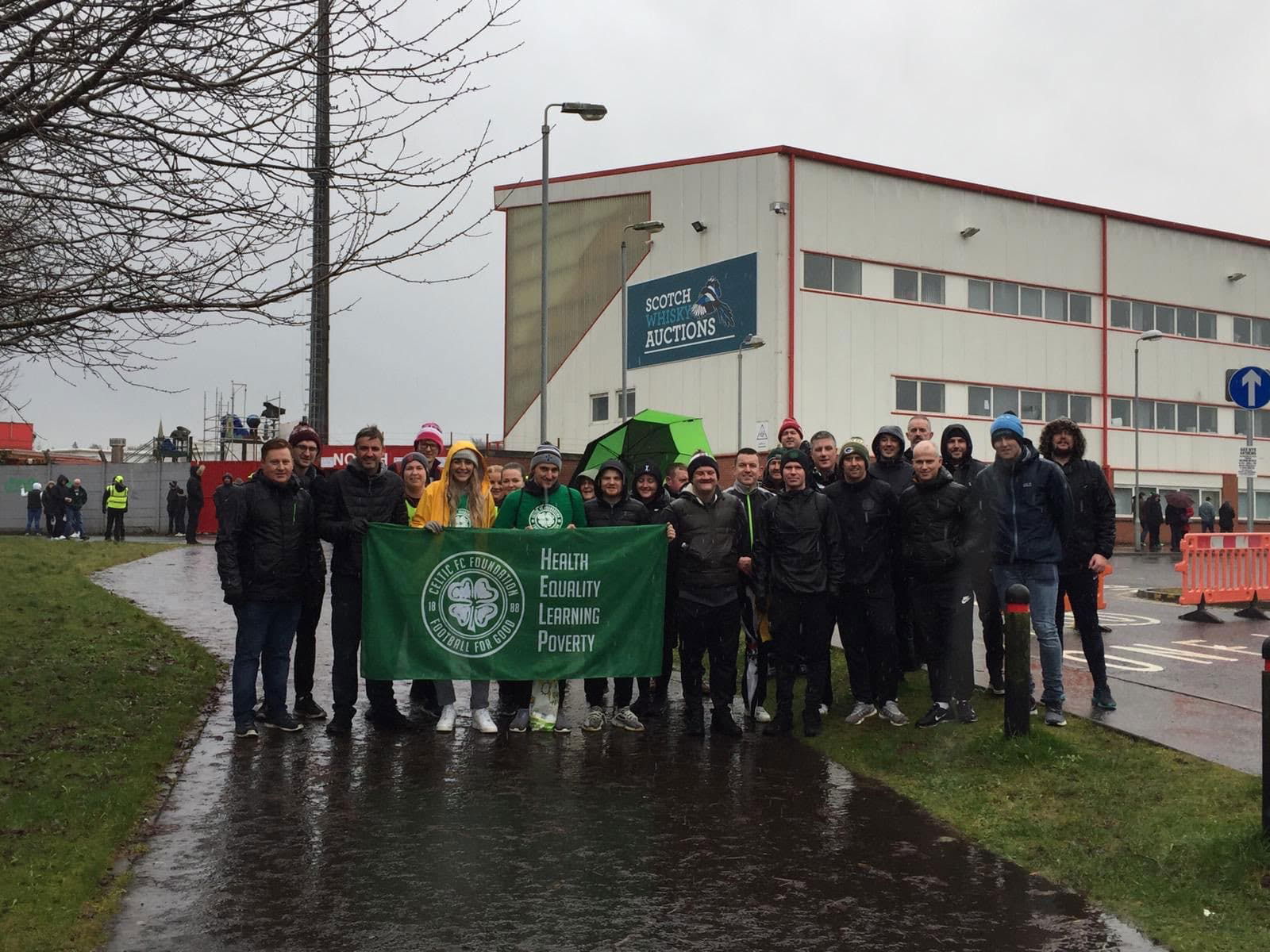 Through the constant rain and wind the morale never dipped; we were a determined group and some new friends were made.
We made our way through Cambuslang, Flemington, Blantyre and finally to the Fountain Of Youth Stadium in Hamilton where we got a final picture taken as a group as a reminder of the great walk and talk.
When arriving at the stadium, I realized the Walk had led to me going to my first competitive away match watching Celtic; that's special. I genuinely felt a renewed sense of hope and accomplishment.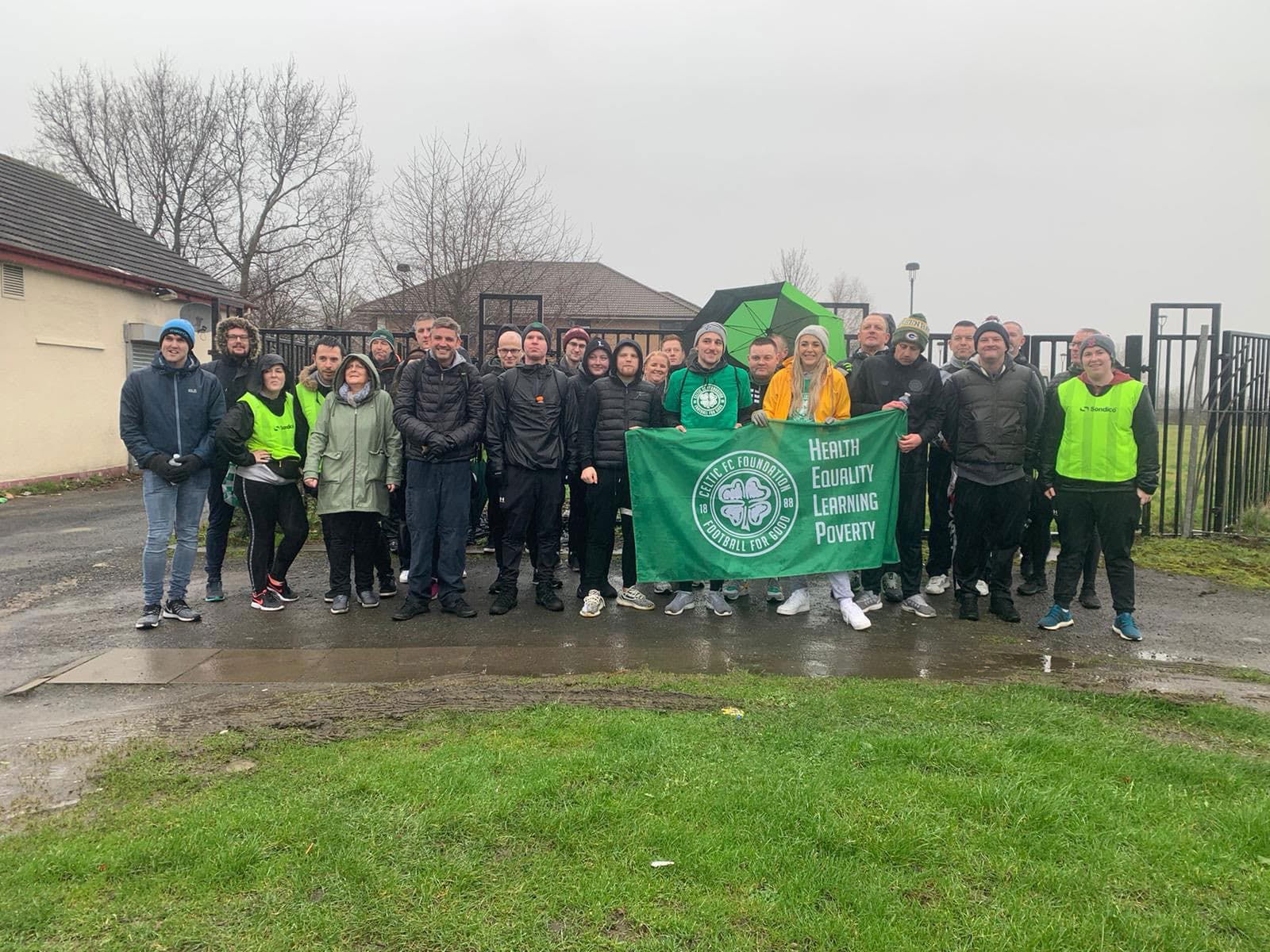 This is just the first of the Celtic foundation's Walk and Talk events, and they are looking to make this a monthly thing.
I, for one, can't recommend doing this enough.
New friends, great chat and more importantly, getting out and being active, and even socializing more.
Watching Celtic.
How do you beat that?
It was an all round fantastic day that did end with me getting home and needing a good warm shower and having the heating on to get some heat back into my bones, but feeling very proud, as should everyone who took part.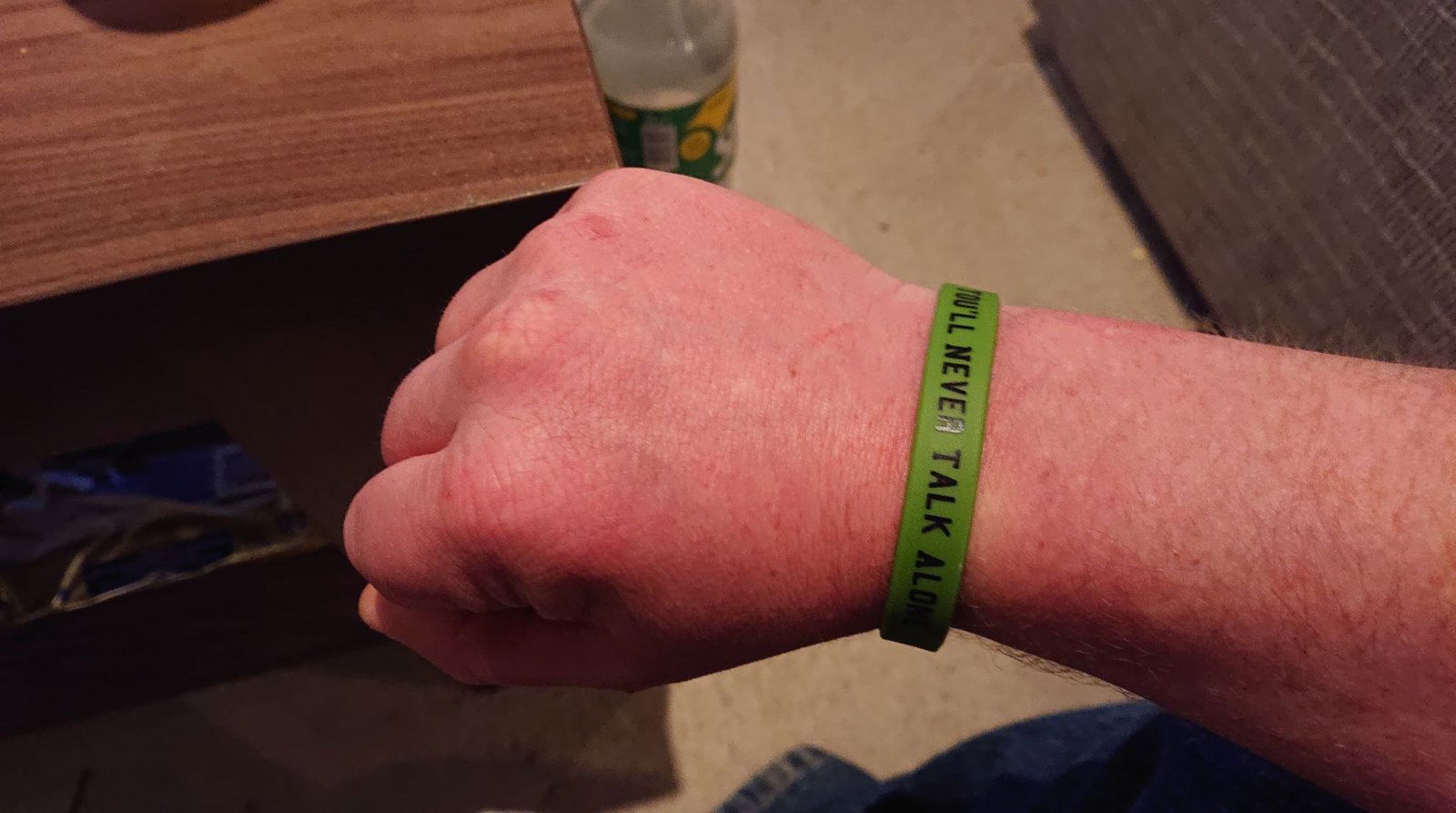 I do have to give a special mention to Aaron and his wife for getting the ball rolling on this, they are doing fantastic work within football and with mental health.
I would highly recommend checking out their project Time to Tackle where they have a 1-hour session of football and a 1-hour session of chat.
You can find out more information about this initiative on their Facebook page here.
The work Aaron and his wife are doing is truly inspiring, and I know Aaron is very humble in his approach and feels so much pride in those who have taken part in these projects, but I would like to give a big thanks to Aaron, his wife Siobhan Connolly and also to the Celtic Foundation for making this event happen.
Always remember though, in your darkest days, you don't have to be alone.
The first step sometimes is to just ask for help.
It is the biggest step you will take and the most important.
With Celtic, You'll Never Walk and Talk Alone.
You can still make a donation to the Walk And Talk campaign at this link.
Ross McAtasney is a Celtic fan, blogger and one of our Facebook group admins. We are all very proud of him and the courage he's shown.