Will we get the remainder of these games played?
Yes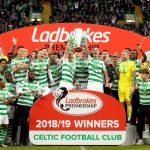 No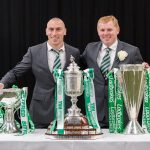 Yesterday, Celtic surprised people all over Scotland when we said that the season's final games ought to be played where this is possible. This website has been predicting that outcome for weeks now. Our club has never wanted to end the season prematurely.
Why would we? We were cruising towards this title. Sevco was flailing desperately. Those in their ranks and in their periphery who insist that they could have beaten us twice and won their game in hand "and then the gap is four points" are barking.
Even if it were true, there would be five games left at that point and no serious obstacle to our progression to the title. And there's a big assumption being made too; Sevco has not won five games in a row in the league since Gerrard took over … a run spanning 60 games. With the second biggest wage bill in the country he cannot sustain form,
The idea that he and his club would have won all nine of their remaining games is only to be believed by the kind of people who would buy beanstalk beans. It is ridiculous that anyone connected with that club would still talk this kind of garbage after the absolute car-crash that the second half of their season has been.
The bottom club has beaten them twice since January for God's sake.
They weren't remotely ready to play us. The shut-down saved them.
Celtic had nothing to fear from this campaign being played through to the end, except perhaps the pressure of having to decide how to re-arrange the trophies in the cabinet. The lead is 13 points, and even with Sevco's game in hand and the much vaunted two games against us to play, I am comfortable that we would won it by a double digit margin.
Yet to read the way this has been covered in the media, there were people who acted as if Celtic wanted the title declared so that we didn't have to prove we were worthy winners, as if the lead we do have didn't exist at all, as though we were running scared.
It was blindly obvious that we would support playing the season through to a close – we have a Scottish Cup we want to win as well, for example – if that were at all possible. I daresay that everyone at Celtic Park knows that this is unrealistic, but we've taken in public the position that was ours all the way down the line.
This does not for one second alter our unshakable view that if it proves impossible to get this season completed on the pitch that the titles and places should be awarded on the basis of where things currently stand. That is just good sense, and in keeping with the integrity of the sport whether our critics and the Sevconuts like that or not.
This is a good move from Celtic.
The next line of attack will be to say that we're now actively delaying the end of this, but everyone can see through that. It seems that the SFA and the SPFL are going to hold off anyway until they get legal advice on the status of UEFA's so-called "threat" which a lot of sports lawyers don't even think is tenable.
Let me remind you of something; we're the club who is best equipped to survive a delay here.
Those clubs which have been most vocal in calling for one, to try and put us on the spot, are the ones with most to fear.
The irony is, they'll get what they allegedly wanted in public … but in private they are going to be screaming.
They have been caught cold by this, but the ultimate responsibility if teams die waiting will fall on UEFA.
There are leagues all over Europe who have specific clauses in their constitutions which allow for the early termination of a campaign in exceptional circumstances, and that includes ours. UEFA was the organisation that passed the onus down to the national associations in the first place, for fear of having to take their own decisions.
How dare they try to take power back to the centre now, to benefit a handful of leagues, when they've abrogated it.
Celtic's position is perfect. It is one in the eye to the "void the season" clowns and those trying to present a scenario wherein we're trying to claim a title we haven't earned. Guess what? We have earned it. We're the best team, by a country mile, over the course of the games which have already been played.
No-one is taking this from us, on the park or off it.
And those claiming it will have an asterisk next to are a disgrace.
If they want to paint one of those next to a deserved title win they better know they are painting it in the blood of the sick and the dead. It is a blatant exploitation of a mammoth international tragedy to score a few cheap points and is a disgusting and shameful way to behave.
We should expect nothing less from them though.
As Scottish football goes through the current crisis it is important to keep up with developments and the key issues. We are determined to do so, and to keep you informed as well. Please subscribe to the blog.