Michael Stewart is, once again, Mr Persona Non Grata in SevcoLand, because of a tweet he put up last night.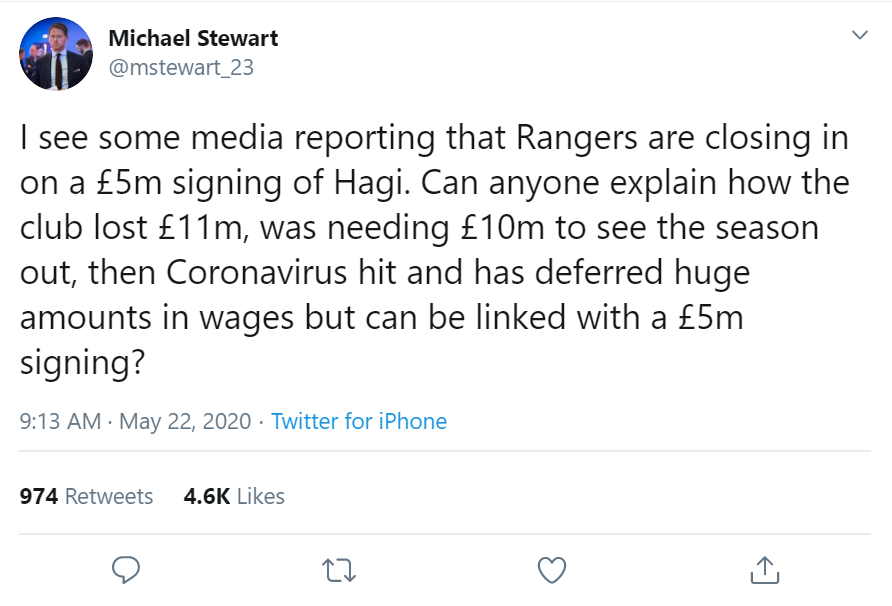 The guy takes some amount of stick, but he keeps on going anyway.
When Tom English spoke recently about how folk in Scottish football who take a stand invite opprobrium he seemed to think that it was noble to be cowardly in light of it … his colleague could give him lessons in courage because Stewart does what he does without blinking.
The tweet he put up last night was non-controversial except in the sense that there's not another journalist in the whole of the sporting press corps who would have done it.
The tweet was on Sevco's alleged plan to buy Hagi, the Romanian dud, for millions of pounds, during this crisis, when clubs aren't spending money.
Reports claim Sevco have beaten off stiff competition for him, including from Lazio.
This is only the first sign that these reports are six pounds of bullshit in a two pound bag; Sevco have the first option on him and if they exercise it then nobody else can buy him.
This nonsense about Italian clubs being interested is exactly that.
He was in Italy before and flopped.
He went to Belgium and flopped.
He signed for Sevco in the January window; they dropped enough points that we were 13 clear at the end.
Do you think that the cream of European football was sniffing around him on the day Hearts unceremoniously dumped them out of the Scottish Cup? No, me neither.
What a laugh this stuff all is.
Stewart's point is a little bit different; he can clearly see what the rest of us can and he wants to know where the Hell the money is coming from.
This is a club which is in financial turmoil. His tweet gets right to the heart of it all.
It is good journalism.
These are questions every mainstream outlet should be asking.
Instead, most are running with the story that the club is on the brink of spending £4 million on this guy.
Not one of them seems to want answers to Stewart's questions, and they are important questions.
This is why the credibility of much of the media is shot.
They simply write whatever garbage Ibrox wants them to write.
And this is some of the worst garbage in a while.
As Scottish football goes through the current crisis it is important to keep up with developments and the key issues. We are determined to do so, and to keep you informed as well. Please subscribe to the blog.