Ewan Murray does not write for The Record or The Sun.
He does not write for The Mirror or The Star.
He does not do gutter journalism for The Express, The Telegraph or The Daily Mail.
Ewan Murray writes for The Guardian.
Which means he's got some game.
Someone who has risen past the level of tabloid trash should not be acting like a tabloid brat. But that's what he did last night on Twitter when he had a go at our supporters, because some of us have not been terribly sad to see league reconstruction fail.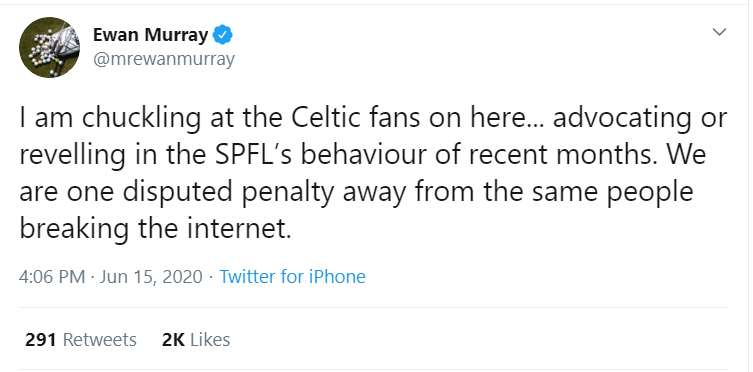 Ewan Murray is a Hearts fan; he is entitled to be a little bit miffed at the moment. But his frustration is misdirected if we're being generous.
Celtic fans didn't send his team to the Championship, and nor did the SPFL board.
There are two reasons why they are in the second tier next season, and the first is that the clubs took the decision not to save them from their fate.
If he wants to point the finger, he can start there rather than choosing our supporters to have a go at.
Or better yet – and I know this is a radical idea – he can use his position within the press, and his reputation amongst Hearts fans, to ask some hard questions of his own club; their direction, their leadership, their propensity for self-harm.
Like I said, radical …
Because of course, the second reason Hearts are in this state is because they are badly run.
They have made mistakes at the strategic level and not just small ones but massive, enormous, game-changing ones. They have screwed up royally in their management structure, in their hiring process, in the faith Budge has in Craig Levein … you could go on and on.
I usually like this guy. He writes well. He is one of the few guys who works on Scottish football for a major news-desk who tries to be balanced in his approach.
But dear oh dear, this is a gigantic bit of dummy spitting which I'd expect more from a Keith Jackson or a Neil Cameron than someone who has a bit more to him than those jokers.
Hearts are in this mess because of Hearts. Blaming other clubs – and other fans – is very convenient for some people.
But Budge is the problem. Levein is the problem. The Hearts fans have failed to take their own board to task for catastrophic decision making … and so, if they'll pardon me for saying so, they are also part of the problem in the way Sevco fans have contributed to their own club's long march through chaos and disorder these past eight years.
One last thing; our fans were campaigned for change at the governing bodies before it was suddenly fashionable, before Hearts were squealing and Sevco was accusing them of corruption. We still are. Nobody in our support thinks the SPFL board or that at the SFA is perfect … but in this case they are broadly right in the action they've taken and it would be fundamentally dishonest to say otherwise. We're not going to do so just to score points.
We'll leave that to some in the media.
As Scottish football goes through the current crisis it is important to keep up with developments and the key issues. We are determined to do so, and to keep you informed as well. Please subscribe to the blog.