The Herald Group – who run The Herald and The Evening Times – stands accused tonight of removing an article from one of their journalists, in response to a complaint from Ibrox.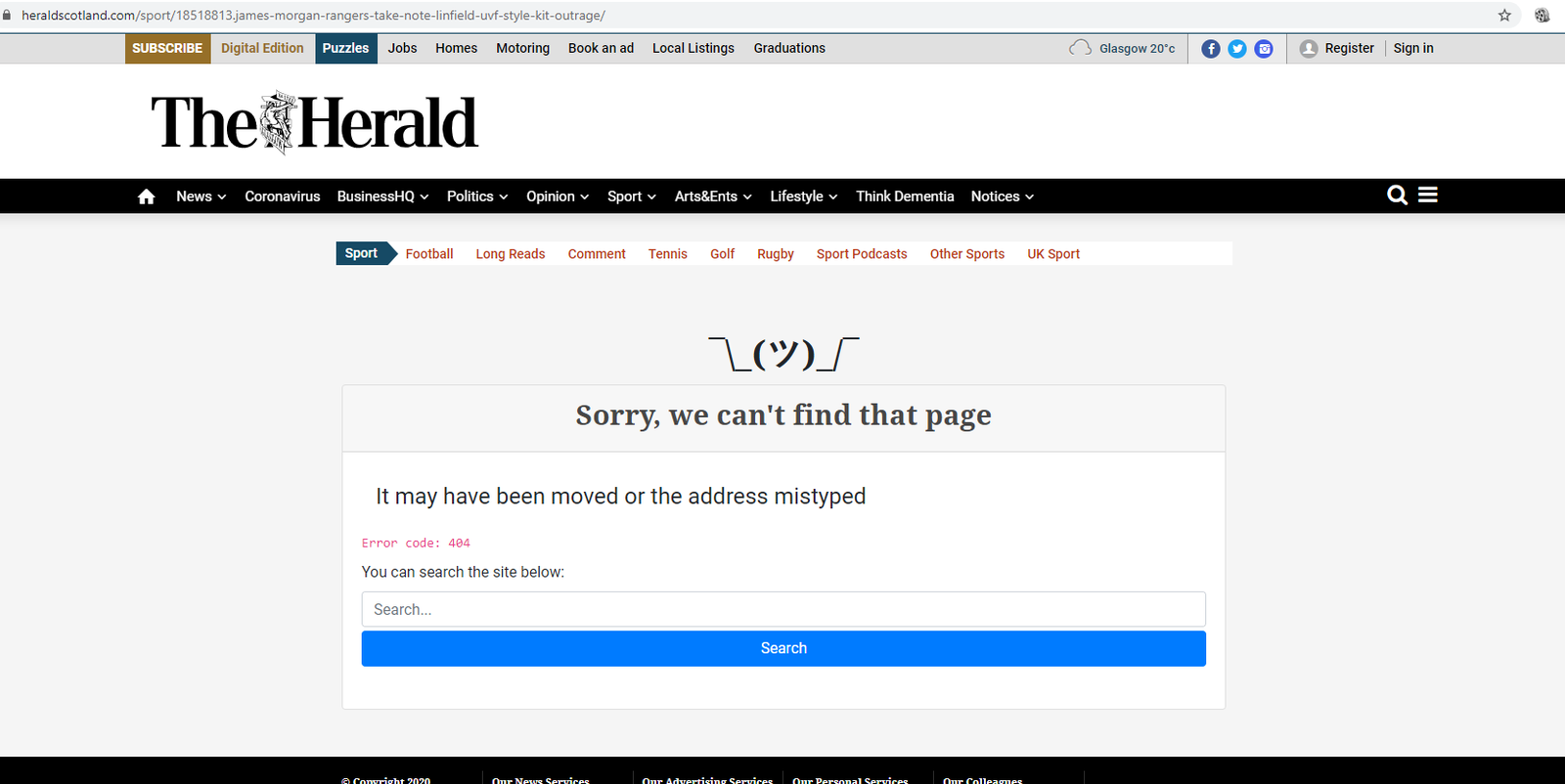 You can decide who is the more out of order in this case when you read the article in question.
It can be found over on the site of our friend Phil Mac Giolla Bhain, who broke this story.
You can read Phil's excellent article – and the one The Herald have removed – by clicking on this link.
I advise every reader to do so, because Phil deserves the full credit and the article which The Herald has now removed deserves to be read in full.
I had initially wanted to copy and paste the article, from Phil's site for the back end of this piece, but Phil has disabled that function for reasons which are wholly understandable; a tendency by some in the media and un-named others (because they hide behind pseudonyms and put their pieces behind the blogging equivalent of paywalls so nobody can know who's pieces they are nicking) to do the same.
In addition, he informs me that for some reason the Evening Times site still carries the article in question, although for how much longer I don't know.
You can keep an eye on that by clicking here; don't be surprised if it's gone by the time you read this, as the story is moving fast and Sevco's PR team are clearly not happy.
Once again, this is outstanding stuff from the Donegal based journalist.
Phil was clearly on to something when he published his piece; his source at the paper let him know that the pressure was being applied.
That pressure looks as if it has proved effective.
The article in question, by a journalist from the north of Ireland, warned Sevco against its continuing association with Loyalism; it covered some of the ground my own pieces did at the weekend and some which I intend to cover on Sevco and sectarianism in a lengthy piece to come.
That piece is now more necessary than ever; Sevco obviously does not enjoy having its associations with the far-right and with sectarian organisations pointed out.
But if they don't like that they only have to disassociate themselves from those links, because they are real, and those associations exist, and it is the job of the newspapers (and bloggers) to point those links out and push the club in a different, and more socially responsible, direction.
That Sevco instead goes to the heavy hand, and that paper in question crumbles and gives ground at the first sight of the hand being raised, is shocking and dangerous at a time when we all should be alert to this stuff and standing up against it.
Yet The Herald seems to have caved, and in doing so they've knocked back the cause of combating this stuff and cut the legs out from underneath their own writer.
That is some shameful stuff.
What even to say about Sevco though, that embarrassment of a football, that most irresponsible organisation, who promote their diversity but still want to release an orange strip?
What to say about the heavy hand of a PR machine cracking down on a paper which links them with Loyalism and Orangeism … but who's PR wing is now run by an ex DUP councillor and member of the Orange Order?
You'd think, as they don't seem ashamed of that, they'd not be terribly bothered about anyone who drew attention to it, wouldn't you?
They can thank us for it later.
In the meantime, I want to thank Phil for drawing my attention to his piece, and for the piece itself.
Job awfully well done, fella.
As Scottish football goes through the current crisis it is important to keep up with developments and the key issues. We are determined to do so, and to keep you informed as well. Please subscribe to the blog.