You will not believe this one, folks, nor that the media is highlighting it …
The makers of Sevco's new kit believe that theirs will give Sevco "the best kit in the league."
Remember when I said this morning that it was a "run of the mill blue jersey"?
Well apparently, they reckon it's a little bit more.
They pride themselves on being a "premium" firm … not appearing to realise that such a lofty standard no longer applies when you mass-produce gear.
But their pride in their product and confidence in it has been elevated to a quite ludicrous extent; they actually think having "the best" kit in the league – if you can even call it that, considering our sportswear manufacturer is one of the top two in the world – can give the team an edge on the pitch.
Oh yes, I am not joking … and the media has taken this up.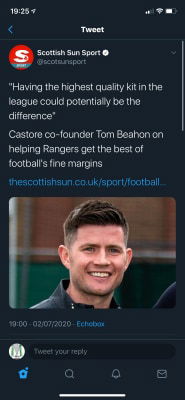 "(F)ootball is a sport of very fine margins," the company co-founder told our slavering press pack. "And having the highest quality kit in the league could potentially be the difference, so that was very important."
If you're jaw is on the floor right now, believe me, it's not the only one.
You get used to read pro-Sevco bullshit at this time of year.
Every summer we get avalanches of this stuff, so much so that you become some of desensitised to it … or you think you do until you read something brain numbing like this and you see the way the press is all over it.
I mean God almighty … all this time we thought it was about having a quality manager, good coaches and the best footballers you were able to assemble. How could we have missed this? In a tight game, with the score tied and minutes to go, it is the team with the best football kit who have the advantage.
In a close title race, they must be favourites to get over the line.
This really does stop the show this one … and the Sevconuts (including those in the media) are lapping this up as if it was warm milk and not the most rancid pish.
As Scottish football goes through the current crisis it is important to keep up with developments and the key issues. We are determined to do so, and to keep you informed as well. Please subscribe to the blog.