A few days ago, the guy who runs the Inside The SPFL twitter feed published a truly remarkable series of statistics which bears out a lot of what we've said on this blog about Gerrard's record.
I've written several pieces on how his win ratio stacks up to his Ibrox predecessors and those at Celtic Park, and the numbers have never come out in Gerrard's favour.
Here's the tweet and the numbers that matter.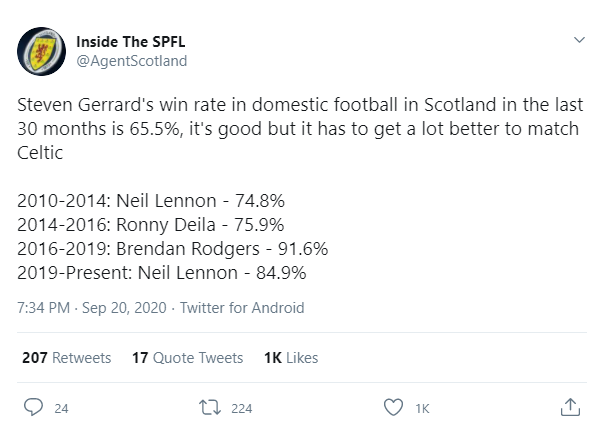 Now, bear in mind they refer to Gerrard's domestic record only; his overall win ratio is lower than that, at a little under 61%.
Ronny's overall Celtic win ratio was 64%.
Rodgers' ratio was slightly under 70%.
In his first spell at Celtic Park, Lennon had an overall ratio of 70.4%.
Right now it stands at a quite unbelievable 78.95% … Lennon is a match winning machine.
These are hard numbers, and for Sevco fans they must be hard to accept.
But they are true nonetheless; Gerrard's record does not stack up and even Ronny would have comfortably won the title had he been going up against the ex-Liverpool coach.
The Ibrox club's decision to persist with this joker was ridiculous enough on its own, but they've given him a fortune to spend on top of that which he already has.
One report I read the other day suggested that he has now signed 36 players in the space of two and a bit years … what madness possesses that club to allow that? Gerrard is going to bankrupt them and win nothing doing it.
People will tell you that stats don't matter, but he's only once put together a league run of five straight wins.
Lennon can put together winning runs that go on for months. It was a talent Rodgers had, and Ronny did as well.
No manager who fails at such a thing has any chance at all of winning trophies far less titles, and Gerrard is consistent only in his inconsistency.
With the health crisis ramping up again, and the situation not looking as if it's going to be resolved in time to let fans into grounds, Sevco is going to be losing money at a merry old rate. Our surplus, our cash pile, was large enough to spare us the worst of this, but their club has spent the last eight years of its short life posting debts … they have no fall-back.
They are pinning their hopes on Mr 65% … and there are some numbers that just can't be spun.
The press might not want to write about it, and the Sevco fans might want to find straws to clutch to, but Gerrard doesn't even stand up against Ronny … this is a sacking just waiting to happen, and that's been true since he first walked through the door.
Tomorrow I'm going to write about why Gerrard hasn't been sacked already … but for now let's just marvel at those statistics and what they mean; a long hard winter at Ibrox.
The CelticBlog faces many challenges going forward. If you like what we do, please subscribe and never miss another article. If you're on Facebook, join us on our Facebook Group or share us on yours, if you're on Twitter remember and re-tweet all our work.
How well do you know Celtic's Polish players? Take the quiz below …