Last night, Peter Martin went fishing on Twitter.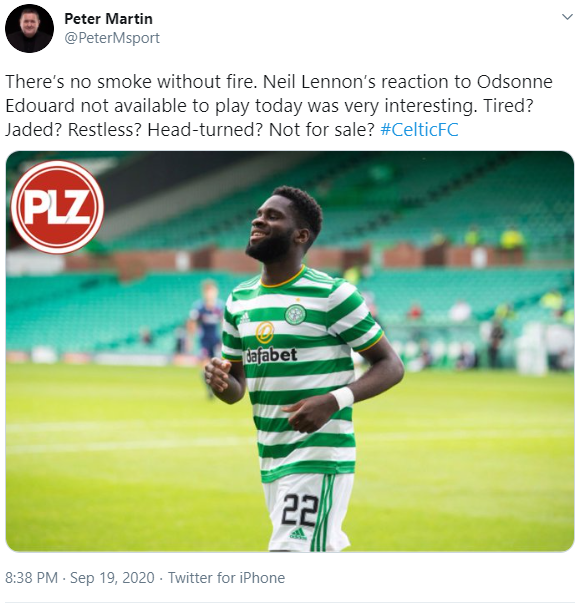 This is what some of these folk do, they look for threads to pull on … and most of us would just have ignored that except Martin went a bit further.
He as much as told Twitter that Neil Lennon had expressed his unhappiness over Odsonne Edouard not being available.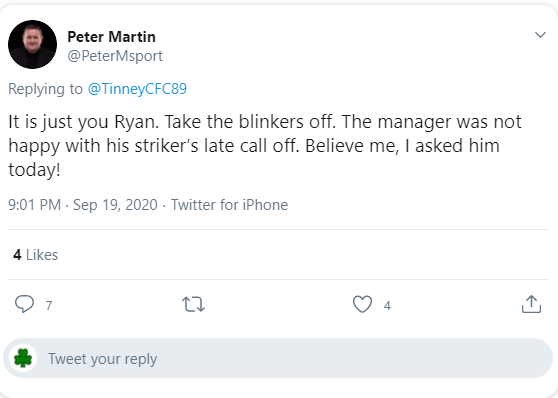 I listened carefully – very carefully – to what Neil Lennon said in the aftermath of the game and his tone was measured and calm.
He understands that the player was injured before going off to play for the French and that the return to action in midweek might have been a touch too much … in the same interview he said the club will not be selling the player.
Martin may pretend to be a journalist but in fact he's not.
He never really has been.
His writing, when he does that, is beyond dreadful. As a broadcaster he was notoriously weak and lily-livered, never once challenging the "accepted wisdom."
And he frequently sought to be controversial, rather than to be an impartial observer.
Having listened to Lennon talk yesterday, I heard not one word of criticism of Odsonne Edouard's attitude.
Not one word.
I heard an explanation that made a lot of sense, and where Neil was very reasonable and understanding of the player's situation.
"He played for France, then for us on Saturday and Wednesday. I spoke to him on Friday and he said he was struggling to start the game so you have to look after the player. We have a duty of care to him. We've got him fresh for Thursday which is a very important game for us and Hibs next week," the manager said.
"We do not want to sell. We have had no bids or confirmed interest in him. I am hoping that by the end of the window he will still be a Celtic player. He's a great kid, his attitude has been absolutely fine. He is not causing any problems behind the scenes … he was honest enough to say he wasn't fit enough to start and I have to take his word on that. Odsonne is not for sale."
The manager could not be clearer on this.
Yet Martin hinted, and would have had us believe, that Lennon said something to him which he didn't say to any other journalist.
Except … no, because he later backtracked on his own assertion and said this instead;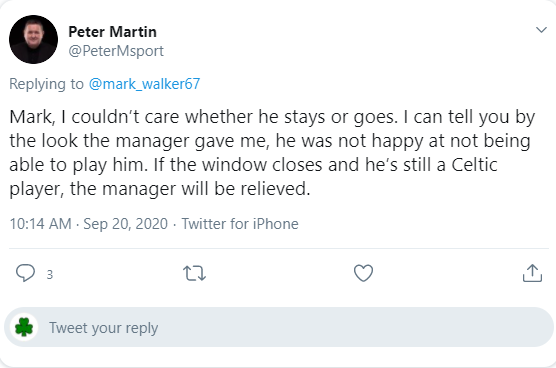 From the look Neil Lennon gave him?
What kind of "journalist" bases that second tweet, with all its implications, on a look he thinks he saw?
So this is another body language expert we have here, another one who looked deep into Lennon's eyes and saw what he wanted to see.
It's worth saying at this stage that not one other outlet has repeated this bizarre and ridiculous assertion.
This vague hint that he is privy to other information, I think we should simply ignore as shameless attention seeking from an absolute clown who is still trying to find relevance in a world where even Kris Boyd has his own newspaper column.
I get tired of having to do this, of having to slap down discredited hacks playing games, and if I feel this way how must our manager feel at times with having to go through the charade of treating these people with a respect they don't deserve?
Martin came dangerously close to calling our manager a liar.
He came even closer to putting words in his mouth, but had sense enough to backtrack on it when he realised what he'd done.
It doesn't get him off.
It is the job of a certain type of "journalist" these days to create news where there is none, but voicing your opinion isn't the same as inventing someone else's.
There is no way we should be letting that stand.
The CelticBlog faces many challenges going forward. If you like what we do, please subscribe and never miss another article. If you're on Facebook, join us on our Facebook Group or share us on yours, if you're on Twitter remember and re-tweet all our work.