Here's the thing with players who might want to leave Celtic; none of them are going to be allowed to tomorrow.
None of them will be allowed to until we get the right offer for them.
There has been a lot of media speculation. But there has not been a single concrete bid for a first team footballer aside from the one that almost saw Tom Rogic depart.
It is possible, I guess, that there will be a late bid tomorrow.
But it'll be too late for us to accept it, even if it was one that might suit a player.
Any want away footballers now need to knuckle down and start playing for the jersey. Because it's the one they are paid handsomely to wear.
Someone told me the other day that Edouard is homesick.
My response to that was pretty simple; a move to Birmingham isn't going to solve that problem, is it? After the game today Lennon said that Edouard might be a little unsettled because of all the speculation surrounding him.
Well, I blame the press for that. They've put him under the spotlight with a remorselessness no other player in Scotland has been subjected to. Did you notice how the hacks have left Morelos alone since it became clear that nobody was going to buy him?
Edouard is off the boil, but many folks think the whole team is off the boil right now … are they all eyeing the exit door at the same time?
The fact is, the only way anyone gets out of Celtic Park is when our valuation is met … and if anyone's going to get real interest as opposed to the trash that's appeared in the media he'll need to play a damned sight better than right now.
Celtic is in control of this process, and they've sent the players – all of them – a strict message; you're going nowhere until it suits the club. That will not be in this window, and I very much doubt that it will be in the January one either.
In the meantime, Lennon is focussed solely on making signings. A Sky reporter says we're looking for three players, not just the left back. Robert Snodgrass has been linked with the club. Alison Connell from The Evening Times has said that's a non-starter, but other sources seem sure.
Snodgrass himself has added fuel to the fire tonight on social media.
Lennon says we're going to be busy tomorrow.
I expect the left back. If we get that I'll be happy.
If we get Snodgrass as a right side of the park backup to Forrest, I'll be happy with that as well.
A backup centre back wouldn't hurt but no longer seems essential … we'd take it of course.
It's definitely going to be a long day … but the club has spoken on the biggest issue many of us had; there will be no major departures unless something momentous happens overnight. I cannot imagine what that would be.
Still, we should all be prepared for a typically fraught final day. We always are.
If both Ajeti and Griffiths were available against Sevco, but neither was 100% match sharp, who would you go for? Vote in our poll below.
If Both Were Available But Only Half Fit Who Would You Start Against Sevco?
Ajeti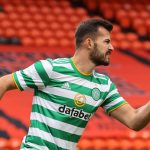 Griffiths