What's the difference between Lazarus and Leigh Griffiths?
Lazarus only came back from the dead once.
A joke. Of course. But there's a valid point to be made here.
No player in Scottish football has been written off so many times only to prove his critics wrong.
I'm not going to make any bones about this; my patience with the guy evaporated over the summer.
I defended him, initially, on being a bit overweight, especially as the media let Morelos off with the same without comment, but his lockdown party was ridiculous and stupid beyond belief, as was he and his girlfriend sharing the highlights on social media.
But I've been told, since then, by someone inside the club that Griffiths was the subject of an internal investigation over that and was pretty much cleared by it. Fair enough, then. But still, he tests the club like few other players do. I thought it was time we got rid.
Watching that game today though it was perfectly obvious that Elyounoussi was toiling being asked to play in an unfamiliar role.
I couldn't believe Lennon kept him on as long as he did.
Then, with the pressure on us, Griffiths was the only reasonable substitution to make.
Within minutes of coming on he'd already shown an ability to think a split second faster than the St Johnstone defence, with a neat little step away from one player forcing a corner. Only a striker would have attempted his overhead kick.
It was bold, ambitious, utterly ridiculous … but he almost got it on target and that would have been talked about for months.
The goal is a perfect example of what a penalty box striker can do and which nobody else at a club can match.
We're very fortunate, actually, in that we look to have two of them in the squad at the moment in Griffiths and Ajeti. Edouard and Klimala are different types of players; they can run with the ball, they can beat defenders, and yes they can score goals … but Griffiths and Ajeti are distinct because scoring goals is what they do best.
How often has Leigh Griffiths done this now?
How many times it seemed as if he was on the verge of being turned out of the club, only for him to demonstrate his value to the cause in undeniable ways?
Not only would I have gotten rid of him this summer but I wouldn't have thought we'd even have missed him around the place … but Griffiths would have gone somewhere else and done there exactly what he did today and we'd have wondered.
Could he still have done this for us? In the Hoops?
And the answer would have been yes, obviously, because you don't get to the 100 goals mark at a club like Celtic unless you are a bit special.
The questions over Griffiths concern his mentality … but only off the park.
On the pitch, you see what he can do, even in a high pressure moment of a game like today, with everyone watching him.
That was coolness personified. When it's just him and the ball, Leigh Griffiths is complete in ways he isn't in any other areas of his life. When he has a sniff of a chance he knows how to take it. If he could sort out his off-field situation, he would be a £20 million player and no mistake.
As it stands, you can see what he still has to offer us if he can stay out focussed on his game.
Anyone who was surprised at his sharpness in front of goal today has never watched this guy play before, because he has proved, over and over again, that even half-fit, even lacking in games and even minutes on the pitch – he hadn't kicked a ball in anger for months before doing that this afternoon – he has that instinct which you just can't teach.
If there is the slightest doubt about Ajeti in a fortnight Neil Lennon should not hesitate to start Leigh against the overblown Ibrox club.
Because we know he can deliver.
We know it because when the chips are down he nearly always does.
Those who write him off do so at their own risk, and I've been as guilty of it as anyone. Because Leigh Griffiths knows where the net is, and every club in the game would kill to have a player up front who just lives to put the ball in it.
If both Ajeti and Griffiths were available against Sevco, but neither was 100% match sharp, who would you go for? Vote in our poll below.
If Both Were Available But Only Half Fit Who Would You Start Against Sevco?
Ajeti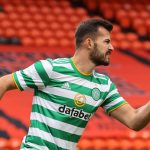 Griffiths