It's that day again, transfer deadline day, and we're working away behind the scenes to get the deal for our left back over the line.
It looks like the boy from AC Milan, and one of the only stumbling blocks is likely to be the future fee … it may be a little rich for our blood.
Will it be the only deal of the day? Rumours circulate about us wanting one other wide player, and this would make good sense considering that Forrest is injured. But in point of fact, if we close the show with the signing of Laxalt most of us will be happy enough.
The chances of there being a major departure are virtually zero.
The manager has spoken on that one and made it abundantly clear what the club's position is.
We do not want to sell, he says, and more importantly, we do not need to sell.
This surprises me; that we would go through this window and not make a major sale.
Especially when you consider the global health emergency and our failure to qualify for the Champions League Groups. It's been a difficult start to the campaign in many respects, but the board is certainly determined that the manager will want for nothing regardless.
That's a major decision, and one the board should be applauded for.
All in all, the major issues have as good as been settled already with no big players leaving and a good number already brought in. Once we get our left back deal over the line any other incoming business is a bonus.
Should we expect some?
Rumours continue to circulate but I think most of us expect one more and then the curtain to fall.
And considering the business done so far, I would say that would wrap up a very successful window indeed.
If both Ajeti and Griffiths were available against Sevco, but neither was 100% match sharp, who would you go for? Vote in our poll below.
If Both Were Available But Only Half Fit Who Would You Start Against Sevco?
Ajeti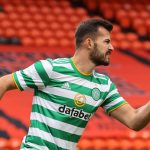 Griffiths