For the third time in 12 hours, a journalist has been given a briefing from inside Celtic Park to the tune that Lennon's job is safe and the board is relaxed about things.
The phrase that leaps out of this particular briefing is "business as usual."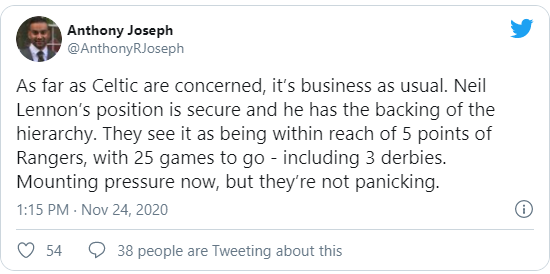 They have got to be joking.
Celtic has been knocked out of the Champions League at home by a third rate outfit, after a shocking performance where the manager didn't play a striker.
Celtic has been beaten at home by the Ibrox club without having a shot on goal, in one of the ineptest performances against a club from that stadium that many of us have ever seen, including those games against Rangers where we were given a doing.
Celtic is bottom of our Europa League group after three games, with the last result a scorching 4-1 at home to Sparta Prague who a viral outbreak had reduced to their reserve team.
Celtic has played 22 different players this season. We have tried two separate formations. Lennon has changed the goalkeeper. He has experimented with three players at left back. He has used wingers and attacking wingbacks. He has cycled between four strikers, with every conceivable attacking variation including playing with none of them and playing with three on the pitch. We've even finished games with more than a half dozen attacking players on the park at the same time. The performances are still all over the place.
Celtic has dropped as many points already as they did in the whole of the last campaign.
Celtic's vice-captain has criticised the team shape, and the manager himself admits that several key footballers want to leave the club, all at the same time, in the ten in a row season. The manager has called footballers who won everything in sight in Scotland lazy, uncommitted, mentally weak and lacking hunger. Dressing rooms have been lost for less.
Celtic fans are almost unified on the idea of replacing the manager. Almost of all of the blogs, E-Tims, VideoCelts, The Celtic Star, Celts From The South, Celtic Underground, Celts Are Here, IndyCelts, The CelticBlog and others, including folk like Phil Mac Giolla Bhain who have supported him from the start, have either openly called for his removal or announced that they don't believe he can turn things around. The podcasts say similar. Celtic Down Under, 20 Minute Tims, A Celtic State Of Mind, Celtic FC Now And Forever, 4 Tims And A Podcast and others are unconvinced if they are not stating outright that he's finished and should go now.
Celtic will travel to Ibrox miles behind the home club, barring a complete collapse over there, with the gap likely to be a minimum of 14 points. There will be games in hand, but if we lose there it's over, and Gerrard has won two of the last three against Lennon and they dominated us in the League Cup Final. Few believe Lennon can find a way to win that one.
Celtic's performances, even when we get points, are often dire; we needed a last minute equaliser against Hibs, we rallied late to get something at Aberdeen but still managed to flog two points, we won at Dundee Utd with seven minutes to go, we beat Riga in the 90th minute and we scored twice in injury time against St Johnstone. Things could look much, much worse than they do but for our tendency to score late in games.
Celtic shareholders are accusing the club of collusion with Rangers, the NewCo and the SFA over Resolution 12 and the Five Way Agreement. This year's AGM will be held online, and although that opens up the potential to make it more democratic than ever before, fans are not being allowed to ask questions from the floor. In the meantime, the lack of SFA reforms has a financially doped club from Ibrox posting mammoth losses and building a table topping team.
Celtic's directors laughably call this "business as usual."
There is more wrong at Parkhead than just the manager.
It was never in question, but how can anyone have the slightest doubt about that when they hear crap like this?
Please read our article on our new Facebook strategy, and bookmark the sites mentioned in it.