The lowlight of the weekend so far has been seeing "the bedsheet banner" outside Celtic Park.
No matter our feelings on the team or the manager or the board, that is an embarrassment that ought to be mocked and scorned like a Kris Boyd column.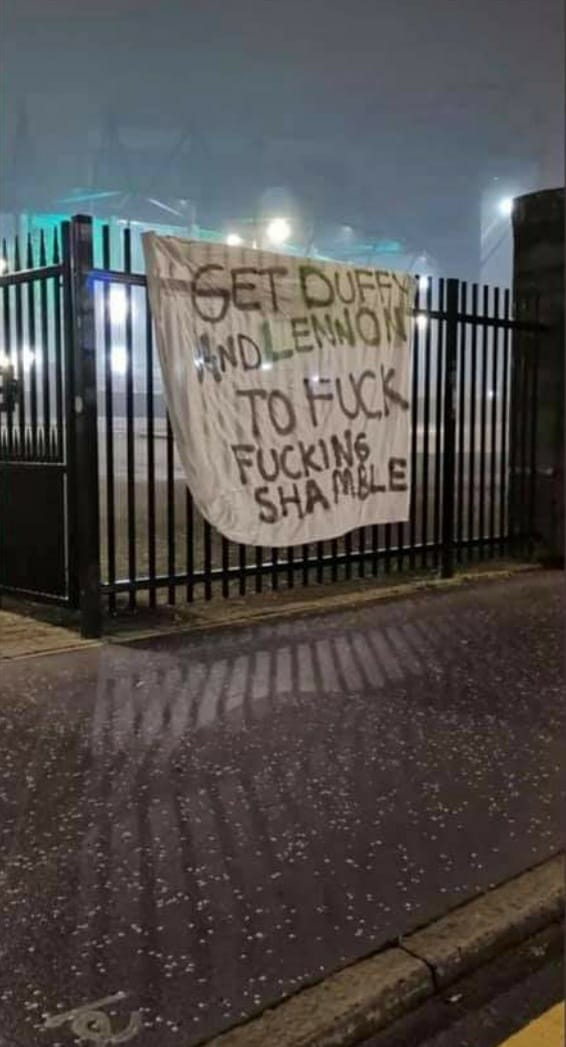 It's not us. I mean honestly.
Such a futile, stupid gesture.
Such a waste of time and effort to make a point that is already echoing through the forums and the blogs.
Duffy has been terrible.
The manager has questions to answer.
But still, to make the point so badly and especially when the blogs allow contributions … 
I'll tell you what I know for a fact; no Celtic fan wrote that.
No Celtic fan had a hand in its shoddy production.
That was not the work of one of us.
Let me further be clear; I am not suggesting that the Celtic fan who did it is not a true Celtic fan at all.
I am saying, for the record, that the person who did that does not self-identify that way and never has and never will.
That reeking cloth with its dark message virtually screams Made In Sevconia.
It bears all the grotty hallmarks of The Peepul.
Let's start with the obvious thing; those kind of productions are just not our style.
Sevconia, on the other hand, is famous for them.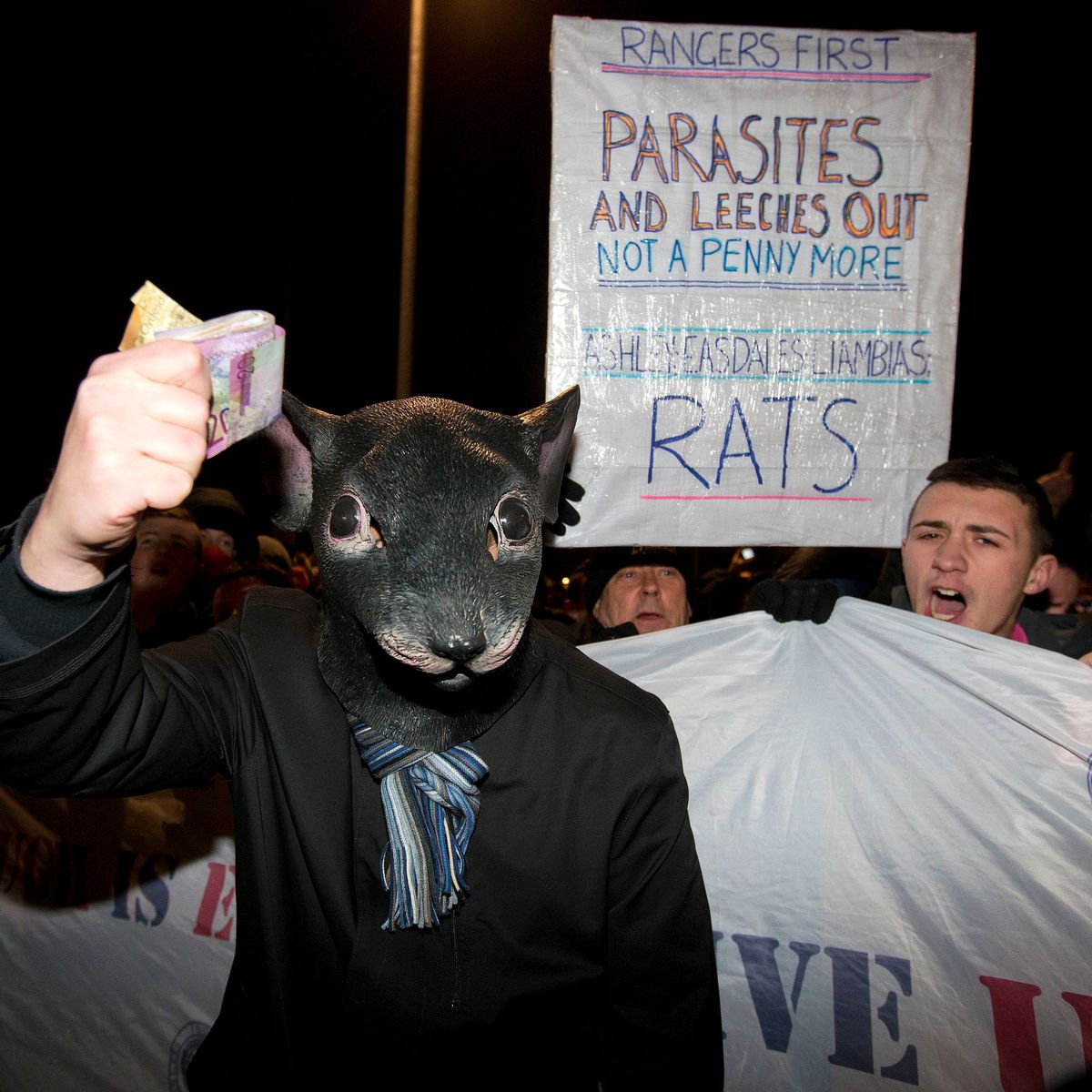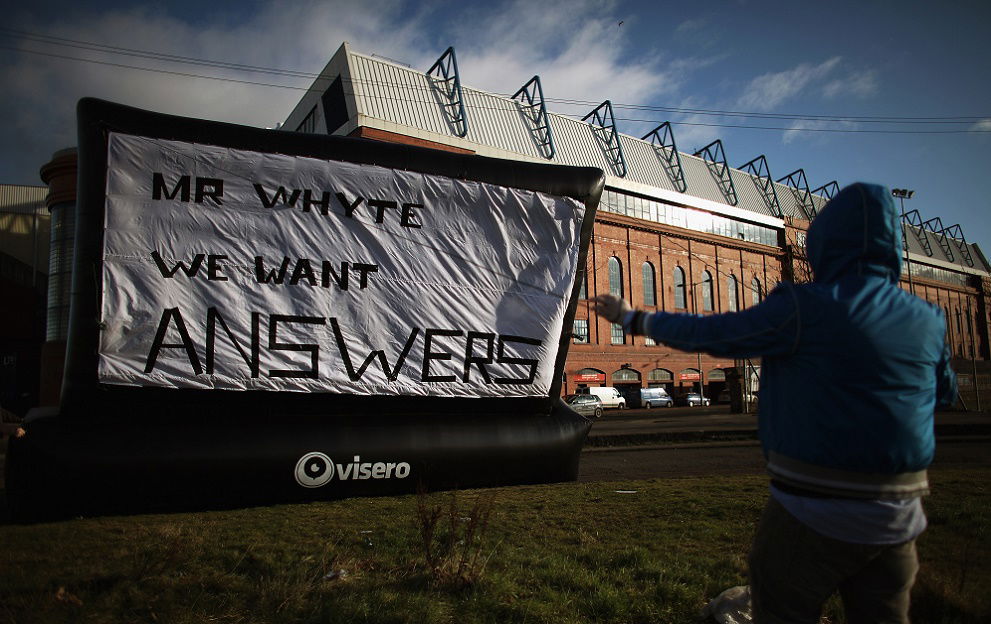 The producers of this one have at least spelled all the words right, but don't think that rules out the Larkhall Hand …
Anybody can use Google to at least find out Lennon has three N 's and Duffy two F's.
Celtic fans are usually much classier when they want to make a point, far more literate and with higher production values …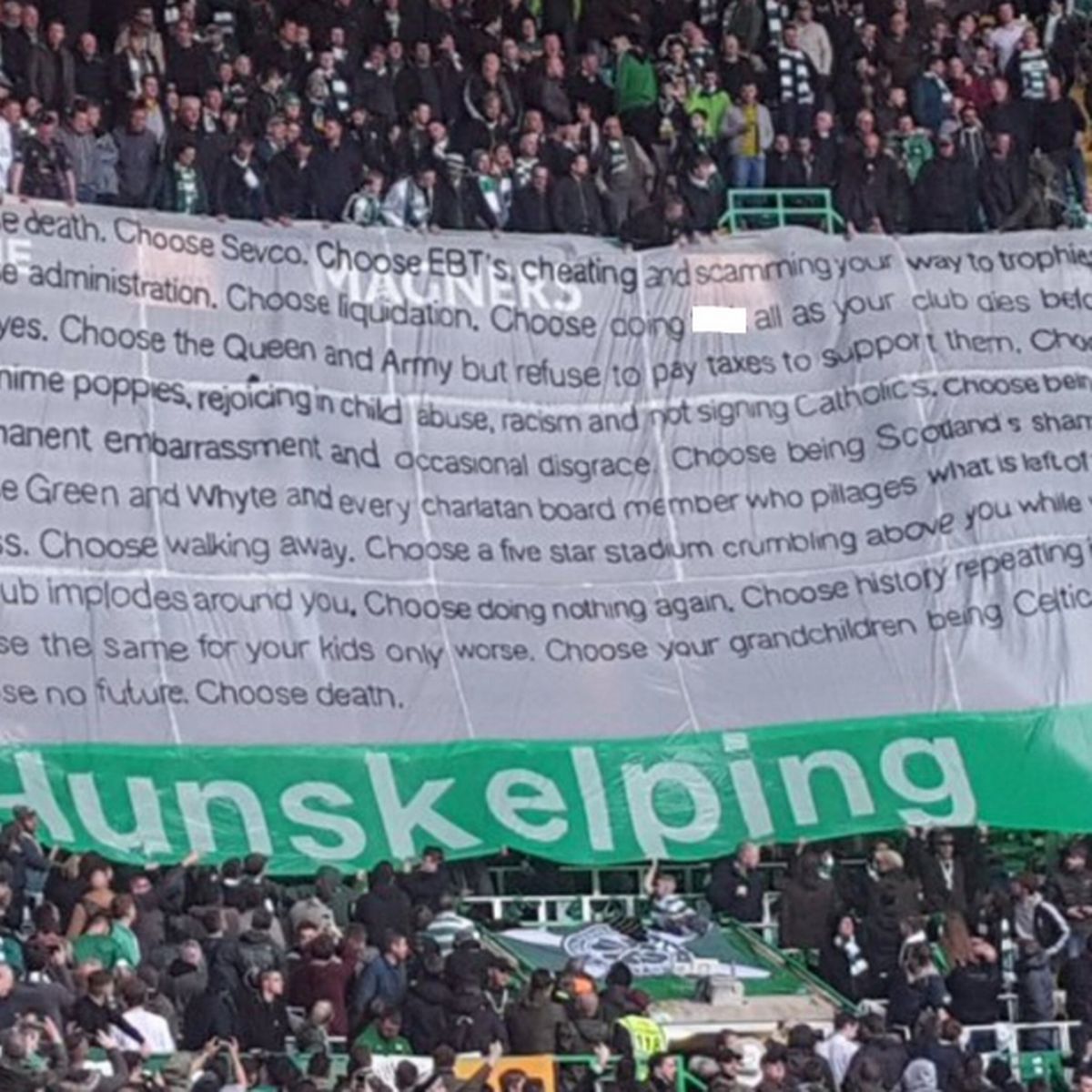 The Peepul who made this one went all-out with the word Shambles, which was dangerous for them.
The picture does appear to suggest that they have miss-spelled that one, but I reckon it's just the angle the photograph was taken at so you can't see the second S.
Still, they clearly couldn't spell the word embarrassment, or the word humiliating, or the word scandalous … they went with the much easier one, which is the mark of their educational attainment.
Here's how I know – not guess, not suspect, but know – that the Bedsheet Banner was stolen from one of the wards at Hidden Hills and daubed up somewhere on Duke Street prior to being taken to Celtic Park and hung up like the washing.
It's the racism.
The anti-Irish element.
No Celtic fan would have singled out Lennon and Duffy and omitted the old slagging favourites like Forrest or Brown or Barkas or Greg Taylor.
I mean, anyone daft enough to believe the solution to our problems was to drape their stupidity over a fence might even have been expected to throw Bolingoli in just for good measure.
The banner doesn't even reference Peter Lawwell and he's begging to be singled out.
No, that was produced in La La Land and the focus on the Irishmen proves it conclusively.
And you know what that means, right?
That somewhere in the depths of deepest Denseville, somebody or some group of somebodies, on a weekend night, tired of watching their Orange tinted hero taking his much deserved electoral beating at the hands of Joe Celtic, decided that they would strip one of their own beds and raid the garage for the leftover emulsion, to whip up a banner in which they pretend to be irate fans of the most successful club in Scotland, so that they can express their desire to "send the Paddies back to Ireland."
And you realise that and you laugh.
Because it's so Trumpian.
It is tragic and messed up and it gives you a window into their sad and desperate and success starved lives.
This is how it feels to be losers.
Join us on Facebook by Liking and Following our page … don't miss another article.