At the time of writing this, the biggest thing we have to look forward to this season is last season's Scottish Cup Final.
What a pitiful state of affairs this is.
The weekend's game should be a celebration of our successes; instead it's a bookend to a glorious era.
The directors who sat there today on video defended their performances with a mixture of emotional appeals and preening over successes some of them could not have done more to hamper had they poured gasoline on the floor of the dressing room.
Lawwell's big boast was that the club was not "asleep at the wheel" and he "proved" it by pointing out how much money they had spent.
The figure £35 million was thrown around; it is the first time I have ever seen directors of a major company openly boast about squandering vast sums on shocking underperformance. But they convinced a handful that they are still doing a good job, and that was all they wanted to do today, with the whole AGM being a pitiful sham.
I can point to grand sweeping failures by this club in the past ten years, and I will in a later article which will serve as an indictment of that self-congratulatory nonsense we heard today. But there really ought not to be the slightest question about the current season and the complete failure it has been up until now.
That speaks loudly and clearly and for itself.
Instead of getting the best person they could as manager after Rodgers left, and letting that person work with a few good signings on top of the current squad, they opted to give Neil Lennon more money in the space of 24 months than Rodgers saw in 36 … and for what?
To take us backwards.
Celtic has overspent to cover for flaws in Lennon's approach which ought to have disqualified him from ever getting the job.
We have spent money propping up Lennon that could have been spent on getting a proper coaching team and a scouting system that was fit for purpose.
We have spent a fortune trying to elevate Lennon above his abilities, and yet, here we still are.
This is not just a consequence of the manager not being up to snuff; this is worse than that.
The people who chose him did so for all the wrong reasons, and they did so knowing he had serious weaknesses.
As a result of that decision, this club is regressing at a rapid, and dangerous rate. A couple of positive results have people in raptures all of a sudden as if a corner has been turned. No corner has been turned. Even if results on the pitch get better, this is a club in decline.
Dermot Desmond, who couldn't even be bothered to attend today, who sent his son like he was some feudal king in charge of a familial dynasty, instead of a major institution which belongs to us, is part of the problem, not part of the solution.
Peter Lawwell is part of the problem, not part of the solution.
Neil Lennon is part of the problem, not part of the solution.
The best thing Dermot Desmond ever did for Celtic was hiring Brendan Rodgers.
All of the successes they boasted about today flowed from that decision … the first genuine example of this club showing ambition commensurate with all the talk we hear about it since the appointment of Martin O'Neill.
The man who infused magic into this team and elevated them above all our expectations headed for the hills because Lawwell couldn't stop himself poking his nose into corners of the club where it was not wanted and did not belong.
We didn't learn a single lesson from that period, not one, and Lawwell's position is stronger today than it was then … and only the manner of Rodgers' departure stopped a big spotlight being turned on the CEO's role in that.
Two giant egos collided and Lawwell was never going to be the one who left first.
Because unlike Rodgers he had nowhere else to go.
Nobody, anywhere, in the corporate world is going to put him on a salary in line with what he earns at Celtic Park, and that's why he refuses to go.
Lawwell has not had an original idea, something to take us forward, in years.
Dermot Desmond still believes we'll end up in England although there's no avenue for that, no mechanism to get us there and no interest in the idea south of the border.
Lennon is the same. This is a guy who will never have it so good again for the rest of his career.
Between the arrogance of the absentee landlord, the ego of the chief executive and a manager in the best gig he will ever get and which he does not deserve, these guys are out of inspiration and are now resorting to the ancient standby of every crumbling regime; throw money at a problem and hope it goes away.
As a consequence, they've bled the club white at a time when it couldn't afford it … and this is what they bought.
Knocked out of the Champions League.
Bottom of the Europa League Group.
Out of the League Cup.
Miles behind the Ibrox NewCo in the title race.
And all of it in the most important campaign we've had in eons.
Our cup final celebration of the greatest era in the club's recent history will have a funereal atmosphere, and so it should, because that era is over.
Lawwell, Lennon and Desmond spent a fortune and took us backwards.
As far as I'm concerned they shouldn't be getting praise for it.
Instead, there are 35 million reasons why all three of them need to depart our club at the earliest possible time.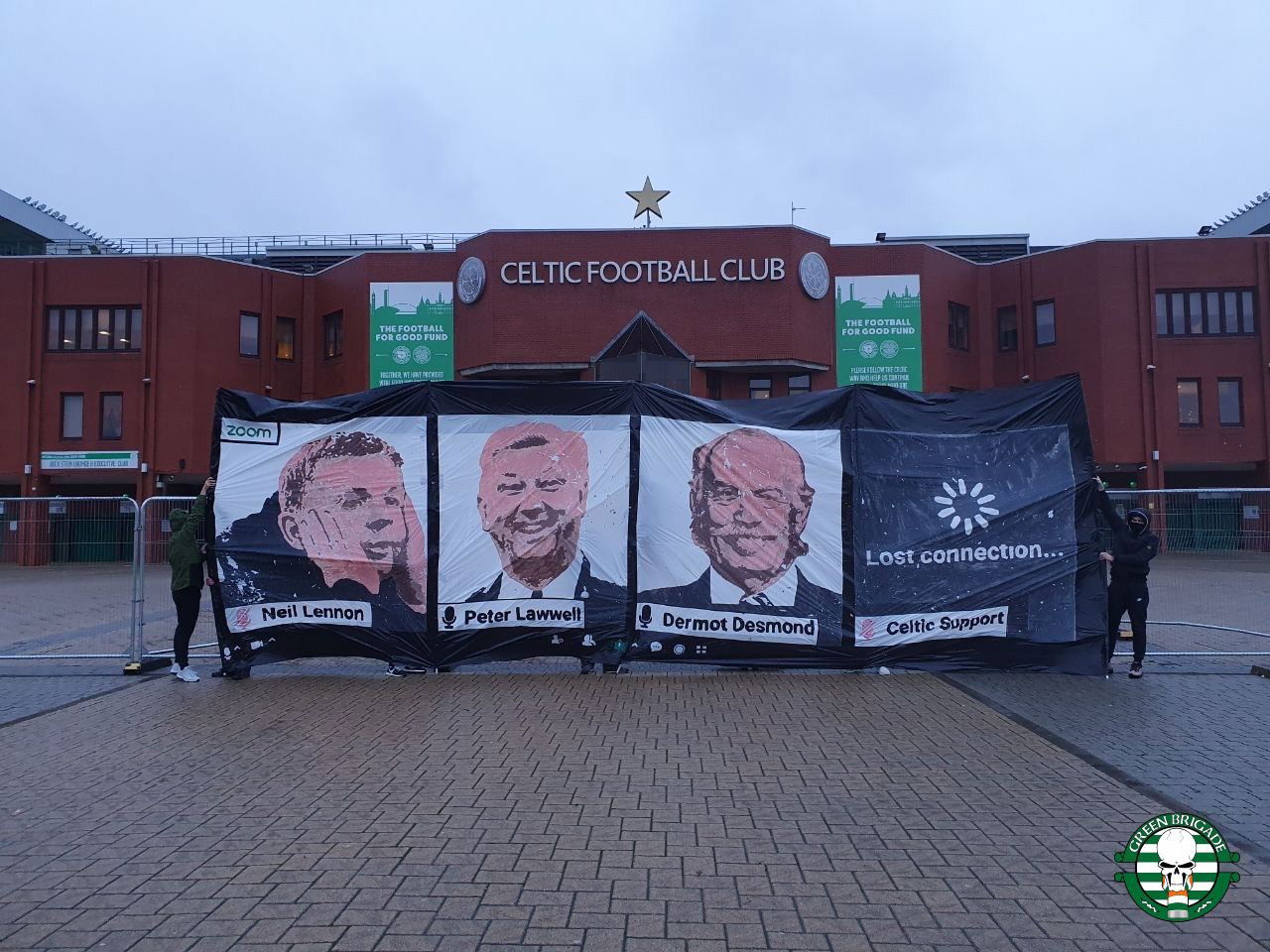 Please read our article on our new Facebook strategy, and bookmark the sites mentioned in it.