Alfie Doughty will sign for Stoke this week.
I suppose it's better than him signing on the dotted line over at Ibrox, which was every bit as a big a possibility.
But for the CEO of our beleaguered club, that's as good as it gets today.
Doughty is a well-respected youth prospect. John McGinn was a first team player at Hibs.
I mention McGinn because the CEO's arrogance was all over that deal in the same way it was all over this one.
We blithely believed that we could low-ball Hibs on the premise that we'd be able to pick their pockets in the January window by securing McGinn's services on a free.
There was a wee game going on between Lawwell and Petrie.
We all know that. But at the heart of it was that arrogant assumption that we were somehow playing a higher game, and that McGinn would realise we were the only other offer he had.
Until we were no longer the only other offer he had.
When Villa dangled the EPL in front of him he was wowed by a club that courted him and didn't simply egotistically presume his devotion and loyalty. That made the critical difference.
We wanted Doughty over the summer.
Charlton, although just relegated, made it clear that they weren't going to be bullied by us over the transfer fee. Our initial offers were insultingly low, but we steadily upped them until we were offering £850,000.
Lee Bowyer ridiculously said he wouldn't sell even if we offered £1 million.
I wrote then that this was absolutely ridiculous for a player who was entering the last year of his deal, and that they really had to get real on the fee. Today they accepted £650,000.
But part of the problem, which made us so hard to deal with, was the issuing of threats during the negotiations. Our threatened strategy was to "wait and see." We leaked it to the press that Lawwell was going to play hardball and "wait until January".
Well, even then it seemed a pretty stupid way to go about trying to do a deal for a player the scouting team rated so highly, and I said so at the time, in an article I wrote after a similar gambit involving Ivan Toney had failed when he signed for Brentford.
Lawwell plays this game so often you'd think he'd be better at it.
Telling Peterborough to "take it or leave it" over Toney based on the apparent belief that he would sign for us in this window was a gamble we lost. To then repeat the same trick, days later, with Doughty … our reputation in England must be in the grubber over the high-handed way we've behaved recently.
This is what I wrote at the time.
"According to the hacks we have told them that if they turn (our offer) down we're willing to take the money off the table and snap him up in January on a pre-contract agreement. As if that option were ours to take and not something the player himself has a say in … if that's the plan we're asking him to play Russian Roulette right along with us and he's not going to do that, and he shouldn't do it … The way we do business at times is just plain stupid, and all for the sake of saving a few quid."
Honestly, I had this piece written earlier today and it would have been up first thing, but obviously other events and other stories have slightly overshadowed it.
This is an important one though, from the point of view of examining the performance of our untitled director of football. It's another failure in a series of them, in a season full of them.
On the day after the Dubai trip costs us half a team and two more points, after the Green Brigade puts up its latest banner, and calls for "regime change", the hits just keep on coming for the man who once thought he'd have a statue in the car-park.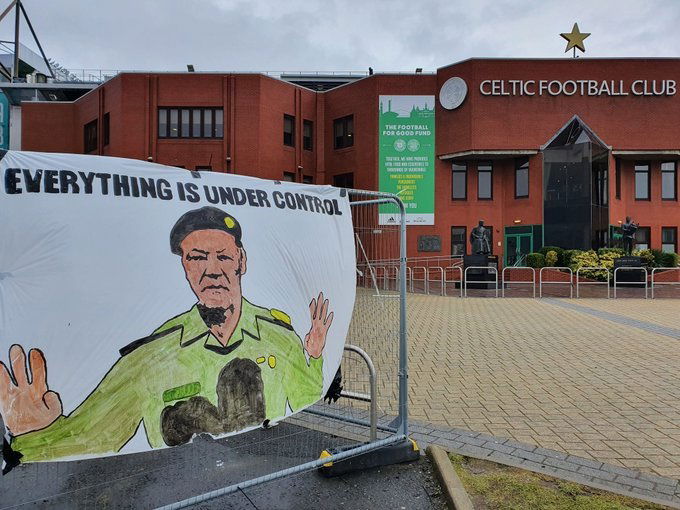 Right now, his head in the stocks would win by a landslide if you put some of the other options to the popular vote.